Ian McShane Joins Adaptation of Neil Gaiman's American Gods
If you're not a fantasy fan, and are fairly ignorant of Neil Gaiman's skill set or prolific career, you might be excused for scoffing at being handed his novel "American Gods," a nearly 500 page book that follows an ex-con named Shadow who joins some huckster named Mr. Wednesday (these names!) on a road trip across America, only the huckster is actually an old, diminishing god looking to team up with the other old gods in America, all brought over by immigrants who came to the U.S., dragging their gods and spirits with them, to fight America's new gods, all of whom have become hugely powerful and reflect our obsessions with technology, drugs, media, and celebrity. You could be excused, not knowing much about Gaiman, for thinking, well, no, this won't work. But then you read the book, and 480 pages later, you're not only a Gaiman fan, you're probably thinking what so many other people thought after they finished "American Gods"; this book could be an incredible film or TV show.
As you Gaiman fans know by now. American Gods will be a show on Starz, and yesterday the news broke that the great Ian McShane, who stole every single scene he was in on David Milch's Deadwood, and whose got a role in season 6 of Game of Thrones, will play Mr. Wednesday. Bryan Fuller and Michael Green's upcoming adaptation already includes Ricky Whittle as Shadow, but bagging a whale like McShane gives the production an even bigger boost. Here was Fuller letting the world know: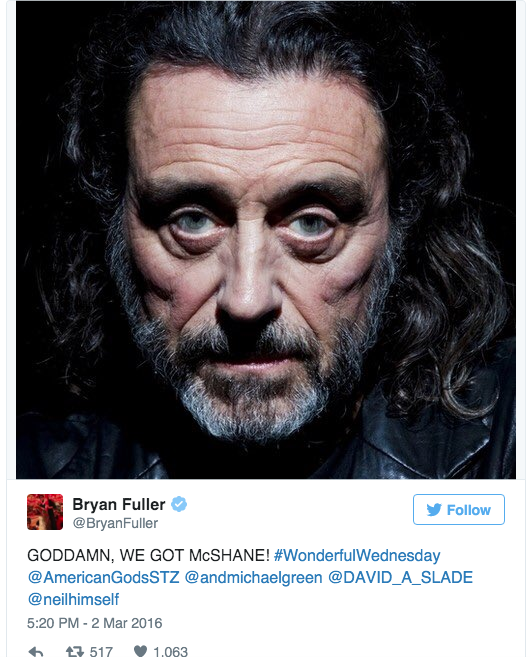 It's hard to think of a better actor to portray an old god hell-bent on recovering his potency in a battle royale against the new, big bad gods in an epic road trip show. The book won the Hugo, Nebula and Bram Stoker Awards for Best Novel. Here's Starz's summation: The plot posits a war brewing between old and new gods: the traditional gods of mythological roots from around the world steadily losing believers to an upstart pantheon of gods reflecting society's modern love of money, technology, media, celebrity and drugs. Its protagonist, Shadow Moon, is an ex-con who becomes bodyguard and traveling partner to Mr. Wednesday, a conman but in reality one of the older gods, on a cross-country mission to gather his forces in preparation to battle the new deities.
As one former skeptic learned after reading "American Gods," fantasy in the right hands feels a whole lot like reality amplified, and Mr. Wednesday and Shadow's fate, as of that of the old gods, can become hugely important to the reader, and, we're guessing, the viewer, too.
Filming begins in April.