The Walking Dead Drops New Teaser, Hints at Major Character's Death
After a mid-season hiatus, The Walking Dead returns on February 14 with the final eight episodes of season 6. Let's take a quick walk down memory lane, then we'll get to the new teaser in which a certain beloved character hints at a major death.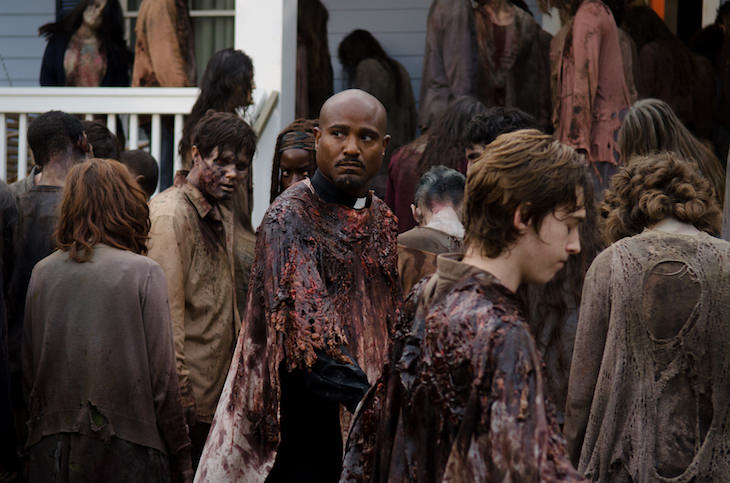 Seth Gilliam as Father Gabriel – The Walking Dead. Photo Credit: Gene Page/AMC​
When we last left Rick Grimes' (Andrew Lincoln) and the stressed, blood-soaked citizens of Alexandria, the walls had been breached by a horde of walkers. Things looked bleak, and the mid-season trailer AMC dropped at the end of 2015 indicated they were only about to get bleaker for the seemingly doomed citizens of the former Shangri-La. As Rick said, "I thought, living behind these walls was possible. I was wrong." The last episode of the first half of season 6 left us with Rick, Michonne (Danai Gurira), Carl (Chandler Riggs), Father Gabriel (Seth Gilliam) and a few key others forced to disguise themselves as walkers so they could escape a house. This was the second time Rick had done this; in season one, he and Glenn pulled off this stunt in Atlanta. This meant covering themselves with entrails. Good times. Before they could do that, however, Deanna (Tovah Feldshuh) was bitten, and instead of offing herself with the gun Rick left her, she took out as many walkers as she could before they, of course, ate her.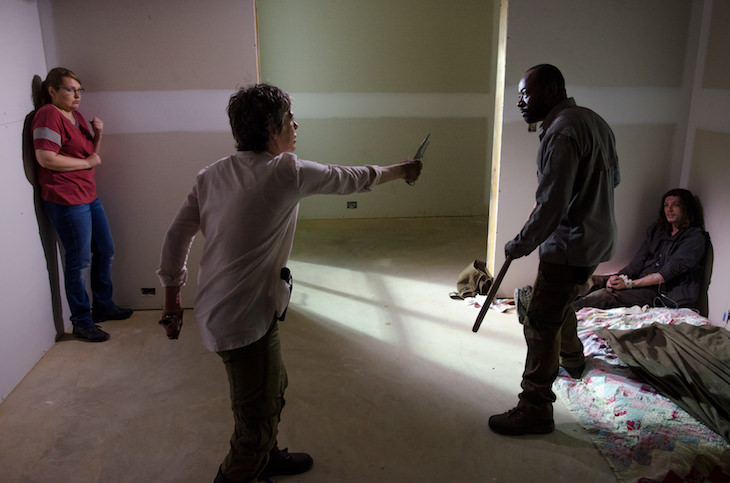 Merritt Weaver as Denise, Melissa McBride as Carol Peletier, Lennie James as Morgan Jones, and Benedict Samuels as the Wolf Man. Photo Credit: Gene Page/AMC
Meanwhile, Morgan (Lennie James) and Carol (Melissa McBride) fought each other for their differing positions on the fate of a captured Wolf. Morgan doesn't want to kill if he doesn't have to; Carol thinks not killing the Wolf is essentially an act of treason. Their fight ends with the Wolf taking Denise (Merritt Wever) hostage. Finally, in a post-credits scene, Daryl (Norman Reedus), Abraham (Michael Cudlitz) and Sasha (Sonequa Martin-Green) are met by an armed group; the Saviors. The Saviors order them to drop their weapons, as they now belong to a man named Negan.
Okay, so you're caught up. As for the next eight episodes, expect at least one major character to die. "We don't all survive, and we don't all take it very well," says Norman Reedus. So, again, more bleakness to come. Check out the teaser, and prepare yourself for a wild, likely main-character-killing final 8 episodes.