Star Wars: Episode VIII's Connection to Game of Thrones & More
Let's see how much Star Wars: Episode VIII news we can pack into this post.
The Star Wars: Episode VIII & Game of Thrones connection…
No, we're not talking about the news that GOT's Gwendoline Christie, who had a small role in The Force Awakens as Captain Phasma, is back for Episode VIII, but we might as well start there. Christie told People at the SAG Awards last Saturday night that Captain Phasma was indeed returning for Rian Johnson's upcoming film. The hope from fans of Christie, who steals nearly every scene she's in as Brienne of Tarth in GOT, is that she'll get a little more to do this time around.
But the connection between Episode VIII and Game of Thrones goes even deeper than Christie's involvement, and it involves King's Landing specifically. As they say in the real estate business, it's all about location, location, location.
The Dubrovnik Times has confirmed that Episode VIII will be filming some scenes in the beautiful Croatian city, the very same one that is a stand in for King's Landing on GOT.
"The Dubrovnik Times has learned from more than one reliable inside source that the rumours are true, Star Wars will indeed be filmed in Dubrovnik this year. The City of Dubrovnik and the Mayor of Dubrovnik met with the film producers at the end of 2015 and, according to our source, the city can look forward to being the host of yet another major film production."
https://www.youtube.com/watch?v=bGDbf-oy8Z8
Filming for Episode VIII appears to be imminent, unless…
First, let's start with the positive news, like this photo Daisy Ridley recently Tweeted, which shows a bouquet of flowers and a note with the heading VIII.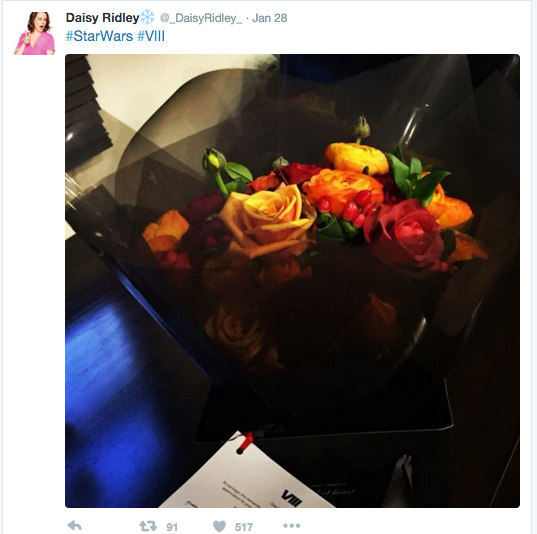 As Slashfilm helpfully points out, the words you can make out are "As we begin the" in the first sentence, and "appreciation for your" in the second. Sure sounds like the type of thing a director, studio exec, or cast member might send to the star of a film just about to start shooting, right?
Slashfilm also points out this exchange between Anthony Daniels (C-3P0) and Rian Johnson over Twitter regarding the script for VIII, that also seems like something that suggests the gang is very close to starting principal photography: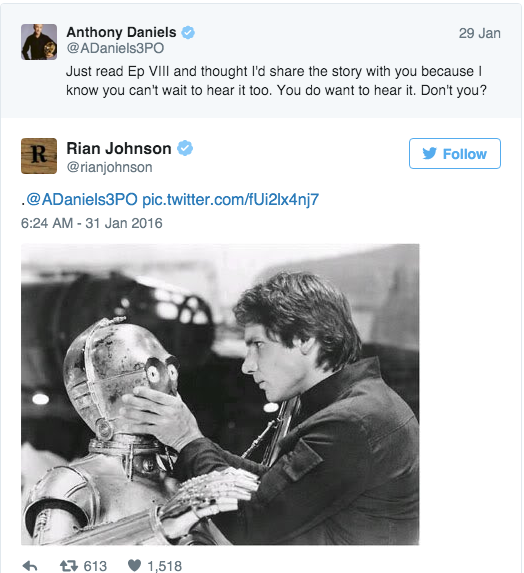 So this is all pretty positive and fun stuff.
But, there are potential delays looming. First, the original release date for Episode VIII was pushed seven months later than the original plan, in part likely to due to some necessary script changes Johnson had to make. Now script changes aren't necessarily bad news, and Johnson's script has already received rave reviews from the likes of J.J. Abrams—tweaks are almost always needed, and Johnson's a singular auteur who has yet to make an uninteresting film. So this is fine. What's more concerning is a looming strike.
As The Independent reports, lighting technicians in England have threatened to quit due to a four-year pay freeze, which would delay nine major productions in the UK, including Episode VIII.
It's not all doom and gloom, however. The film will start shooting eventually, and perhaps it'll all go smoother than expected. Plus, Carrie Fisher appears to be in England already, as evidenced by this Tweet. It's further proof that production might be right around the corner, and if anyone can make sure that happens, it's Fisher's beloved dog, Gary Fisher, who will use his considerable way with the Force to make sure all goes to plan.