New Guardians of the Galaxy: Vol. 2 Image Released, Filming Underway
While Deadpool might be your favorite irreverent Marvel superhero at the moment, let's not forget the mouthy, motley space crew who proved comic book characters could not only be truly funny, but lovable, too (we're looking at you, Groot.) Star-Lord (Chris Pratt), Groot (Vin Diesel), Rocket Raccoon (Bradley Cooper), Gamora (Zoe Saldana) and Drax (Dave Bautista) are back, and Marvel has officially announced the start of shooting on Guardians of the Galaxy Vol. 2. at Atlanta's Pinewood Studios (filming began a few days ago). To celebrate that fact, director James Gunn has shared the first official promo image from the set, as well as this Instagram post.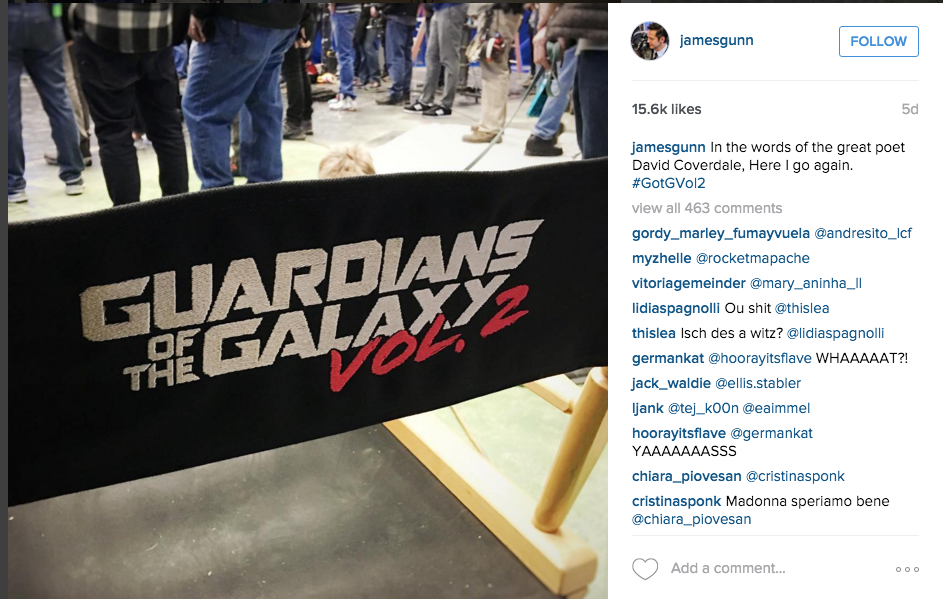 Vol. 2 introduces that other galaxy (the one not far, far away, but relatively close) to some new characters, played by Elizabeth Debicki (The Great Gatsby) and Chris Sullivan (The Drop) who were just added to the cast, while Pom Klementieff and Kurt Russell are confirmed. No one knows who these folks are playing, although the Internet's been pretty sure that Russell is playing Star-Lord's dad.
Here's the logline that Marvel has released: "Set to the all-new sonic backdrop of Awesome Mixtape #2, "Guardians of the Galaxy Vol. 2" continues the team's adventures as they unravel the mystery of Peter Quill's true parentage."