How Oscar Nominated Winter on Fire Director Crowd Sourced the Revolution
Oscar-nominated documentary Winter on Fire started with a phone call director Evgeny Afineevsky received at home in Los Angeles from his friend, Russian producer Den Tolmor. "Den called me from Kiev and said 'History is being made, come over here right now.'" Afineevsky heeded the call and a couple of days later landed in a city whose people would indeed change the course of Ukrainian history. Starting in November 2013, ordinary civilians forced out corrupt Prime Minister Viktor Yanukovych over the course of a bloody 93-day revolution that drew nearly a million protestors to Kiev's Maidan Square.
"When I arrived, I didn't know what story I would have so I just began shooting," says Afineevsky, who put together a small rew equipped with two Canon camcorders and two DSLR cameras. "It started out simple, like a youth festival where people came out to express themselves. It was nothing that extraordinary except that politicians were not allowed on the square."
One week later, everything changed when soldiers attacked. Afineevsky recalls, "We got beaten, people started getting kidnapped and killed. That's when I realized I needed to document every moment because I was in the middle of this eruption where every event is spontaneous. You don't know where or when it's going to hit next so you need to have all these eyes on the ground."
Russian-born, raised in Israel and living in the United States for the past sixteen years, Afineevsky made his first documentary on 16 millimeter film at the age of sixteen. For Winter of Fire, he took full advantage of 21st century technology by crowd-sourcing his story about a crowd that beats the system. He says, "I'm pretty good at networking, so I found all these volunteer cinematographers, professionals and non-professionals, and they were able to capture things on the ground every day."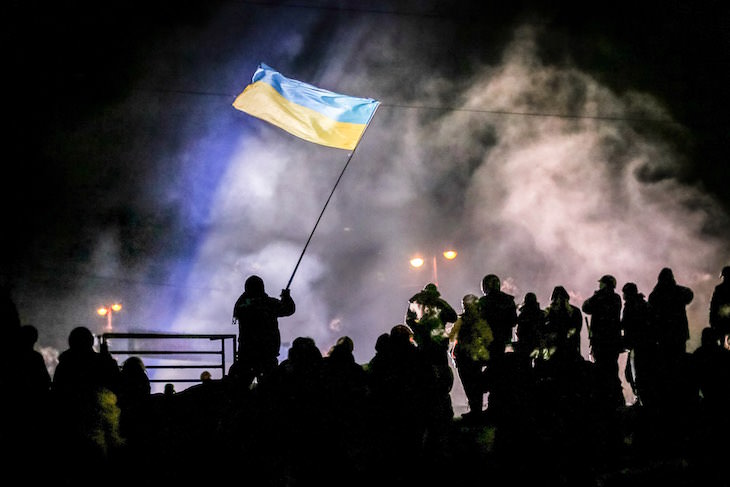 In a city roiling with well-founded paranoia, Evgeny gained the trust of his civilian camera operators by standing with them overnight in frigid temperatures facing armed government forces. "I have scars on my legs caused by splinters from hand grenades, but I don't have a broken head," he says dryly. "And yes it was cold, but I'll tell you what's cold: Police batons, or getting sprayed by water from fire horses, or bullets. Being with these people through the night when they got beaten, I guess it was like I passed the test. Just by being there, I earned their trust. "
Avoiding email, activists would walk over to Afineevsky's ad hoc office a block, which doubled as his sleeping quarters, to download images directly into a central computer and immediately backed up. "Nobody used email because they were very afraid of being traced by the government," says Afineevsky, whose own phone was hacked by authorities. "We even made double back up hard drives that we shipped out of Ukraine just to be on the safe side. I didn't want the tremendous work of so many people to be lost because I didn't want this history we'd captured to be re written or changed."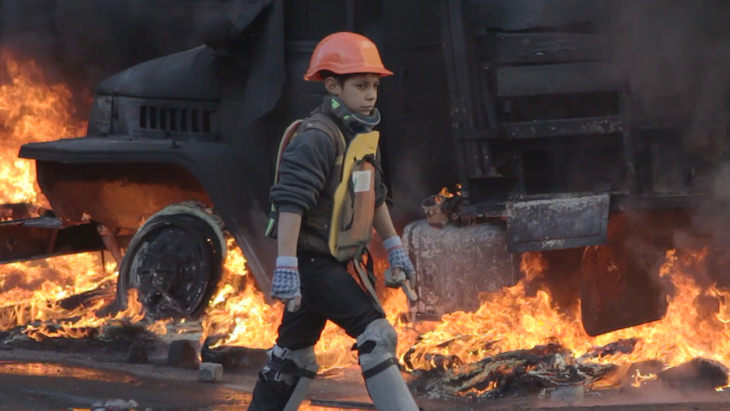 Winter of Fire ends with Yanukovych's secretly leaving the country by helicopter as citizens roam through the ousted bureaucrat's deserted mansion. But in the aftermath of the people's triumph, Afineevsky faced a fresh challenge. Fifteen terabytes of data, equivalent to the entire contents of the American Library of Congress, needed to be shaped into a tight feature-length film. "I assigned three editors to work around the clock, 24 hours a day," he says. "They went through everything for three and a half months until we came up with a rough assembly."
Afineevsky also needed to stitch together a bewildering varieties of film capture formats. He explains, "In my movie you have standard definition, half HD and full HD along with footage that was shot on Go-Pro cameras, tablets, camcorders, cell phones and drones. We blended all these different elements into an organic whole."
When Netflix execs saw Afineevsky's first cut, they urged the filmmaker to return home and tailor the material for American audiences. Back in Los Angeles, David Fincher's Oscar-winning editor Angus Wall signed on as producer. He enlisted Rock Paper Scissors editor Will Znidaric to shape the footage into a riveting 102 minute "you are there" narrative.
By the time Winter on Fire got nominated in January for an Academy Award, Afineevsky was already back in Europe working on his next project. "I'm making a film about Syrian refugees," he says. "As a filmmaker, I want to change hearts and change lives, so I feel it's important to tell stories about people whose voices need to be heard. For Winter of Fire, it was an amazing experience to show how people of all ages, all nationalities, all social classes and religious groups came together. It was something I'd never seen before. In Winter on Fire, the world has a chance to see the power of the people."