Girlfriends' Guide Divorce's Costume Designer – Part 2
In Part 1 of our discussion with award winning costume designer Cynthia Summers, we discussed how Summers made her way from Vancouver, British Columbia to defining the style for such iconic shows as The L Word and Bones.
Here we will focus on Girlfriends' Guide to Divorce, the hit series on Bravo. Our conversation with Cynthia Summers is slightly edited for length.
Note: While the last show of Season Two of Girlfriends' Guide to Divorce will be broadcast tonight, February 23, on Bravo, you can find where to watch earlier episodes by checking WhereToWatch.
Stylistically, Girlfriends' Guide to Divorce kind of picks up where The L Word left off. I see some style elements from the character Bette in Abby. Was that intentional? Part of creating a distinct style of L.A. and strong L.A. women?
Absolutely, when I got approached to do Girlfriends' Guide it was based largely on my work from The L Word. The local Vancouver producer (it shoots in Vancouver), who I hadn't worked for but I knew had basically said to Bravo, "This is the person who needs to do the show because it is the same kind of vibe. It has a different demographic, but the same idea. It is a show for women about women." Of course there are a lot of references to Sex and the City; that is a huge honor because it was such a huge show, and just everything about it was great. The difference between Girlfriends' and Sex and the City is we have woman who are married and/or divorced and we have children. It is a whole different world. We deal with the school, with jobs, where they go to work – we don't see them when they are out partying and cocktailing and lunching all the time. They have real life situations.
When we are dressing the characters for Girlfriends', again, we have to be very conscious they are going to work. Even though everything is heightened and it is very fashion forward and stylized, it not like Sex and the City, which almost takes you to these fantasy outfits. They (Sex and the City women) were very beautiful and fun to watch, but I think Girlfriends' is a little more grounded in its look. I can't just put a tutu on Abby if she is going to work.
It must be really challenging to come up with those creative styles while also being practical.
How do I delicately say this – I am also dealing with mature women. Even compared to The L Word; I had everything from 21 to 60 year-olds. On Girlfriends' Guide, most of the core group of women is between 35 and 50. We have to be sensitive to that. I want these women to look beautiful. I want them to be fashion forward. I want to give the audience a little sense of fancy. You may not wear it, but (the fashion is) something you can aspire to… you are okay with taking it up a notch. A lot of people want to go to work and be invisible behind their desk, but we want Abby to stand out and she wants to stand out. Abby is a bit of a train wreck in Season 2. That shows in her wardrobe to some degree as it does with the other cast members. Wardrobe tells a story. You have to be aware of body shapes and silhouette and the situation they are going into. In L.A., a lot of times, the focus is on lighter, sunnier, even if it is pouring rain and the weather is terrible. It can be difficult sometimes because it is hard to show seasons when you are stuck in eternal summer.
I am dressing characters that are of a certain demographic, of a certain age range, trying to show them in their different world – but respectfully and believably.
How do you think of geography when designing the costumes for your characters? Bones is set in D.C. Girlfriends' Guide to Divorce is set in L.A. Would you have dressed these two characters differently if the shows were set in New York?
L.A. is the kind of place where you can pretty much wear whatever you want. New York is edgier and darker. Someone asked me recently what do the girls wear when they go shopping at "The Grove," which is a beautiful outdoor mall. My ladies will go dressed down in their dressed up kind of way per their character. You can see that (basically couture) when you go to The Grove, but you can also see people in track suits.
I have a funny story. Whenever I go to L.A., I have sort of a program for when I get there. First place I go is my hairdresser in Beverly Hills so I make sure that what I wearing when I go to Beverly Hills is worthy of wearing there because I want to feel like I fit. I don't want to stand out or be criticized; I want to fit in. I live in Silver Lake, which is a little more edgy and I want to feel like I fit when I am there too.
L.A. has areas and our characters are from these different areas. That helps me tell the story of where we are, for them and for the audience.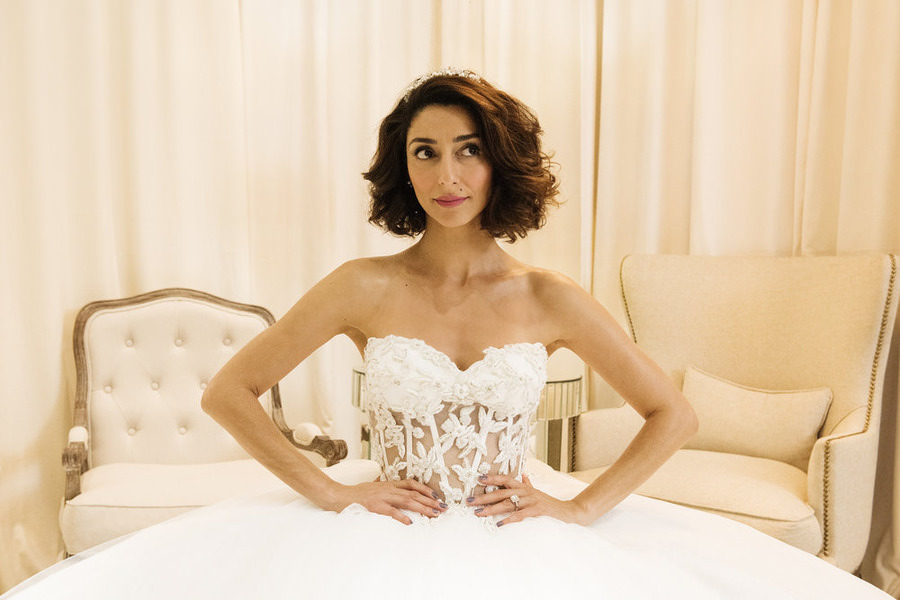 Delia in her wedding dress. Courtesy Bravo.
I feel like these women are so different and that definitely comes across in their clothing choices, but when they are doing an activity together they are a cohesive unit.
That is important. I think Marti Noxon our creative producer and writer does a great job of writing these characters. That is so important for all of us when we are trying to tell these characters' stories through the writing. They also have to have cohesiveness because they do hang out together all the time. It is the same ensemble idea as The L Word or as Friends or Sex and the City. They have their places where they hang out. The connectivity is their children's school. That is where they all met. We don't see the school as much in Season 2 because they are getting closer to the inner workings and stories of the individual characters.
Delia's (Necar Zadegan) world is Beverly Hills. She is a high-end lawyer and super confident. She is one of those women setting the tone for other women. That is what her wardrobe is saying.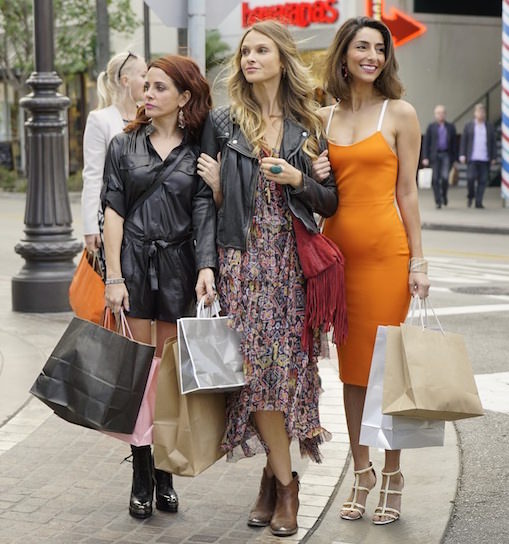 L to R: Jo, Pheobe, and Delia. Courtesy Bravo.
Phoebe (Beau Garrett) is from the east side, Silver Lake. She has that boho forever sunny/ tribal look going on. She is a free spirit and a free bird in a sense. She doesn't have to worry about money; she has lots of it. She doesn't have to work so she can be who she wants to be and that is suits her character.
Jo (Alanna Ubach), coming from New York, brings that hard edge rock star style to the show, which is great. When she first came to the show, I wasn't sure what I was going to do with her. Is she going to stand out for the entire series or does she blend with the look of the other characters and become L.A.-ized? That has been a discussion and was something we were going to try and show. I think it is something that you will see at the beginning of Season 2. It is a really hard season for Jo. She is going through some really tough times; she sort of falls back into her comfort zone and her wardrobe kind of matches her mouth. She is really tough and has some of the best lines. It sort of sets them apart and is such a gift to all of us who are trying to tell the story.
And Abby, Lisa Edelstein's character, has actually been I don't want to say the hardest, but it has been hard for me to discover who she looks like and what sets her aside or above everyone else because she is number one. She is the pivotal character in our story, but she is also the most real character. She has the most real situation going on. She has this beautiful life, and this beautiful house, and beautiful children, staying at home writing. She has it all going on; she is super successful and then she starts to lose it. She starts to free fall. When everyone else is looking so edgy, so high, so hot and so big in their characters, what do you do with jeans and a t-shirt? How do you amp her up to keep her at the top? It has been difficult. The funny side, the joke between Lisa and I, is she is the girl at the beginning of every season with the most jeans of any character that I have ever had. You might not even notice it on screen, but for the sake of us feeling confident and telling her story, we start with jeans and t-shirts and a cute jacket. At the beginning of last season we said okay, she will just have a giant shoe closet, we will do it with shoes. The highest, the most gorgeous and biggest range of shoes, but unfortunately on TV you don't always see the shoes.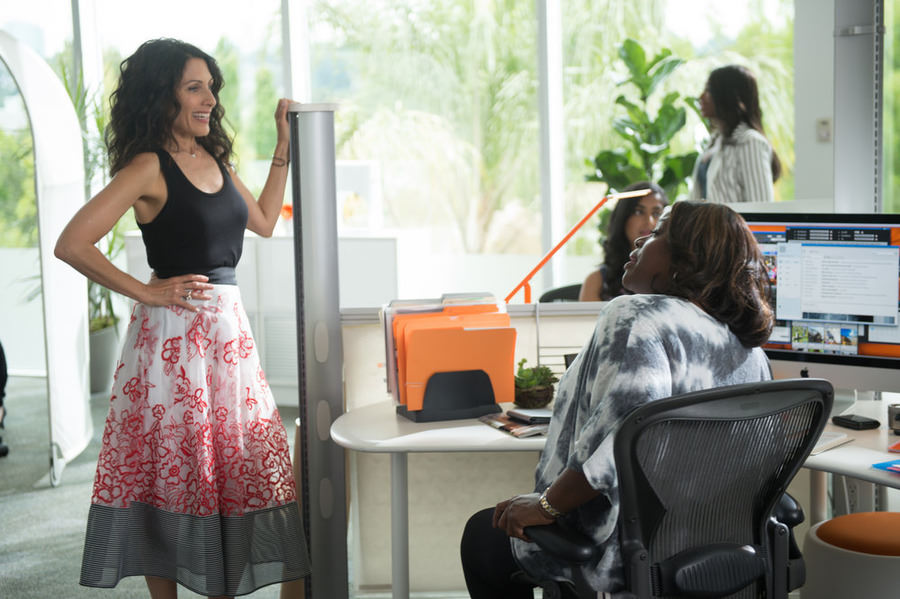 Abby at Work. Courtesy Bravo.
For Lisa being Abby, it helps her with her character, and it helps me, to build an outfit from the bottom up if you will. In Season 2 for Abby, thankfully, she goes to work. She starts working at SheShe (online magazine) and that opened up a whole new world for me. Part of her whole new happy face of divorce is she starts dating – even if it is for work. That gave me three really distinct worlds for Abby: the stay-at-home mom falling apart jeans and t-shirts, her work look, and an infinite amount of date looks, which is just fantastic. Lisa is a dream to dress. She knows her body really well, which a lot of actresses do, but she knows it really well. She knows how to work a foundation garment which is pivotal and integral and I love her for that because it makes my life so much easier. We got to create these two new worlds for her, which was a real gift for Season Two.
How do you use style and color to mark changes in the life of characters?
That is so big. When I am doing a feature, we will start at the beginning and go to the end. It is a little more difficult in a series because it is a little broader in general and you are going episode by episode. A lot of times in a feature you will start at the beginning and have a color arc from beginning to end, regardless of what your character's journey is. Sometimes it will be a rainbow effect, so it starts here at the base and then it sort of reaches heights and then it comes down at the end and or it is a linear procession. It depends on the journey of the character. If the character is having a down day, the wardrobe will reflect that in a monochromatic world or a darker toned world. It really depends on how thematic your director wants it to look.
I find in TV it is a little more on point because you have an hour to tell all these stories once a week as oppose to a movie that starts at zero and ends at 100. A lot of times on TV, it is darker tones or more monochromatic or if it is happier times it is reflected in color and in weight. When a character is really conflicted, you will put on a print because it gives a little more broken visual, reflecting what they are going through at the moment. You have to always remember with TV and an ensemble cast, they are together seventy five percent of the time. How it is all going to correlate and how it is going to be different but harmonized in telling their story in color? So it is a big puzzle.
Style correlates with the dialog, with the sets and with the lighting for what type of prints, tonality or color that you are going to have on the character at the time or what silhouettes. Also, the mood of the character – if their mood is really down and out, they will probably not wear a super tight sheath dress. They are probably a little more covered up or I go to for that comfy sweater. The opposite of that is if the character is having a super happy day – you woke up and everything is sunny so I am going to put on my brightest skirt with the rainbow on it; you know I am being super literal. Do you want to just be under the radar or do you want to be a beacon?