Berlinale 2016: Jude Law Works the Good and Bad in Genius
Opening yesterday at the 66th Berlinale was Genius, a reflective tale of extreme talent and the monstrosity that can be wrought by it, based on the short creative life of early 20th century writer Thomas Wolfe (Jude Law). The movie is the directorial debut of British theater director Michael Grandage, who does an admirable job re-creating New York on the edge, crashing from Jazz Age paradise into slummy Great Depression chaos (Wolfe's first novel, Look Homeward, Angel, was published 11 days before the stock market tanked at the end of 1929). With Colin Firth as Wolfe's patient, gifted editor, Max Perkins, and Nicole Kidman as Aline Bernstein, the writer's supportive but spurned older lover, Genius emerges as an appealingly well-acted biography of a creative career that was short and manic, prolific and accomplished.
With Law in almost every scene, the film is more than anything a portrayal of Wolfe, and its tone rises and falls in tandem with the moody, exciteable writer's highs and lows. In real life, the British Perkins, a restrained and self-effacing family man with five daughters, became something like a father figure to garrulous Wolfe, who beat his way out of Asheville, North Caroline, by, in his words, making as much noise as he possibly could. Once he got out, he didn't stop making noise, and Wolfe's temperamental fluctuations, of which he is in a near-constant state in Genius, become the crux of the movie. The other focal point is the editor-writer, father-son, antagonist-victim (that last relationship mostly exists in Wolfe's mind) pairing between Perkins and Wolfe. Firth and Law occupy their roles fully, with credit due to Law for his convincing southern drawl and to Firth, for wearing a hat in every scene, and speaking very quietly.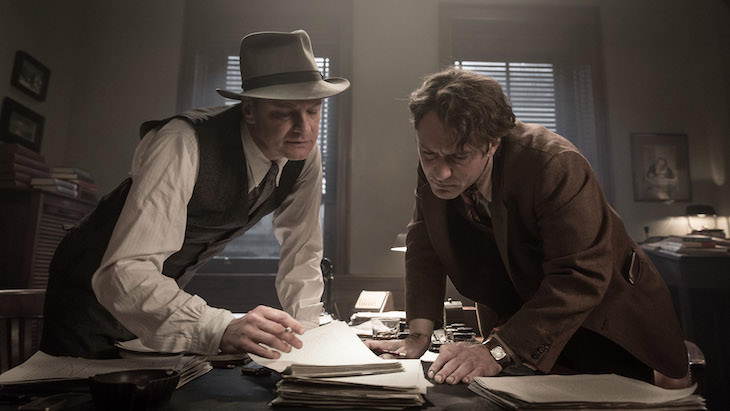 Colin Firth, Jude Law Marc Brenner © Pinewood Films
After the premiere, someone asked the two actors if they faced any difficulty, portraying these two well-regarded men. Firth's response was like something the subdued Perkins himself would have said, "It's not the first time I've played a man in a suit….of course, Jude is jumping off the walls, but there still has to be a scene. So it's about making that work." Law passed over discussing his literal off-the-walls antics (it seems Wolfe didn't count sitting still among his talents), acknowledging the development of the unique, phenomenally close rapport that sprang up between the writer and the editor, the southern scoundrel and the refined Brit, respectively, and the importance of accurately representing that dynamic. "Michael was very adamant from the beginning, he wanted a staccato, a rat-tat-tat, so I remember endlessly rehearsing before a scene to try and get the speed of their responses, as quickly as possible."
The third thing Genius shows, more sadly, is the dissolution of love, between Perkins and Wolfe — though an 11th hour salvation prevents irreversible tragedy — and Wolfe and Bernstein. The real-life Bernstein left her "colorless" stockbroker husband and two grown children for a life, for about four years, with Wolfe. In the film, he acknowledges her support, particularly in the dedication of his first novel, but that acknowledgement is also an elegy, and their relationship crumbles under Wolfe's growing ego and emergent selfishness. As an aside to Wolfe's up-and-down antics and his mostly sweet relationship with Perkins, Grandage shows the plight of Aline the muse — loved, used, and above all, put in the backseat to any and all of Wolfe's wants or needs.
"What impressed me the most was [Wolfe's] desire to shake things up, to try to find a new voice, to leave the past and push himself in a new direction. He clearly had incredible writing skills, but it's almost as if that wasn't enough," Law said. Law is just right as the nutty, enthusiastic brain, but that's the easy part of the story. The meat in this story, in yet another take in the pantheon of contemporary material on Jazz Age creatives, is Law's portrayal of Wolfe's bad side. The more famous he gets, the ruder he grows. Totally blind to the needs of anyone in his acquaintance, he even chews out F. Scott Fitzgerald (Guy Pearce), whose star is (momentarily) on the wane, over Perkins' dinner table. (It's Wolfe's lowest point, but you want to cheer Firth when Perkins throws him out of his house.) No one gets it, however, worse than Mrs. Bernstein —luckily, she's played by Kidman, and Kidman doesn't typically play doormats. We can't go further without revealing some spoilers, but at a few moments, you want to cheer her too, and they're not when she's applauding her lover. The aim of Genius is probably not to be a cautionary tale for would-be muses, with a side helping of genius take-down, those are two of the movie's most invigorating points.