Sundance 2016: Complete Unknown, Morris From America & More are Sold
As the first major film festival of the year, and arguably one of the most important on the ever expanding festival circuit, the Sundance Film Festival is something of a taste maker. Studios small and large vie for the distribution rights of a number of films, while unknown talents can, in a single Park City night, become hot commodities. Here's a look at the news coming out of the 2016 Sundance Film Festival.
Before we get into what films have sold thus far, let the New York Times take you inside three films that bowed at Sundance that utilize virtual reality in their New Frontier lineup. American Bison, Kiya and Waves of Grace couldn't be more different from one another, but what these three films share is they use the boundary pushing new technology to plunge the viewer into their worlds in ways that would have seemed like science fiction just a few years ago.
On the acquisition front, Amazon has been busy. They've purchased three films thus far; Manchester by the Sea, Complete Unknown and Love & Friendship. Here's a quick breakdown on these films.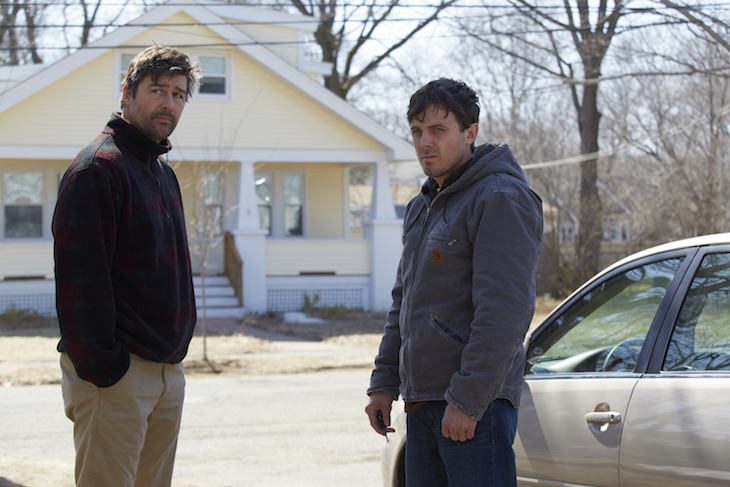 Kyle Chandler and Casey Affleck in Manchester by the Sea. Photo by Claire Folger. Courtesy Sundance.
Amazon paid nearly $10 million for Manchester by the Sea, written and directed by Kenneth Lonergan (You Can Count on Me, Analyze This, Gangs of New York) and starring Casey Affleck, Kyle Chandler and Michelle Williams. Affleck plays Lee, an uncommunicative handyman in Boston who must return to his hometown when his brother dies. What's more, Lee has been named guardian of his 16-year-old nephew. Lonergan, whose phenomenal You Can Count On Me won the Grand Jury Prize at Sundance in 2000, knows how to write immensely complex characters, and the reviews thus far of Manchester by the Sea point to a devastating, fully realized tour de force.
Complete Unknown stars a compelling power duo as its' top billers—Rachel Weisz and Michael Shannon. Co-written by director Joshua Marston (Maria Full of Grace), along with Julian Sheppard, Complete Unknown centers on the aftermath of a dinner party hosted by Tom (Shannon) and his wife, to which one of the guests brings a date named Alice (Weisz), who Tom is sure he knows, but who refuses they have any past together. Tom follows Alice, however, and soon finds himself having a unexpected night in the city, one in which his world might be forever changed by a woman who seems to be to do anything but.
And finally, Amazon and Roadside Attractions (with Netflix handling theatrical) scooped up Love & Friendship, Whit Stillman's (The Last Days of Disco, Damsels in Distress) adaptation of Jane Austen's novella "Lady Susan." Starring Kate Beckinsale, Chloë Sevigny, Xavier Samuel, Emma Greenwell, Tom Bennett and Stephen Fry, Love & Friendship is centered on gorgeous widow Lady Susan Vernon (Beckinsale), who has relocated to her in-laws estate to wait until the gossip of her recent indiscretion dies down. While there, the indomitable Lady Vernon plays the matchmaker for her daughter Frederica, and for herself.
Netflix has also purchased VOD rights to Tallulah and Fundamentals of Caring, the former is director Sian Heder's (Orange is the New Black) film about young woman's (Ellen Page) rescue of a toddler from her reckless mother, and the latter stars Paul Rudd as Ben, a man reeling from tragedy who becomes a caregiver to earn some much needed income and finds himself on a road trip with his first client, Trevor (Craig Roberts), a gregarious 18-year old with muscular dystrophy. The film's directed by Rob Burnett, a former producer on The Late Show With David Letterman. Netflix also nabbed Under the Shadow, from first-time director Babak Anvar, a horror set in 1988 Tehran involving a young mother attempting to care for her increasingly disturbed child while the Iran-Iraq war rages ever closer to their apartment.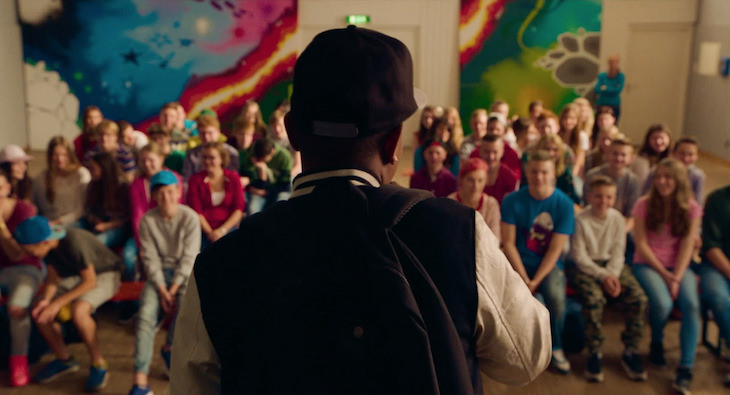 Markees Christmas in Morris From America. Photo by Sean McElwee. Courtesy Sundance.
A24 just landed Morris From America, director Chad Hartigan's film about Morris Gentry (Markees Christmas), an overweight 13-year-old African-American who is planning on becoming the next Notorious B.I.G., with one slight deviation from Biggie's Brooklyn upbringing; Morris is living in Heidelberg, Germany, where he's an outlier to say the least.
Beta Cinema has bought Sand Storm, from first timer Elite Zexer, an Arabic-language film that follows a woman named Jalila's predicament in a Bedouin village in Israel; she must host her husband's second marriage to a much younger wife. Brainstorm Media picked up Resilience, a documentary from James Redford that looks at the effects of Toxic Stress on children, known as Adverse Childhood Experiences (ACES). IFC grabbed Weiner, Josh Kriegman and Elyse Steinberg's doc about former congressman Anthony Weiner's doomed campaign for mayor of New York City, which ended after his second hugely humiliating scandal. And finally, Oscilloscope Laboratories bought The Fits, Anna Rose Holmer's story about boxer Toni (Royalty Hightower), who lands a spot on her school dance team in Cincinnati.
There's been a bunch more happening at Sundance. Check back with us as we continue our coverage of the festival.