The Mechanics Behind the Magic of Anomalisa
Watching Anomalisa, Charlie Kaufman's first theatrical effort since Synecdoche, New York seven years ago, it's hard to shake the impression that you're watching something wholly unique. Built around a simple enough concept: the exploration of a man's midlife crisis and extra-marital affair, Anomalisa's stop-motion puppet animation and meticulously built approach makes the film far more astonishing than it might look on paper. The world of the film is surprisingly banal: a plush but generally pedestrian hotel serves as the center for the majority of the film's action, but it's impossible to be much less than bowled over by the realism achieved by puppets made of felt, silicone and wire. Certainly no one could have known that this year's most convincing sex scene could have been between two puppets.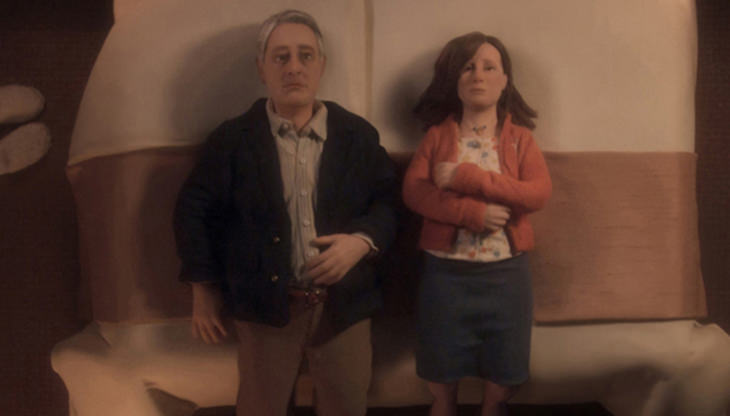 David Thewlis voices Michael Stone and Jennifer Jason Leigh voices Lisa in 'Anomalisa.' Courtesy Paramount Pictures.
While the film's animated vision feels intensely new, the studio that produced it has been creating animated work for some time. Founded five years ago as part of a collaboration between Dan Harmon and Dino Stamatopoulos among others, Starburns Industries began to carve out a space as animators for some of Adult Swim's weirdling ventures with their work on Moral Oral and Mary Shelley's Frankenhole. The studio operated relatively under the radar until they animated Community's Rankin/Bass tribute Abed's Uncontrollable Christmas, an episode written by Harmon and Stamatopoulos and directed by Johnson, which garnered significant attention as a heart-warming and goofy hail to Christmas, eventually nabbing a creative arts Emmy. Now, Starburns Industries does most of its television work for Harmon's newest series Rick and Morty, a drug-fueled, and lovably low-brow Adult Swim series that is now in its second season.
Anomalisa stands as the studio's first foray onto the silver screen, with animator Duke Johnson taking up co-directing duties alongside his personal hero (Johnson was an instant fan of Eternal Sunshine of the Spotless Mind when he saw it as a young film school graduate). The bare bones of the film first came into being as a "sound play" written by Kaufman, a theatrical work developed with his frequent collaborator composer Carter Burwell in 2005, which featured Kaufman's script delivered in a stripped down stage performance. When the script found its way into the hands of Stamatopoulos and Johnson, Kaufman was unsure of the film's ability to get funded. But when Stamatopoulos turned to the crowd-funding site Kickstarter with some animation mock-ups and a brief synopsis, he received an overwhelming response, eventually raising $400,000 for the project.
Like any good studio, Starburns Industries is located in Burbank, California, and between their two production spaces contains thirty thousand square feet of animation space, contained within a facade that looks a bit like a castle from a Monty Python set. Inside it, during the production of Anomalisa, laid tens of tiny hands, torsos (and well, penises), that were used to assemble the film's tiny vessels of humanity. Constructed by hand at the studio and animated by stop motion techniques, the production for the film was nothing less than painstaking. Though the fundraising process for the film was surprisingly swift and successful, the actual animation of the film, which involved scenes that required the puppets to flex, bend and drink martinis, took Starburns' 32 animators over a year and a half to create.
https://www.youtube.com/watch?v=JX9v9cRKAnI
The puppets, who bear little resemblance to the actors who voice them, were conceived of completely by Kaufman, Johnson and the Starburns team. "Finding out what the characters were going to look like was a big important thing," explained Kaufman in the film's featurette Peopling Anomalisa. "We were able to take advantage of the medium… so that we could make them specific, unique, but also very average and relatable." In order to cement some of the more abstract concepts of the play the film is based on, the puppet creators only conceptualized three unique faces for the world of the film. The two main characters, Michael Stone (voiced by David Thewlis) and Lisa Hesselmen (voiced by Jennifer Jason Leigh) are the only completely unique faces, with the rest of the puppets in the Anomalisa all voiced by the same actor, Tom Noonan, and characterized by the same faces: differing only in hair, eye and skin colors. "We took all the people that were in the [Starburns] studio and Photoshopped their faces on top of each other to get this generic amalgamation, and a sculptor interpreted that," Johnson told Vulture. Similarly, when it came to perfecting the final image in post, Johnson chose to leave the contours in the faces of the puppets untouched, causing them to look far more constructed than the lifelike hands and bodies they belong to. "That adds a soulfulness to the experience, an awareness that these things are being manipulated," said Johnson. "It makes them feel fractured and vulnerable. We didn't want to hide it."