Disney's The Jungle Book Triptych Poster
Walt Disney Pictures all-new live-action/CGI remake of their classic, The Jungle Book will be swinging into theaters in RealD 3D and IMAX® 3D on April 15, 2016.
A gorgeous new triptych poster for The Jungle Book has been released by IGN. The first two panels were revealed individually on Tuesday and Wednesday, but now we get to see the complete poster in all its' detailed glory. The first panel to the left teases King Louie (voiced by Christopher Walken) and the serpent Kaa (voiced by Scarlett Johansson). The panel to the right depicts the fearsome Shere Khan (voiced by Idris Elba). In center is the protagonist, Mowgli (Neel Sethi) with his friends and caretakers, the panther-turned-stern mentor Bagheera (voiced by Ben Kingsley), and the free-spirited bear Baloo (voiced by Bill Murray).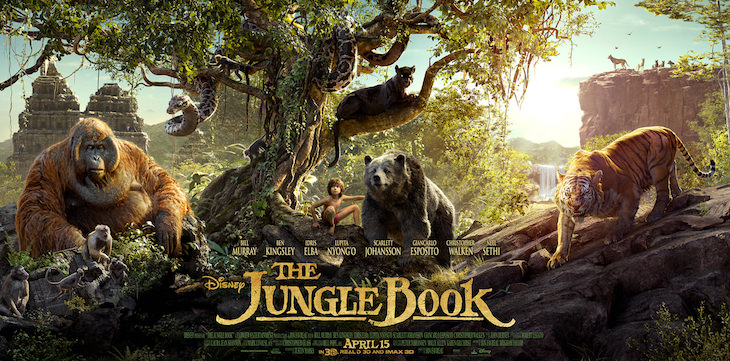 "The Jungle Book" is Rudyard Kipling's story of a man-cub who was raised by a family of wolves only be to be cast out when his presence, as a human, puts the entire pack in mortal danger. The film is directed by Jon Favreau (Elf, Iron Man). The film also stars Lupita Nyong'o as the voice of the fiercely protective mother wolf Raksha, and Giancarlo Esposito as the voice of wolf pack's alpha male Akela.
The 1967 original was the last animated feature produced under the supervision of Walt Disney. If you have never seen it, it is not to be missed, starring a cast of great voice actors including: Sebastian Cabot, George Sanders, Sterling Holloway, J. Pat O'Malley, Phil Harris and the inimitable Louis Prima.
Here is the original trailer; you can find where to watch it on Where to Watch.
https://www.youtube.com/watch?v=ytpwzj6Ldo8