From Winter's Bone to Hunger Games: Jennifer Lawrence's Rise to Fame
Though it's become increasingly difficult to think of a time in which Jennifer Lawrence wasn't a household name, it's been only five years since Winter's Bone kickstarted her meteoric rise to fame, but that certainly wasn't Jennifer Lawrence's first role for the screen. Beginning her career nearly 10 years ago in small or low profile parts on television and film, the Kentucky-born actress moved to Los Angeles at the age of 14 and has been acting ever since.
Never one to approach anything the conventional way, even at an incredibly young age, Lawrence knew she wasn't destined for a traditional route to fame. "I remember being 14 and [telling] an executive at Disney that I didn't think I was very 'Disney' and did not want a television show," she told Filmmaker Magazine.
Her first role was a relatively anonymous one, as a high school mascot in the USA series Monk, but even in this clip, it seems impossible for the person inside the cumbersome costume to be anyone else, with the fuzzy creature displaying what has now become that iconic Lawrence energy.
Following up that appearance with a small part in CBS' Cold Case the same year, Lawrence played a young girl whose mother turns up dead. A small and forgettable role to be sure, but Lawrence played moments of vulnerability and suspicion to incredible effect, and the actress who was chosen to play Lawrence's mother was Paula Malcomson, the woman who also plays Katniss' mother in Lawrence's later The Hunger Games.
In 2007 at the age of 17, Lawrence starred in The Bill Engvall Show, a family-based and intensely traditional sitcom that received middling reviews from critics. Despite the show's lack of particular popularity, Lawrence has always been conscious to pay her dues to the show, which provided her with some of her biggest exposure early in her career. "I'm so grateful for it," Lawrence told Under the Radar Magazine, "I had so much fun on that show…and it funded my indie career so I could do the movies that I want[ed]." The titular comedian Engvall agreed. In a recent interview with Las Vegas Review, he said, "After a year on that show, I knew we'd be writing the episode where she went off to college because she is so good and so talented, the movie business was gonna snatch her up."
Snatch her up it did as she appeared in three films in the following year, making her film debut in a small role in the LA-based film Garden Party, followed by the emotionally draining Lory Petty project The Poker House, a gritty film that left Lawrence with more baggage than she expected. "It's just hard to come out of because you spend two months being a person and going in these dark places, and when you're young you don't know how to get out of those dark places," she told Filmmaker Magazine. "My friend knows a therapist and I just talked to her for a little while. I just needed someone to talk to."
Also appearing Guillermo Arriaga's Golden Lion nominee The Burning Plain, Lawrence earned her first mark of success after taking home the Marcello Mastroianni Award for Best Emerging Actress at the Venice Film Festival for her appearance in the film.
The following year, Lawrence burst onto the indie scene with Winter's Bone, which won best picture at the Sundance Film Festival and carried her to great acclaim on the shoulders of countless rave reviews to what would be her first of many Oscar nominations. Lawrence, whose incredible performance in the film hinted at a preternatural virtuosity, had a surprisingly long relationship with the film. "My mom read the book five, some six years ago. And when she read it she said, 'Jennifer, if they ever make this into a movie, you'd be perfect for it,'" she told Interview Magazine in 2011. "I didn't listen to her, because she's my mother, but five years later I got the script and the audition." Even at Lawrence's first taste of true fame, she wasn't afraid to betray her poised persona with her hyperactive antics. Spinning yarns about her love of spaghetti, her profane ad-libs on the set of the film and her propensity for "that's what she said" jokes, Lawrence began to cement her now-iconic reputation as a wildly serious actress who in her private life is anything but.
Shortly after, Lawrence appeared in higher-profile films like the charming indie Like Crazy, the Mel Gibson-starring and star-crossed The Beaver before replacing Rebecca Romijn as Mystique in the intensely popular X-Men franchise. Already a high-profile actress by this time, Lawrence's most well-known turn as Katniss Everdeen was still forthcoming.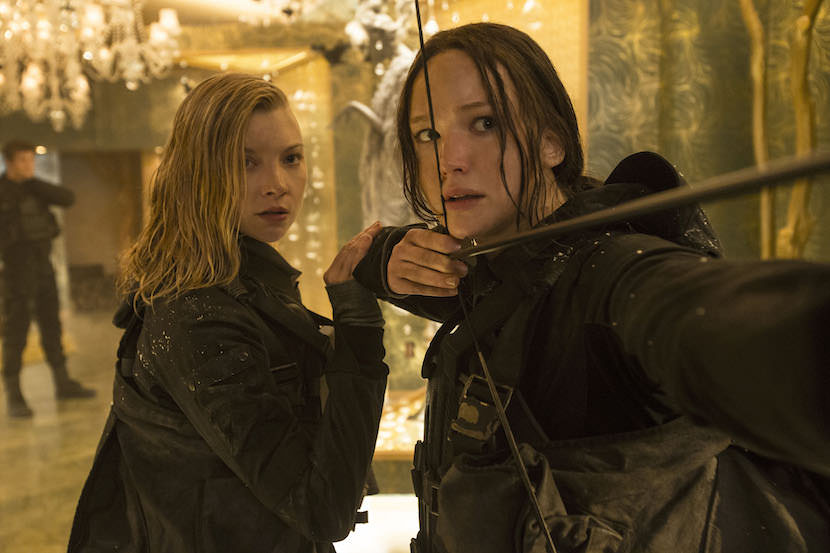 Natalie Dormer is Cressida and Jennifer Lawrence is Katniss in 'The Hunger Games: Mockingjay – Party 2.' Courtesy Lionsgate
Even after having cited The Hunger Games in early interactions with the press, the decision to come aboard the franchise monolith was more difficult than you might accept. "Everyone was asking why I didn't do studio movies. I used to say, 'The size of the movie doesn't matter.' And [my mom] said, 'Here's a movie you love, and you [are] thinking of turning it down because of its size.' I thought: 'I don't want to miss out because I'm scared.' But I knew in my heart that I wanted it," she told The Hollywood Reporter, "It was about working out all the fears." Certainly the series, which has been treated to the dual lauding of favorable critical reception and intense popularity, catapulted Lawrence into the sphere of super stardom, which hasn't come without its downsides. At first struggling to deal with the pressures of popularity, Lawrence insisted, "…just because I'm an actress does not mean I asked for this. It does not mean that it comes with the territory… People forget that we're human."
Gravitating back to the indie sphere after her big studio splash-out, Lawrence began her ongoing collaboration with David O'Russell in the beloved Silver Linings Playbook, which snagged her first Best Actress Oscar at the incredibly young age of 22.
After those incredibly fateful two years, Lawrence's career and public reception plays like a dream. Earning her third nomination with another O'Russell collaboration, American Hustle in 2013, and cementing her box office viability with an X-Men and a Hunger Games follow-up, Lawrence proved her commitment to placing equal effort in large-scale studio work and prestige films.
But Jennifer Lawrence's incredible popularity doesn't end in the world of film. She's captured the hearts of fellow weird-girls everywhere with her unapologetic and generally ridiculous antics, falling somewhere between cats and Kim Kardashian as the internet's most beloved subject. But she's used her platform for good, supporting the Special Olympics as official ambassador and speaking out about the Hollywood pay gap, which made headlines a few weeks ago. Debuting Lena Dunham's online newsletter, Lawrence declared "f*ck that," to Hollywood's lack of parity, sending around shockwaves and provoking unanimous support when insisting that she was, "over trying to find the 'adorable' way to state [her] opinion and still be likable."
Proving her right to be the most well-paid actress in Hollywood, she has already planned a stacked 2015, with Joy, Lawrence's third collaboration with David O'Russell on the horizon and The Hunger Games: Mockingjay – Part 2 hitting theaters this Friday. Unsurprisingly, Lawrence has an incredible lineup of films for the future: planning her next appearance as Mystique in X-Men: Apocalypse, a new untitled film with Darren Aronofsky, and the Morten Tyldum helmed sci-fi Passengers against Chris Pratt.
Lawrence also looks to be turning her efforts to work behind the camera after announcing a screenplay collaboration with the similarly beloved Amy Schumer. Though little is known about the work, they've teased a "funny, dirty, real" film, which will star Lawrence and Schumer as sisters. As she told Entertainment Tonight, Schumer will play a very "together" woman, while Lawrence will play a total "mess." Since her breakout role five years ago, Lawrence has avoided major career missteps, constantly proving herself to be an actress with talent and drive beyond her years (she just cracked 25 in 2015). It's certainly no wonder that she's progressed from relative obscurity to incredibly lauded actress in the time it would take someone to finish college, and with an impressive slate of upcoming projects, it's safe to say Lawrence will continue to be one of the most talented and beloved American actresses in coming years.