The Hunger Games: Mockingjay – Part 2's Production Designer on Creating the Capitol
Translating descriptions in a book to physical places for a movie is a tall challenge, one that risks leaving faithful readers disappointed. Production designer Philip Messina performed that translation four times in a row for Suzanne Collins' Hunger Games series, culminating with The Hunger Games: Mockingjay — Part 2.
The movie takes place as the rebel forces, including heroine Katniss Everdeen (Jennifer Lawrence), storm the Capitol and seek to kill its leader, President Snow (Donald Sutherland). The streets are booby-trapped with pods that unleash fire, weapons or deadly creatures.
Messina was responsible for turning what was a terrifying scene in the book—black sludge oozing down a narrow street – into an even more epic viewing experience. Instead of scouting out a street for that scene, Messina chose Abraxas, a grand public housing project in Paris with an amphitheater and arch at the center, designed by famous Spanish architecture Ricardo Bofill.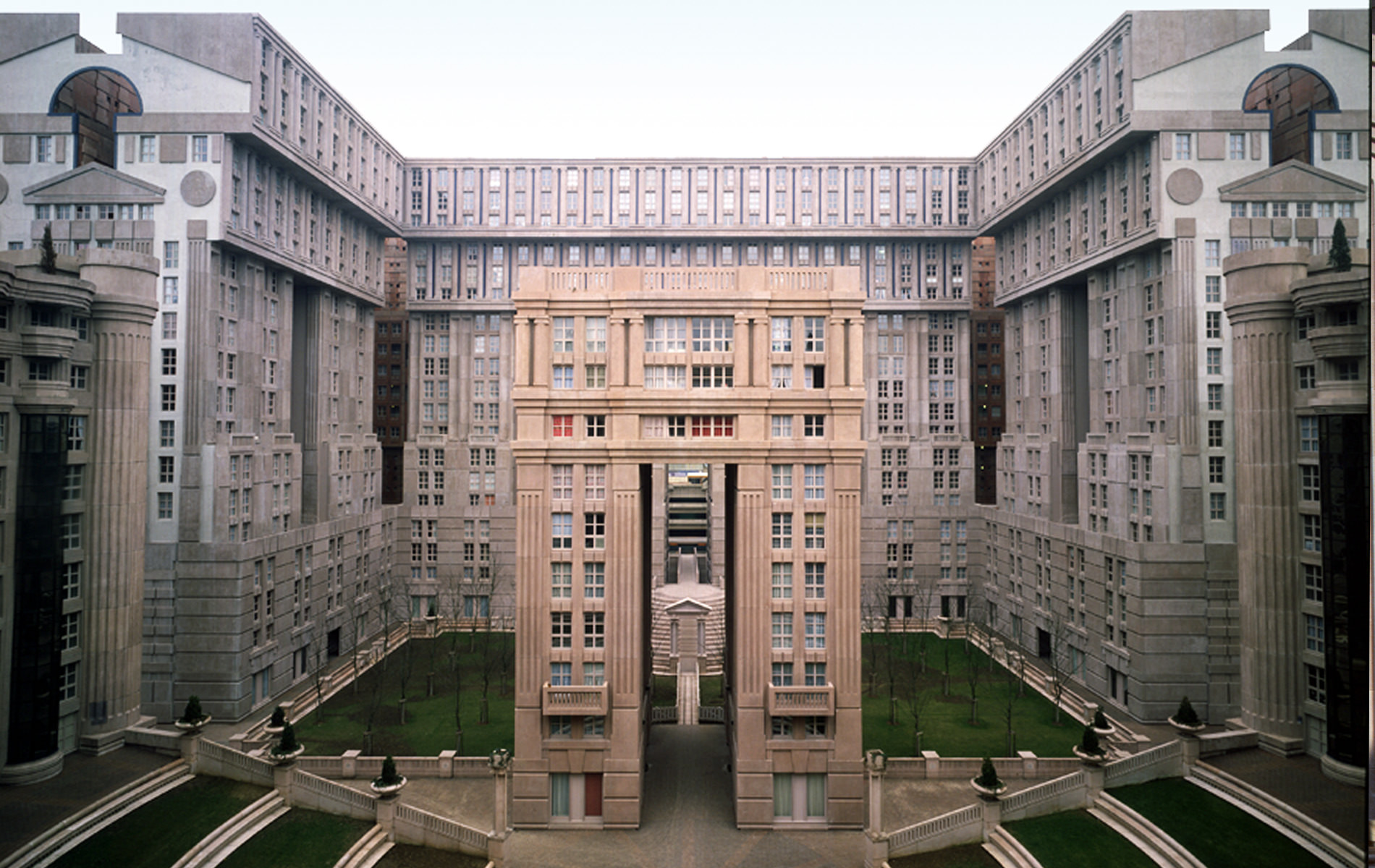 Abraxas. Ricardo Bofill Taller de Arquitectura​
When Messina stumbled across a photo, and immediately thought of the "black goo" scene, as he calls it. "There was this enclosed courtyard and a kind of amphitheater," he said. "I thought, I can make the sides [of the building] come up in CG, and they can escape into a stairwell."
The director, Francis Lawrence, instantly saw the possibility Messina laid out.
"When I showed it to the director he immediately started blocking the scene," Messina said. "I was able to show him a scene that solved problems and created opportunities. Shooting the scene in Paris was a breeze. "It photographed almost exactly the way it looked in [location] scouting photos, which almost never happens."
Though the main part of the scene was shot on location, "we found a doorway for the stairwell that was actually shot on stage in Paris, and from there they go to a larger apartment that was set on a stage in Atlanta," Messina recalled.
Scenes on sets that spanned continents was business as usual for the 156-day shoot, during which the crew shot Mockingjay Part 1 and Part 2 back to back.
"Only a few people on the planet have done a 156-day shoot, and I wanted to be one of them," Messina said. The shoot took place in Atlanta, Paris and Berlin.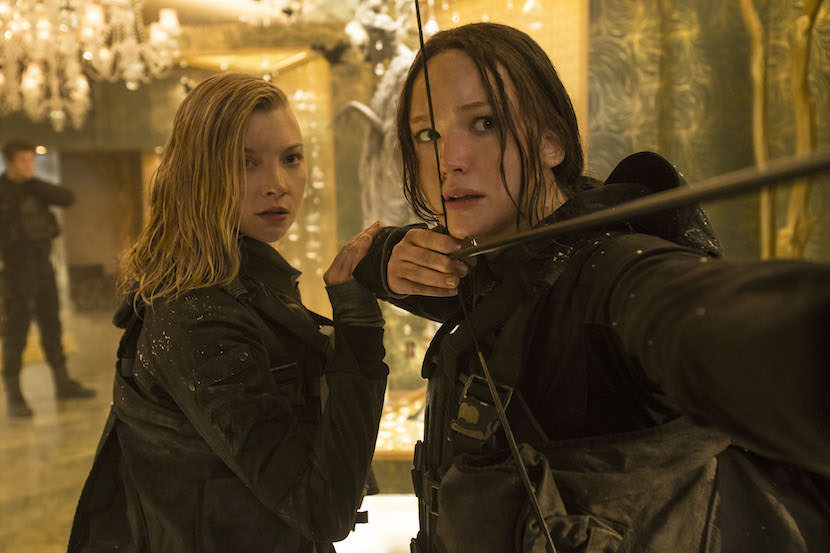 Natalie Dormer is Cressida and Jennifer Lawrence is Katniss in 'The Hunger Games: Mockingjay – Part 2.' Courtesy Lionsgate
Maintaining continuity across all three locations – especially when multiple locations were contained in a single scene, as in the black goo scene – was "controlled chaos," Messina said, citing his supervising art director Dan Webster as a major help in managing the art department.
"There were times when I had crews prepping in all three countries," Messina said. To maintain the aesthetic he wanted, the team shipped some of the same pieces to Paris and Berlin.
While he wanted continuity within scenes, Messina always strives to make sure the films he designs don't look too uniform.
"When I see films that are built in worlds that I don't respond to, it's because they feel like they were done by the same art department across a nine-month period," Messina said. In reality, a city might have buildings from different time periods and with different styles of architectures, something he sought to incorporate into Mockingjay.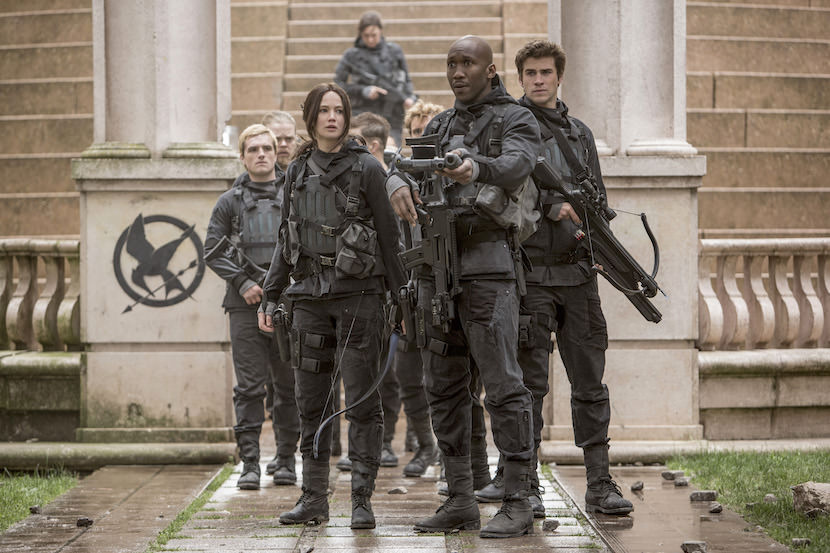 Peeta Mellark (Josh Hutcherson , far left), Katniss Everdeen (Jennifer Lawrence, center left), Boggs (Mahershala Ali). Photo by Murray Close, courtesy Lionsgate.
That meant using as many real-life street scenes as possible to portray the Capitol, a mandate shared by the director. Paris provided not only Abraxas, the backdrop to the black goo scene, but parts of President Snow's mansion and the dress shop where Katniss hides out with fellow rebels.
"It doesn't feel like we endlessly cloned the pieces," he said. "Having the real locations did a lot of that work for us."
Messina had no idea that Hunger Games would turn into the mega-franchise it did when he first took on the film.
"Starting with number two, I got a sense that I might be going further, so I was more careful about painting myself into a corner." But each film was different enough to hold his creative interest.
"For each book, there was a specific hook that drew me back into the fray." In Part 1, designing District 13 felt like a completely different film. In Part 2, viewers see more of the Capitol than any of the previous films.
Mockingjay is the latest stop in a long career for Messina. He started "at the bottom" doing blueprint work for Mermaids in 1990, which happened to shoot near where he grew up in Boston. Set design drew on his degree in architecture from Cornell. "I ran blueprints, made models, did drafting," he said. After working his way up from a set designer to art directing "tiny movies in Boston," he trekked out to Los Angeles. There, Steven Soderbergh "gave me my first real job" as a production designer on Erin Brockovich, the Oscar-winning movie. He worked with Soderbergh for a decade.
Creating the Hunger Games series spanned five years of his life, including that epic 156-day shoot. With that experience, he's formed closer bonds to his co-workers than ever before, making the end of the series bittersweet.
"At the LA premiere, I felt nostalgic in a way I never had about people," Messina said. "We did a major body of work together."