How Quentin Tarantino Protege Zoe Bell Traded Stunts For Acting
It's not easy to switch from movie "staff" to acting, and Zoe Bell credits being "deluded" or at least "clueless" for her move from stuntwoman to actress. Quentin Tarantino deserves some credit, too. After working with Bell as Uma Thurman's stunt double in Kill Bill, he went on to cast her in 2007's Death Proof, her first acting role and one she took reluctantly. This year, Bell is the star of Camino, an independent movie making the rounds that just screened at the Denver Film Festival. She will also appear in Tarantino's The Hateful Eight, which filmed in Colorado and hits select theaters on Christmas day and goes wide on January 8.
"I thought by becoming an actress I was turning my back on my kin," Bell acknowledged at a Q&A event hosted by the Sie FilmCenter as part of the festival. "I'm almost certain being an actor is not an upgrade. I get paid less as an actor than I did as a stunt girl."
Tarantino challenged Bell to become an actress eight years ago when he showed up at her house with a script for Death Proof that had her name on the cover. "I told him to cast someone who looked like me so I could double them," she said, and he surprised her by casting her instead. Her reaction was "terrified." Fortunately, Bell has the kind of personality that likes a challenge.
"As ironic as it sounds, doing stunts was my safety zone," she said. "Physicality is a language that I speak."
Bell calls acting "a whole different kind of fear" that it took her six years to become comfortable "being uncomfortable with." Bell has now stopped taking stunt work in favor of focusing full time on acting and because, she says, other people had a harder time accepting her as an actress while she was still doing stunt work. She'll still wear both hats for Tarantino, though. For The Hateful Eight, she spent three months learning to drive a six horse team to play the character Six-Horse Judy—a skill set she said was surprisingly hard to learn.
"The first script I've read back to front was Kill Bill," said Bell, who grew up on an island in New Zealand where watching movies was a community activity. In the small stunt community of New Zealand, Bell distinguished herself as a 17-year-old doing stunts on the set of Xena Warrior Princess. She was 21 when Xena ended, which was around the same time Lord of the Rings also finished filming there. "The two major production companies basically hiring 98 percent of the New Zealand film community packed up and left," she recalled. It was the turning point that had Bell thinking about working in film as a career rather than just a job.
"I thought Hollywood was impenetrable," she said, so she headed for Canada. Bell ended up interviewing for a stunt role on Kill Bill during the two weeks she stopped in Hollywood to appear in a documentary about stunt people.
"I never thought I would get the job, thus I was never fearful about losing it," she said. "Sometimes being clueless has benefited me."
Behind-the-scenes footage exists of Bell's audition, which she said she "screwed up." Bell insists that producers were struggling to find stunt people for Kill Bill, because other movies like Charlie's Angels were occupying many of Hollywood's female stuntwomen. But Tarantino has said Bell stood out from the crowd because of the way she kept trying over and over to get a stunt right.
She very quickly felt comfortable with Tarantino and they became "fast friends"—the kind of friends who get up to shenanigans like drinking beer on the Great Wall of China, peeing behind a bush and waking up on each other's couches.
Bell laughed and cursed her way through the Q&A, but also spent some time talking about the "identity crisis" she went through after an injury on Kill Bill that kept her from doing stunts for a year, the lifestyle of "waiting for validation" she sees in Los Angeles, and how women in action have to do stunts while also looking "hot."
The stunt that injured her should have been textbook, she said, but complicated and dangerous stunts—like a few she did on Death Proof and Catwoman—tend to be the ones where people are the most careful; "simple stuff ironically tends to be the most dangerous."
Bell won the Denver Film Festival's Rising Star award three years ago and returned this year as a featured guest and star of her own movie. She admits that she still mocks actors as "crazy" and tries to group herself with the "athletes," even if it's not quite true anymore.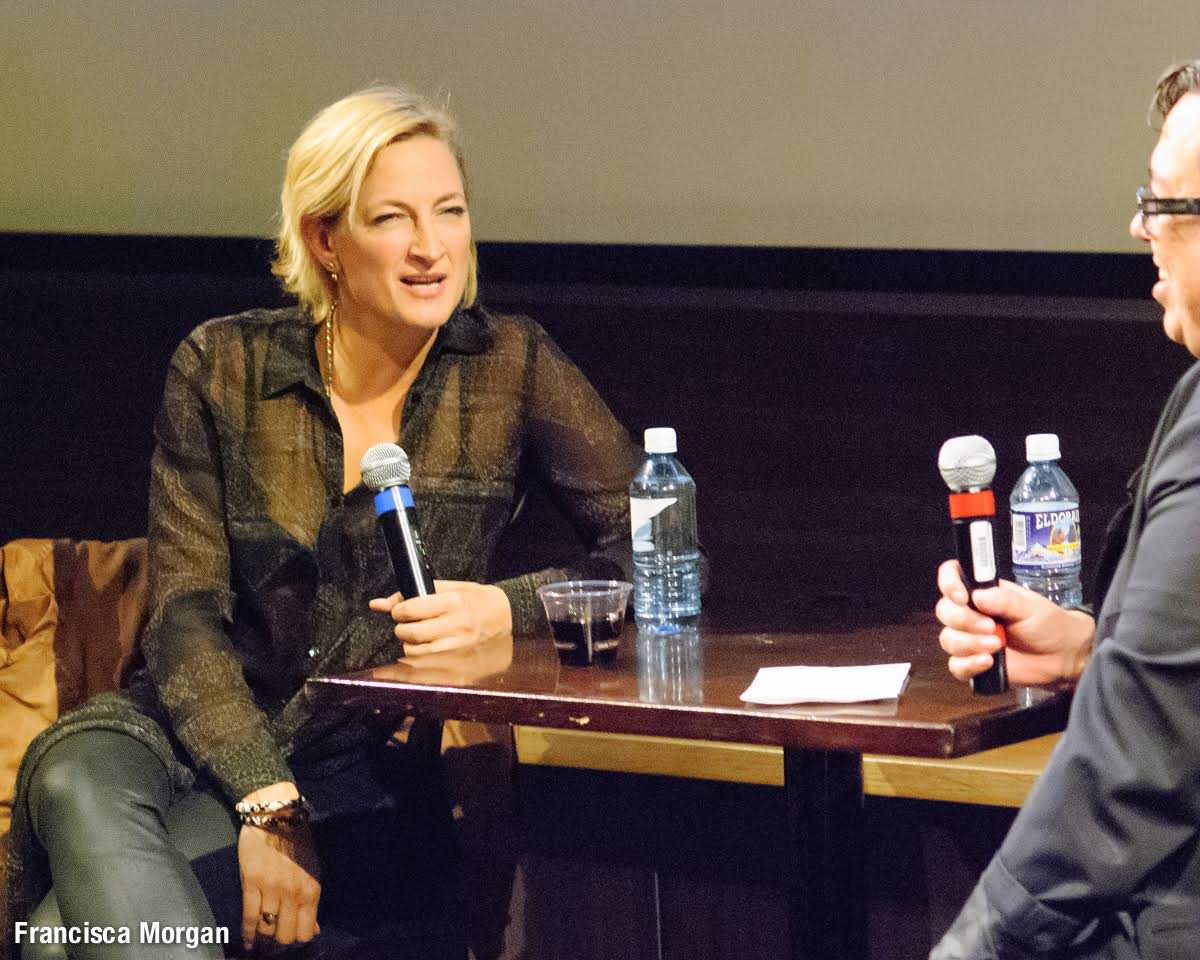 Zoe Bell at the Denver Film Festival. Photo by Francisca Morgan
The Denver Film Festival, for the first time this year produced without sponsor the STARZ channel in its title, in the past has offered screenings of films that would go on to win major industry awards, such as The Artist, Black Swan, Brokeback Mountain, Nebraska, No Country for Old Men and Silver Linings Playbook. This year, some of the buzziest films screened at the festival were Charlie Kaufman's Anomalisa, Carol with Cate Blanchett and Rooney Mara, and Mia Madre from writer/director/producer Nanni Moretti, who was also presented with the Maria & Tommaso Maglione Italian Filmmaker Award during the festival.
But Camino, directed by Josh Waller and staring Bell and cult director Nacho Vigalondo, also merits attention. Bell plays a photojournalist following a group of guerilla "missionaries" traveling through the jungle of Columbia. When she witnesses something that makes her a threat to the group's leader, she must survive both mercenaries and the jungle in order to make it out of Columbia with the proof on her camera. This gritty movie features Bell getting beat up and bloodied in a way typically reserved for male action stars like Bruce Willis. Bell is utterly believable in her role, thanks in part to her background as a stuntwoman. She is also intensely vulnerable in the role, an even more interesting juxtaposition after hearing her talking about the way acting forced her to be vulnerable in a way that she intentionally closed off as a stunt woman.
"I like being a woman and I like being an actor and it took a long time for me to feel honest in saying that," she said. It's clear that whatever Tarantino saw in Bell, audiences have just begun to see it as well.
Featured image: Zoe Bell, photograph by Francisca Morgan.