Chatting With Brooklyn's Breakout Star Saoirse Ronan
Saoirse Ronan, breakout star of Brooklyn, and Eilis Lacey, the character she plays in the film, share more in common than just being young Irish women. Ronan, 21, remembers the insecurity of finding herself completely on her own for the first time.
"In the scene in the diner, [Eilis] has her change ready to go because she's not used to this. I did that. I still do that. I go to Tesco's supermarket and I have my money ready because I get anxious about it," says Ronan.
Before she started work on Brooklyn last year, Ronan had moved to London from her parents' home in Dublin. Her mother, Monica Ronan, had been a constant companion on film sets as Saoirse (it's pronounced 'Sear-sha') steadily earned acclaimed for juvenile roles — she was nominated for a supporting actress Oscar at 13 for Atonement (2007). More accolades followed for her work in The Lovely Bones (2009); Hanna (2011); and The Grand Budapest Hotel (2014).
But Saoirse — showing some of Eilis's spunk and independence — wanted to be self sufficient so she elected to live on her own.
"It was great to be able to do it. I needed to do it. Look, many young people who grown up in this industry get very used to being told what to do at a certain time, being driven to locations, getting food made for us, being given per diems. That's not really life and I was aware of that and I didn't want that to be my reality all the time by staying at home," she says in her lilting brogue.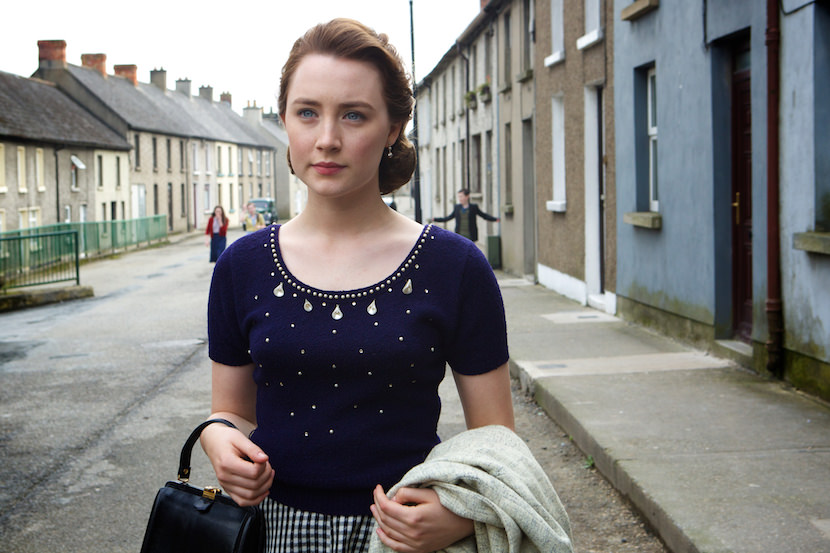 Saoirse Ronan as "Eilis Lacey" in BROOKLYN. Photo by Kerry Brown. © 2015 Twentieth Century Fox Film Corporation
But like Eilis, Ronan experienced loneliness and culture shock. "I didn't think it would be that much of a shift because I'd worked away so much," she says. "I remember the first week in my new flat in London, I called Mum up — I wasn't a silver spoon kid; I was able to look after myself and everything — but I called her up and I said, 'I'm sitting here and I'm hungry and there's no food in the house.' I realized I had to go out and get the food, pay for it, cook the food and clean up afterward and then I had to do it all over again. It takes awhile to get used to the fact that there is absolutely nobody to rely on."
Based on the 2009 best-selling novel by Colm Tóibín, Brooklyn is adapted by Nick Hornby and directed by John Crowley. At the center of the story is Eilis, a young woman in a small Irish town in 1951. Seeking a better life for Eilis, her older sister and widowed mother send her to America. Arriving in Brooklyn, with the help of Irish priest Father Flood (Jim Broadbent), Eilis moves into a women's boarding house run by the strict Mrs. Kehoe (Julie Walters), gets a job at a department store, and begins dating a genial Italian plumber named Tony (Emory Cohen). When she's called back to Ireland to deal with a family tragedy, Elis must decide which place is truly home.
Ronan is aware that's she's carrying many expectations for her first real adult role and first Irish part.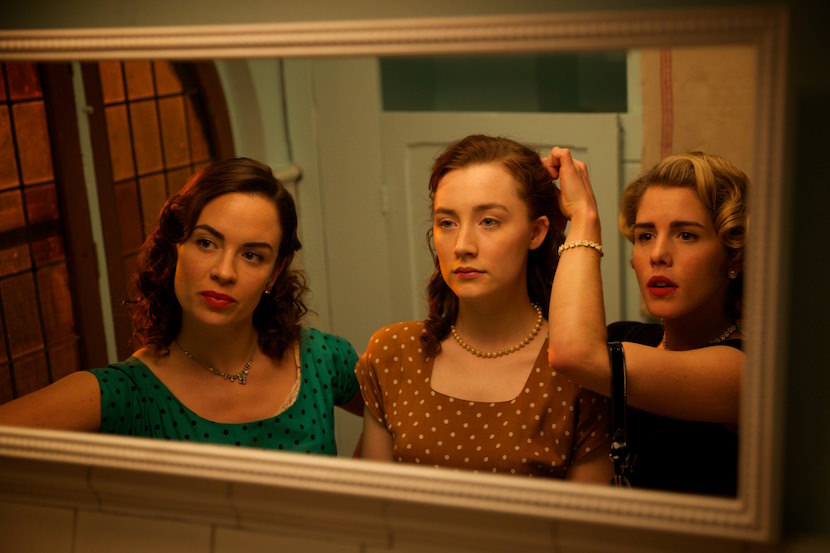 Eve Macklin as "Diana," Saoirse Ronan as "Eilis" and Emily Bett Rickards as "Patty" in BROOKLYN. Photo by Kerry Brown. © 2015 Twentieth Century Fox Film Corporation ​
"I felt a huge responsibility, not just to my family but to the Irish and to every immigrant, to everyone who's moved away, to really capture that feeling, that sense of loss," she says. "You know you're not able to go back to the way it was. You know that home will never be the same again because you will never be the same."
There is also the responsibility of bringing a beloved novel to the screen. "I'm surprised how many people outside the U.K. have read the book. I've talked with so many people who love Colm's work; I guess I didn't realize how beloved it was," she says. "When you pair two terrific writers like Colm and Nick, and they write women so well, it's a great pairing."
Even at 21, Ronan recognizes that a major film that revolves around a female character isn't to be taken for granted. More important, she notes, is the amount of female interaction in Brooklyn.
"Hopefully, it will drive other films to do the same thing. Women talking to other women is entertaining and funny and intelligent, so it's exciting," she says. "This film showcases that, yet it was written by two men. It's a lovely thing when a man is able to come along and really capture that."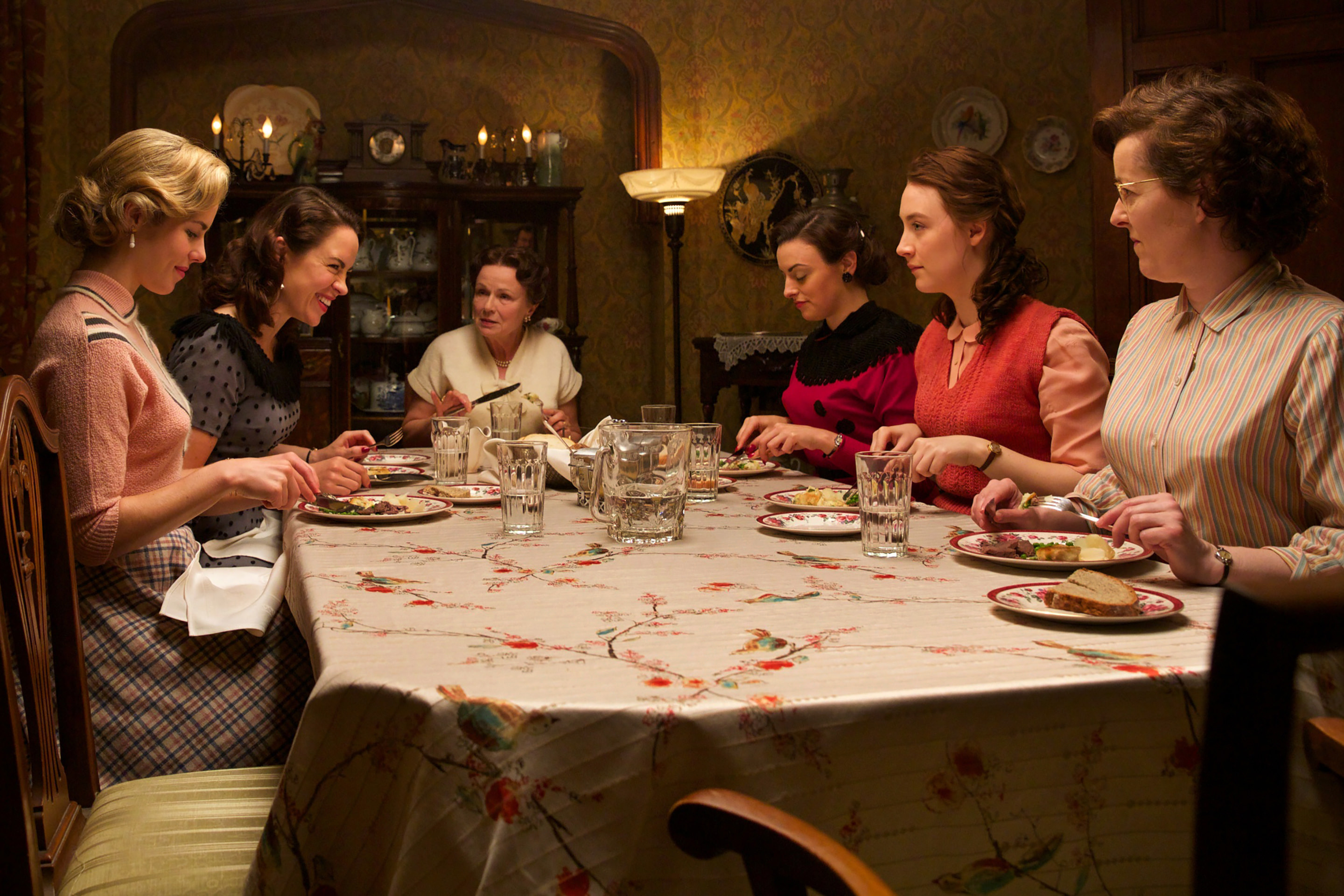 Emily Bett Rickards as "Patty," Eve Macklin as "Diana," Julie Walters as "Mrs. Kehoe," Nora-Jane Noone as "Sheila" and Saiorse Ronan as "Eilis" in BROOKLYN. Photo by Kerry Brown. © 2015 Twentieth Century Fox Film Corporatio
Brooklyn resonates for Ronan beyond even her own experiences. Her parents, Monica and Paul Ronan, who is an actor, had left Ireland in the 1980s for the Bronx, where Saoirse was born ("Me and J.Lo," she jokes). They returned to Ireland when Saoirse was three. "Mum was adamant about having me in New York because they were illegal for years and couldn't leave because they wouldn't be allowed back in," she says. "I have dual citizenship [in Ireland and the US] and an American passport. I can live and work here any time I want."
She recalls taking her "Mum" to Ellis Island during Brooklyn's two-day shoot in New York and learning about the many groups, from Italians to Jewish people to African slaves, who passed through and then settled in New York. "I had no idea that such diverse communities all came there for different reasons," she says. "I can't imagine kids going alone. With Eilis, she never knows if she's going to see any of [her family] again."
Ronan, who in February will make her Broadway debut as Abigail Williams in a revival of The Crucible, says she worried right up to Brooklyn's world premiere at this year's Sundance Film Festival that she had done a "terrible" job. Now, with the film opening to critical acclaim, there's a good chance that Ronan will earn a best actress Oscar nomination.
But what most important to Ronan is that immigrants, and the sons and daughters of immigrants, are connecting deeply to the story of what's lost and gained when one leaves the past for an uncertain future. "It's an Irish film and an Irish story, but it's not," Ronan says. "People with no connection to Ireland get something out of it. That's what struck me."