Sicario Reunites Director Denis Villeneuve & Cinematographer Roger Deakins
In Sicario, director Denis Villenueve and cinematographer Roger Deakins have re-teamed after their successful first collaboration on Prisoners (2013). In that film, Villeneuve extended his explorations of morality and violence seen in his earlier Canadian films, but integrated them into conventions of the Hollywood child kidnapping sub-genre. The result was a disturbing and frightening movie that gave equal focus to the semi-abstract, atmospheric environment as it did to the stand out performances of its cast. 
In Sicario this delicate structural balance is further explored, between a rigorous examination of environment coupled to a trio of main characters with obscure and /or compromised motives, finely etched by the cast of Emily Blunt as Kate, Josh Brolin as Matt, and Benicio Del Toro as Alejandro – state and federal law enforcement agents fighting along the border of Southern Arizona and Northern Mexico in the no-win war on drugs.  
The seemingly normal family houses settings in Prisoners, which as tracked by Deakins's camera revealed them to be claustrophobic mazes reflecting the characters damaged psychological states, here in Sicario gives way to vast desert landscapes spotted with dilapidated or abandoned homes that can spring terrifying traps on combat SWAT teams looking to uncover drug traffic. The combination of long takes with minimal cutting, wide angle lenses that place the characters within their environment, and framing to include the vagaries of the desert sky, from oppressive sun to black moonless night and everything in between, reveal the desert to be just as claustrophobic as the houses in Prisoners, causing Emily Blunt and her cohorts nothing but confusion and terror. As Scott, the special ops agent played by Val Kilmer in David Mamet's great movie Spartan (2004) says: "You don't wanna go in the desert."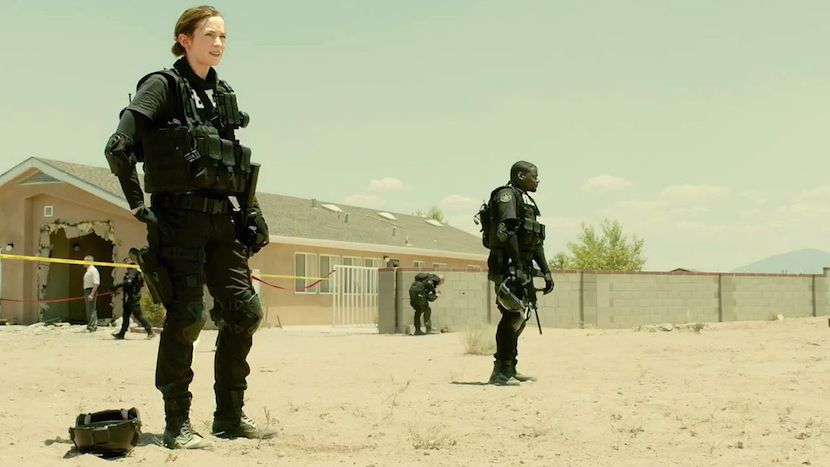 Villeneuve spoke to Variety recently about how he saw the look of each film: "For 'Prisoners,' we were embracing the idea of shooting during Thanksgiving in the fall, that kind of depressing, dark light. And 'Sicario' is the opposite; we went for the harsh, brutal light of the Chihuahua Desert (in Mexico) — very harsh, very cruel sunlight."
He elaborates in the movie's production notes: "'Sicario''s colors and textures are directly inspired by the Chihuahuan Desert. I wanted the characters to be silhouettes crushed by the sun. We shot the movie in monsoon season, so every day thunderstorm cloud formations created astonishing skies for us. The sky became a silent character in the film, a poetic expression of Kate's [Emily Blunt's] inner and outer torments. The desert is a fascinating place because it can be extremely harsh and raw … and yet it can be inspiring…"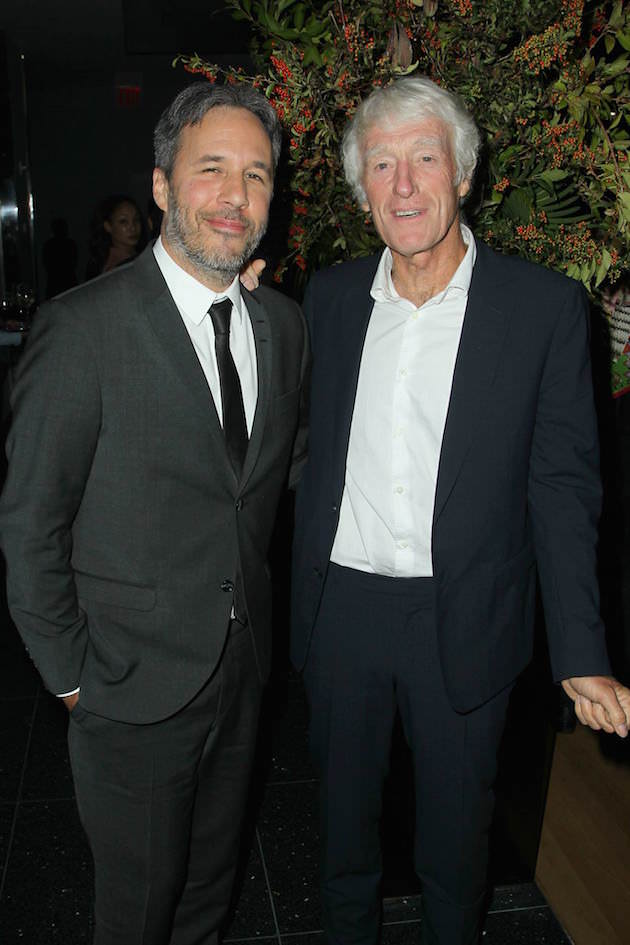 Deakins was on the same wavelength as his director, when expectations for the weather on location didn't pan out, as he told Don Kaye at DenofGeek.com:
"One of the major things that happened on 'Sicario' I suppose we didn't really expect but we should have, it's the weather. We imagined a much more sort of bland look to our experience. But then it was very active monsoon season when we were there. So we got these amazing cloud formations. Neither Denis nor I had talked about that. We had actually talked about it being really quite bland. But we both decided to embrace that and use it because the landscape was such a sort of feature in the film. It was almost a character."
Making the environment a character yet not loosing sight of the human characters is tricky, especially when the script calls for two of the three main characters to remain deliberately opaque in describing both their backgrounds and the objectives of their inter-agency task force to their new recruit Kate, who is an upfront, idealistic, and by the book Arizona SWAT team member. Josh Brolin's Matt identifies himself as a DoD official, and Del Toro's Alejandro reluctantly divulges he was once a prosecutor in Colombia, but all is not as stated. To convey the emotional arc of the characters, Villeneuve and Deakins decided to tell the story and plan the elaborate action sequences from both Kate and Alejandro's point of view. As Deakins told Variety:
"…in "Sicario" when we were shooting the action, he [Villeneuve] didn't want to shoot it as just conventional action. He always wanted a particular kind of viewpoint to it. Obviously in this case the film was shot from Kate's viewpoint, from Emily Blunt's viewpoint, until then at one point it changed into Alejandro's and then came back to the two of them. So the action wasn't just sort of coverage of action to make it exciting. It was very much done with a sort of personal kind of perspective on it, you know, character's perspective."
In the October issue of American Cinematographer, Deakins sums up his work on Sicario: "…it basically comes down to a conversation in the kitchen, which is played in two close-ups. That to me, is the essence of a great movie, when you get to that moment when it's all about the characters and their relationships to each other. That's what I love about cinematography, really – looking into an actor's face." 
For Villeneuve, who will be working with Deakins again next year on the long gestating Blade Runner 2, working with the master cinematographer on Prisoners and Sicario was a great learning experience. Villeneuve told AC mag in the same issue:
"I have to be honest, Roger is much more accomplished than I am. Artistically, he's a master, and I try to stimulate him as best I can. It's completely selfish on my part, because I learn with every shot – about rhythm, about camera movement, about the dynamics of the frame. I'm always learning from him."
Featured image: Emily Blunt is Kate Mercer in 'Sicario.' Courtesy Lionsgate