Danny Boyle, Aaron Sorkin & Walter Isaacson Talk Steve Jobs at NYFF
This past weekend we attended a panel discussion of Steve Jobs at the 53rd New York Film Festival (NYFF). Steve Jobs, like The Social Network (about Facebook founder Mark Zuckerberg), is a masterfully crafted story of one of the most influential men of the last fifty years. The film, directed by Academy Award winner Danny Boyle, written by Academy Award winner Aaron Sorkin (who also wrote the The Social Network,) and based on author Walter Isaacson's best-selling biography, pulls back the curtain on the tech era's preeminent showman by concentrating his turbulent personal and professional life around three huge moments in his career.
Those moments are, fittingly, product launches: the first is the Macintosh, in 1984, the second is his NeXT Cube, in 1988 (NeXT was the company Jobs founded after being forced out of Apple), and the third product is the iMac, which he launched in 1998. Around these three key moments, Sorkin, Boyle and the filmmaking team teased out many of Jobs most lasting, devastating and triumphant turns, including his relationship with Chrisann Brennan (Katherine Waterston) and their daughter, Lisa (Perla Haney-Jardine, Ripley Sobo and Makenzie Moss), whom Jobs initially won't recognize as his own.
Steve Jobs stars, of course, Michael Fassbender as the eponymous legend. His performance is stunning. Kate Winslet is Jobs's longtime marketing chief, Joanna Hoffman, Seth Rogen is the man who co-created the first personal computer with Jobs, Steve Wozniak, Jeff Daniels is Apple CEO John Sculley, and Michael Stuhlbarg is Andy Hertzfeld, a member of the original Macintosh team.
The NYFF panel included Sorkin, Boyle, Isaacson, Fassbender, Winslet, Rogen, Daniels and Stuhlbarg. They spoke about the process of creating the film, capturing the essence of Jobs and what message that they were trying to convey in this film.
Here we are focusing on the slightly edited comments by Aaron Sorkin, Danny Boyle and Walter Isaacson in answer to questions by moderator Kent Jones, director of the NYFF, and questions from the audience:
Aaron, where did you start with the daunting task of making a movie of Walter Isaacson's book?
Sorkin: I read the book many times. Before I knew what I wanted to do, I knew what I didn't want to do and that was a biopic. That would be the conventional cradle to grave structure, where you kind of land on all the greatest hits of the character along the way. It is a structure that is familiar to audiences and I didn't think I would be able to shake it and I would be that good at it. What happened is I like claustrophobic spaces; I like compressed periods of time. I like things that are behind the scenes, in this case literally behind the scenes. So, I wondered if I could take all the work that Walter had done and if there was a way to dramatize some of the points of friction, choose some of the points of fiction in Steve's life. Dramatize them in this way with just three scenes. Three real time scenes, 30-minutes for you in the audience is the same as 30-minutes for a character on screen. I didn't think there was a chance that the studio would let me do that, but they did.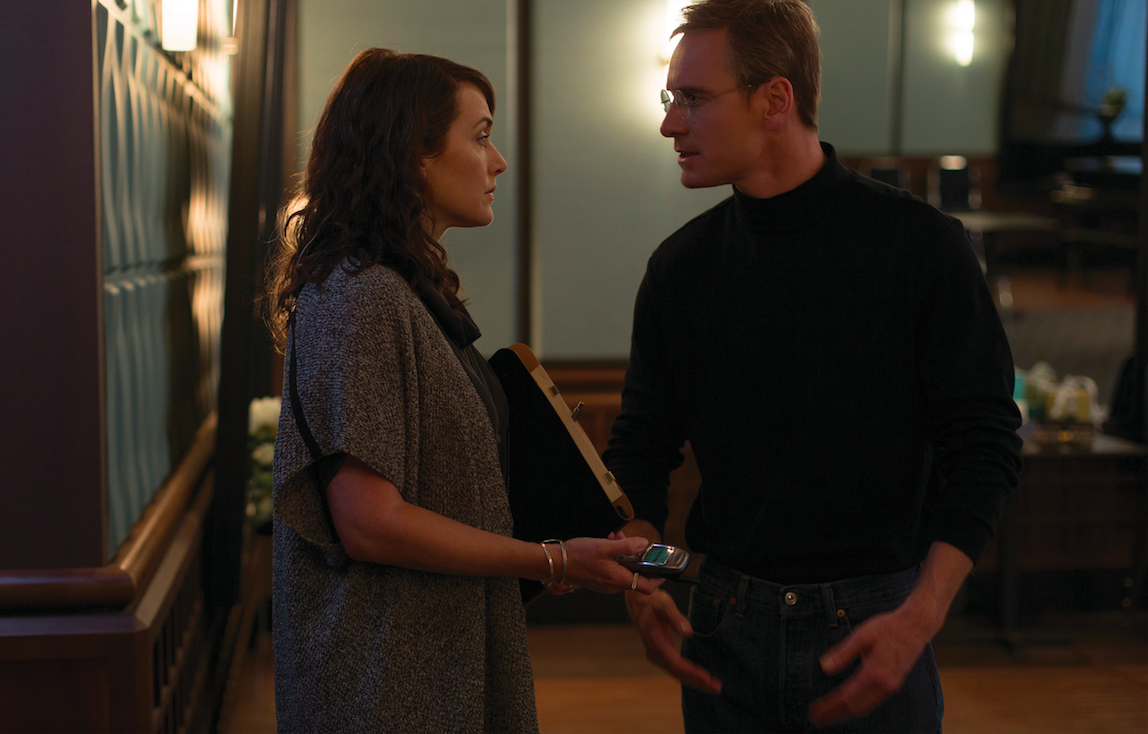 Danny over to you – As director and making that work, your work with the actors, can you just kind of talk about that?
Boyle: We wanted to make the three sections as different as possible as that was the idea. We emphasized everything to do with that so we did this weird thing where we rehearsed only the first bit and then we would run it through. We had little run throughs where the actors could see the other actors and then we filmed that bit and then we stopped – Which is the weird bit. Typically people cannot understand why you would stop when you get into the tone of the filming. We would stop and then we would rehearse the second part. Of course with these kinds of actors once they have done one thing, like Act One, they don't want to repeat that. They want to find a different energy in act two; they want to find a different thing which is wonderful, is servicing the cause of trying to make each of the acts separately. Likewise, they would do stop time after Act Two and then rehearse part three and then shoot that. We tried to choose places in San Francisco, the three theaters were very different and the music was very different in each part, so we were emphasizing the difference the whole time.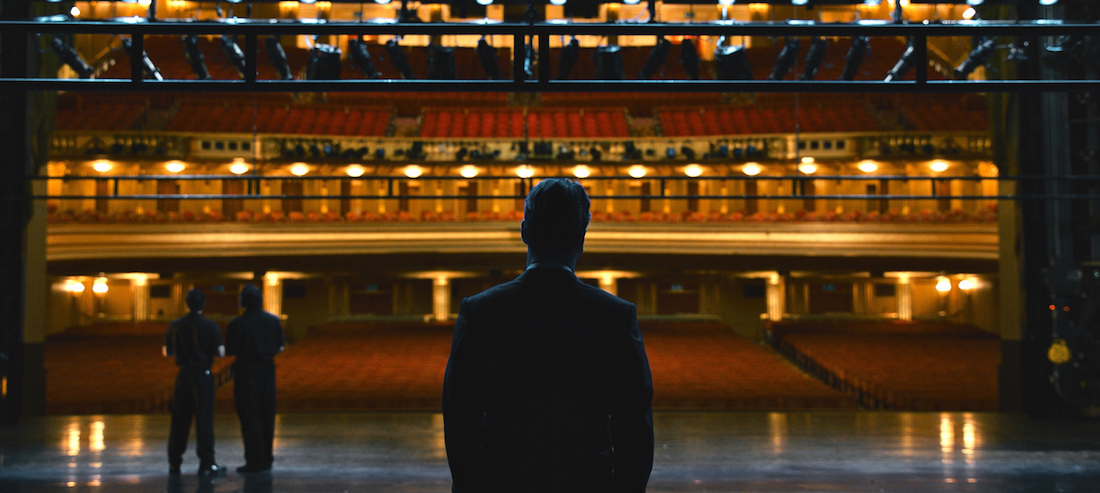 As a filmmaker, how important do you think it is to get it right? Aesthetically, look-wise, or do you think it is more important to bring the story to life, get the person and the message right.
Boyle: What was interesting was the tension, because honestly you have your knowledge of him; a lot of that was based on his public performances. What was wonderful about Aaron's idea was that there was this public sense. You have all been told that there are three product launches, so your mind immediately goes to that and those images on YouTube. Of course you never go onstage or barely at all at the very end because it was always behind-the-scenes; behind what you might think you understand. It was underwater, beneath the surface. It wasn't about being a look alike and physical mannerism; they weren't the driving force behind it. It was actually Shakespearian really; he was a historical figure and a key one for us for our generation. There were facts that were true and a lot of stuff that was dispensed with as well. We had to shoot the man and his relationship with these other people.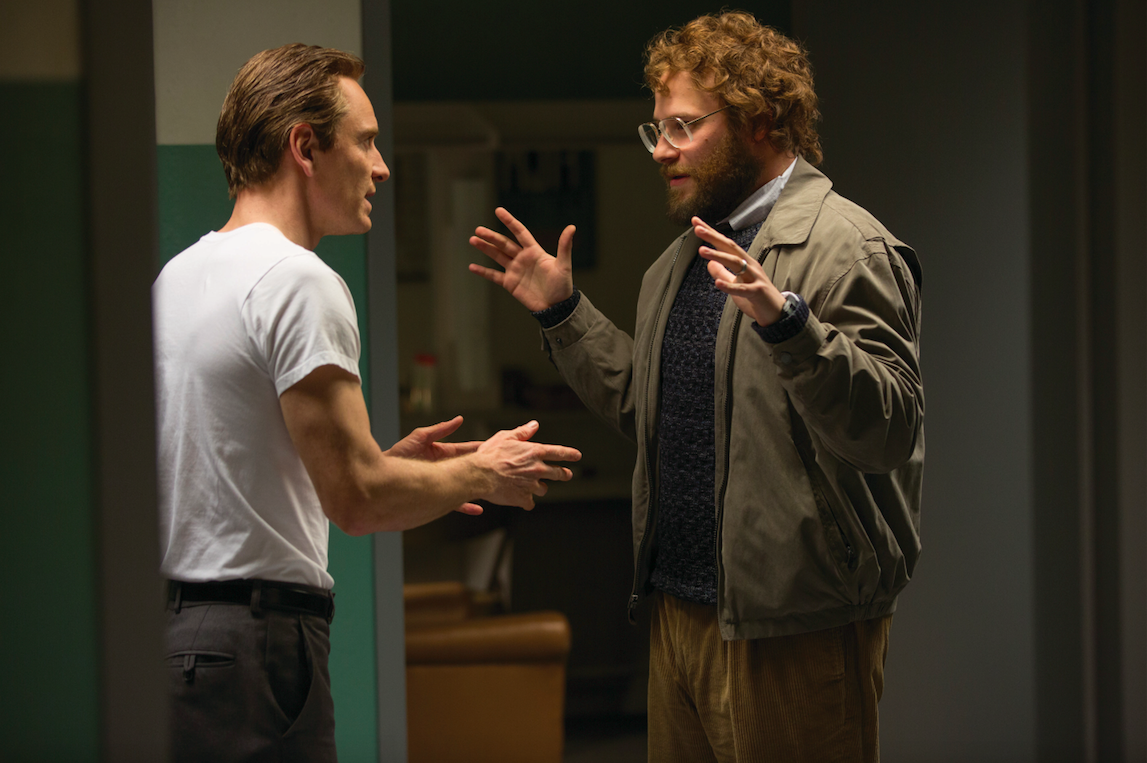 I am curious about the influence Steve's love for music and the power of music in this film from a writing standpoint. Did you consider specific pieces of music while writing and structuring this film? I know there are a lot of music notes in the background. I am curious how it bled into your work and if it came from Steve in any way.
Sorkin: Yes, music was important. Something that Walter wrote in his books was one of the first things that jumped out at me, was one of things that I wanted to see if I could use – Water describes a scene that you are in. You are talking to Steve very late in his life and you [Isaacson] are talking about two different recordings of the song "Both Sides Now." The first one is Joni Mitchell, I think the one we are familiar with, and then there is a much later recording that is much more haunting, melancholy, mature and Steve said, and you wrote in the book, "It is funny how time …"
Isaacson: "It makes you understand things differently." He always liked the older version, the fast upbeat one. Listening to the older one, you [Sorkin] show that in this really great movie, how he matures.
Sorkin: So that made it up onto an index card on the wall and it made it into a scene in the second act between Steve and nine year old Lisa. I was listening to the Bob Dylan music that he liked so much. I really like music, and I like music not when I am typing but when I am driving around and arguing with myself and trying to get a scene going. I was listening to a lot of symphonic music at this time. Interestingly, Danny and Daniel Pemberton, who wrote the score, came up with a lot of symphonic music.
At the end of the day, does genius change the rules of how human beings are expected to behave with one another?
Isaacson: You know the great thing about that question is each person has to answer it for him or herself. That's what this great movie does. It poses that question and that is what I tried to do with the book. At the end of the book I have all these great characters, especially Andy Hertzfeld and Joanna. Everyone says I wonder if he had been a bit nicer, could he have put a dent in the universe the way he did. Seth's [Rogan] character Wozniak said, I think this is a quote from my book, "If I had been running Apple I would have been much nicer. I would have given everybody stock options, and I would have treated everyone like a family. Then he said if, 'I had run Apple, we never would have built the Macintosh.'" I don't want to answer that question.
I think the really cool thing about Aaron's script is everyone wants affection from Steve in this movie. John Sculley does, everyone wants it because he is such a compelling Shakespearian character, becoming Henry V. Everybody wants, on Saint Crispin's Day, to be marching with him to the breach. He is also tough and you watch him mature at the end of the movie and he becomes the type of person who realizes that these personal relationships matter. I think it would be wrong to be like, 'okay, here is the answer'; instead of, 'here is the movie.'
Sorkin: I agree with Walter. I hope you will see this movie and have those arguments in the parking lot outside the theater.
I thought it was really provocative and interesting, the different approaches taken to all three different time periods. Whether it was the costume design, or the look of the film, or the grain… Can you tell me about the costume design, the film that you used there and the styling for Michael becoming Steve Jobs in those three different eras of his life? What were the challenges and the interesting part of that?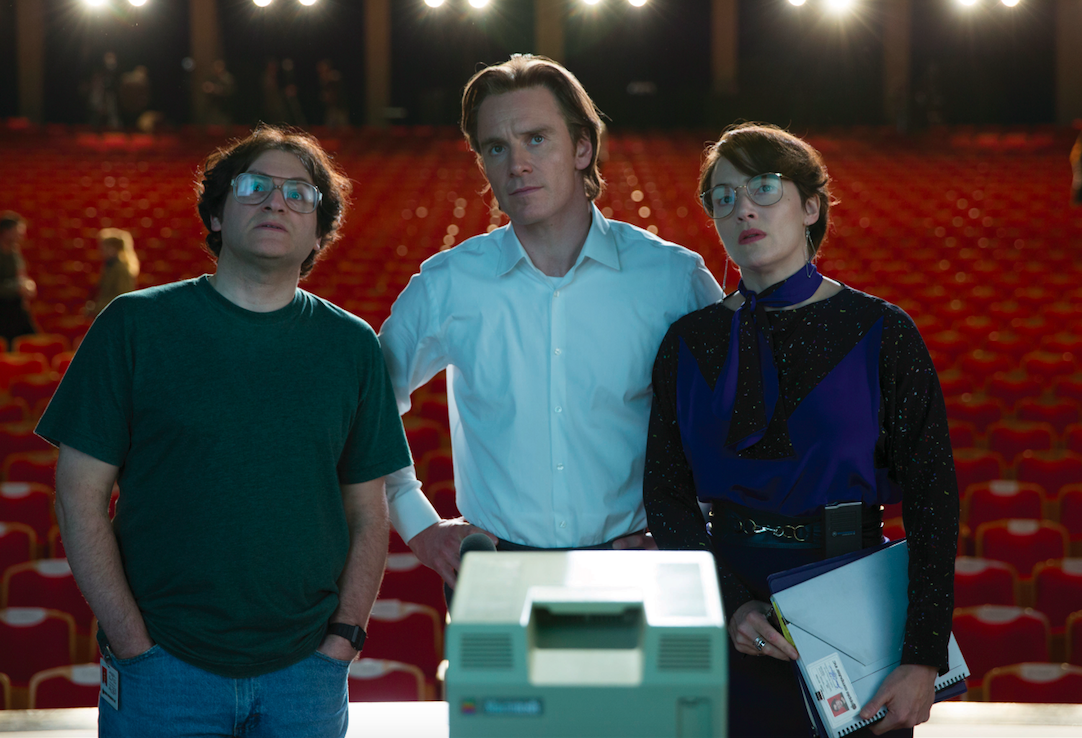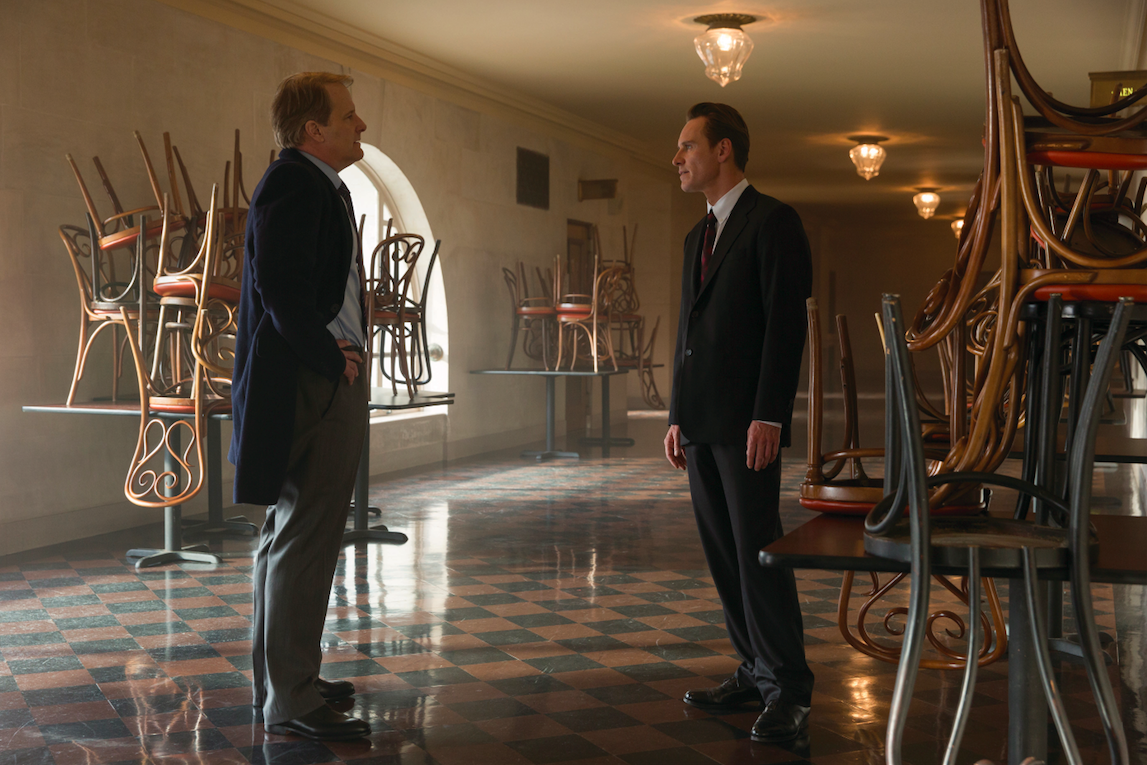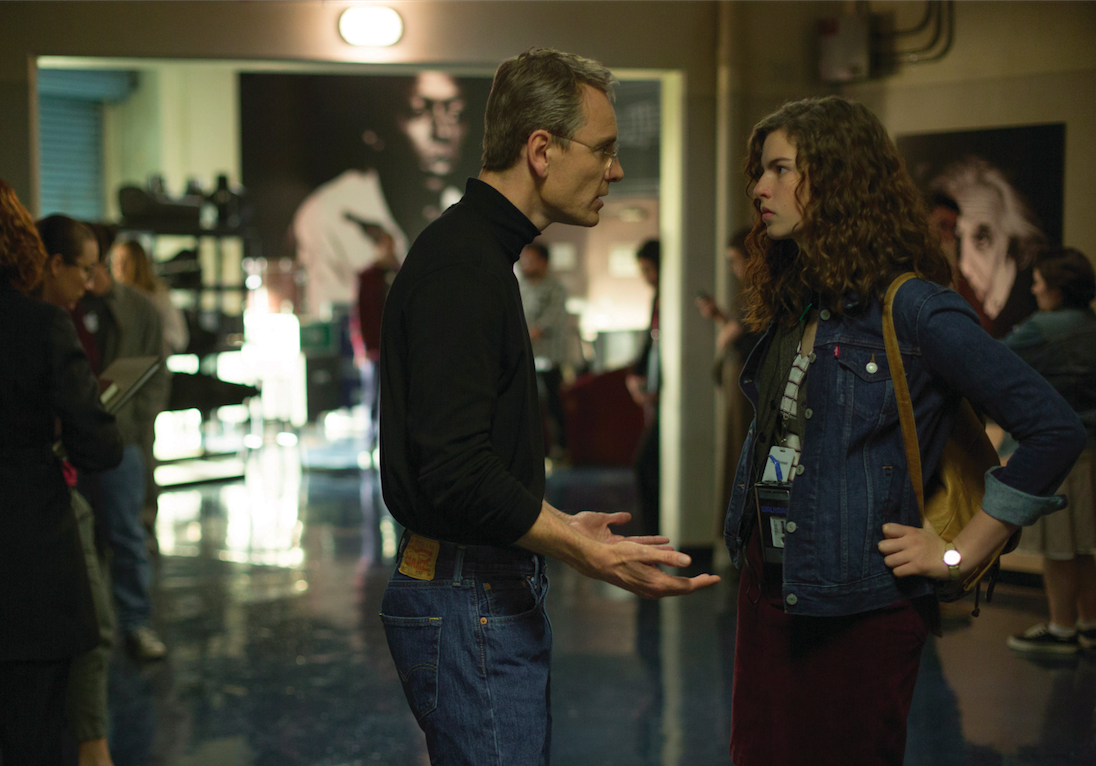 Boyle: As I said, we tried to make each section of it, each time period, as different as possible. We actually used three different formats. We used 60 mm for the first act because it felt like the early days and he very much thought of himself as the pirate or the rebel then, in 1984, breaking down the edifice of IBM. So the homemade feel of 60 mm which is more distant, felt really wonderful for that. Then we used 35 mm for the second act, which we always used to say there is sort of a rainy river of intention running through it. We can see by Joanna [Hoffman] always trying to find out and asking him what is going on and film is wonderful for that. You go to the Opera House and it's beautiful and ornate and film loves that and soaks it up. And then we go to The Alexa in the final part which is like the brutal HD thing. Which is all the relation.
So it applied to the music, too. We used three different scores, all by Daniel Pemberton. Suttirat Larlarb, who did the costumes, was again trying to get each period. We had extraordinary response from the people in San Francisco who turned up on those crowd scenes. We didn't have the money to fill those theaters but we advertised for people and they came forward. We asked them to wear stuff from the '80s and boy did they wear stuff from the '80s. You only have to give them half an invitation and people get the shoulder pads out and it is like whoa!! But the weird thing is you can see it here now, blokes are no different. What you are all wearing would basically pass for 1984 men. It is absolutely true, very depressing, but very very true.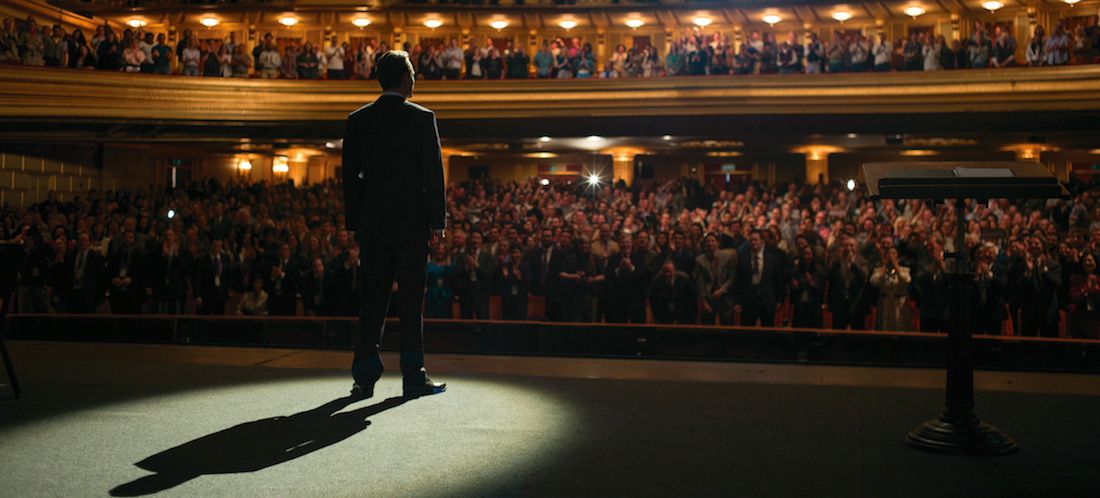 Featured image: Michael Fassbender stars as the iconic Apple founder in 'Steve Jobs.' Courtesy Universal Pictures.