Can Patrick Schwarzenegger Top Dad in Scout's Guide to the Zombie Apocalypse?
Having had its release pushed back a week, to October 30th, Scout's Guide to the Zombie Apocalypse opens just in time to be a gore-filled romp for everyone too old to trick-or-treat (which should be most of the film's audience, since Scout's Guide was raunchy enough to get an R rating). The movie features three devoted scouts, who, at the end of their high school careers, are pushing the age and social limitations of their beloved hobby. The movie, and their lives, pivot when they decide to hit Jeff the cool kid's party, and a zombie outbreak puts their scout skills to some actual use.
As the zombie invasion gets underway, no one, including formerly innocent house cats, is safe. Though our hero scouts are played by relatively new faces — Tye Sheridan, Logan Miller, and Joey Morgan — their rival in the zombie hunt, the aforementioned cool kid Jeff, is played by the newer, younger, prettier model of Schwarzenegger: Arnold's son Patrick.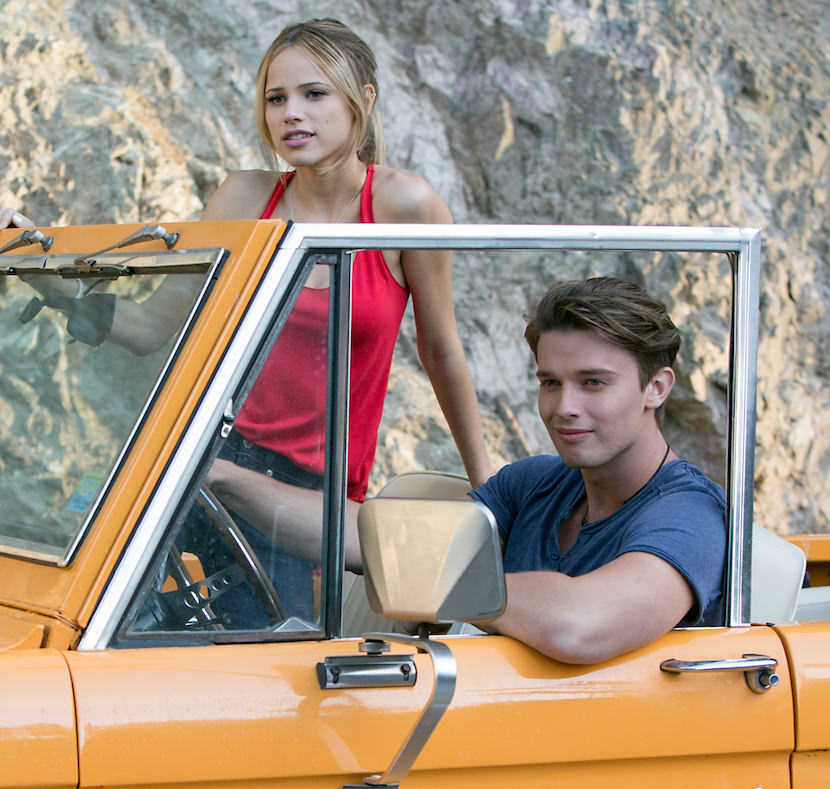 With Scout's Guide about to open, how does Patrick, previously in the critically well-received Stuck in Love and with the likely tween sensation Midnight Sun on the way, stack up to his dad? This point-by-point comparison from movie moments to real-life accomplishments provides a not so scientific analysis:
Famous Former Relationships: Maria vs. Miley
Arnold married into the Kennedy family when he wed Maria Shriver in 1986; the marriage ended in divorce in 2011, after infidelity and lovechild revelations (his). Patrick's most famous ex is Miley Cyrus, who, like Shriver, is a member of an American dynasty (stay with us here.) Though both Shriver and Cyrus are scions of influential clans, sharing genes with JFK obviously beats being the offspring of Billy Ray, giving Papa Schwarzenegger the edge in this one. However, since Patrick was born in 1993 and that makes him about 11 years old by our math, the younger Schwarzenegger wins for future potential to link up with a fellow member of a household-name American — or foreign, whatever — clan.
Important Accomplishments: Politics vs. Social Media
Arnold was the governor of Caliornia from 2003 to 2011. Outside of his movie roles and being Arnold Schwarzenegger's son, Patrick is best known as one of the Rich Kids of Instagram. But then, Schwarzenegger is Republican. (Do the Rich Kids of Instagram spring from anywhere else?) Eh, it's a draw.
Playing the Bad Guy: Cyborg vs. High School Quarterback
In his most famous role, Arnold plays a cyborg sent to destroy the unborn future of humankind in The Terminator. In his latest role, as Jeff the former high school quarterback-turned-zombie-hunter in Scout's Guide, Jeff isn't always nice to the film's overgrown boy scouts (you'll have to see the movie to find out if he redeems himself). On the scale of bullies, the petty but popular high schooler is more realistic than a preemptive revenge-bent cyborg, and therefore arguably worse. Edge: Patrick.
Playing Outside One's Type: Musclebound Enforcer vs. Popular Kid
From Total Recall to Predator to Collateral Damage to The Expendables, even if those movies are now classics in their genres, the elder Schwarzenegger's best-known roles are about what you'd expect a former bodybuilder with a formidable accent to play. In Scout's Guide, Patrick plays, again, a popular, pretty-boy high school quarterback. The pretty-boy son of two famous and exceedingly wealthy parents, generally spotted at events like Art Basel, as Jeff, Patrick basically plays the more mainstream American version of himself — "rich popular kid." in one form or another. We're calling this one a draw until Patrick finds his footing, somewhere outside of dad's predictable footsteps.