The Martian, Spotlight, Sicario, & Room Wow at TIFF
The Toronto International Film Festival is celebrating its 40th year with one of its most diverse and adventurous programming slates, from blockbusters to high-prestige, likely awards contenders to small films from directors from all parts of the globe.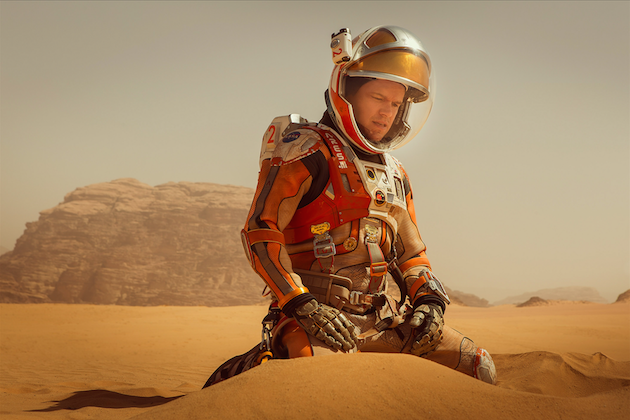 Generating early buzz among the much-anticipated Hollywood films was The Martian, Ridley Scott's adventure in space that had its world premiere at TIFF. Starring Matt Damon as an astronaut stranded on Mars while a dedicated ground crew (played by a cast including Jessica Chastain, Kristen Wiig, Chiwetel Ejiofor and Jeff Daniels) tries to bring him home (that's the film's tag line). Damon was a favorite on the red carpet and at a press conference, but it was the favorable reaction to the film from audiences and critics alike that had many attendees predicting awards season accolades.
The sleeper of the festival just might be Spotlight, Tom McCarthy's solid ensemble drama about a team of investigative reporters (played by Mark Ruffalo, Michael Keaton, Rachel McAdams and Brian D'Arcy James) at the Boston Globe newspaper who, at the urging of the paper's new editor (Liev Schreiber) exposed the story of the Catholic Church's cover-up of information about parish priests who sexually abused children. The film drew comparisons with the classic All the President's Men for McCarthy's ability to draw suspense from scenes such as reporters going to door to door (often getting those doors slammed in their faces) and meeting with resistance from authorities and even skeptical sources. McCarthy and the entire principal cast attended the gala premiere with an appearance, to a standing ovation at the film's end, of the real reporters who served as the basis for the story. Each told the crowd how the actors had followed them, worked alongside them, and studied every small move in order to play them with accuracy.
Another film that wowed the critics was Room, set for an October release and already garnering awards buzz for actress Brie Larson. Directed by Lenny Abrahamson, it's based on the best-selling novel by Emma Donoghue who adapted her book into the screenplay. Room is the compelling story told from the point of view of five year-old Jack (played by an extraordinary child actor, Jacob Tremblay) who lives in "room" with Ma (Larson). It's the only world he's ever known — he was born there two years after Ma was kidnapped at 17 and held captive by the man who visits most nights to rape her. Ma devises a harrowing escape and the second half of the film charts Jack's and Ma's transition back into the "real world" where freedom poses other complications. What might have been a depressing, disturbing movie has been heralded by audiences here at TIFF as moving and life-affirming.
Room is one of many films at TIFF centered around strong female leads, not a common trend. Although neither Focus Feature's upcoming Suffragette, starring Meryl Streep and Carey Mulligan, nor the much- buzzed-about Carol starring Cate Blanchette and Rooney Mara, played at TIFF to the disappointment of many (Carol premiered at Telluride instead), there were other films anchored by women characters. The fact-based Freeheld, due out in October from Lionsgate, just might earn award nominations for both Julianne Moore and Ellen Page in the true love story of Laurel Hester and her life partner Stacie Andree. Moore plays Hester, a New Jersey police detective whose cancer diagnosis triggers a legal battle when her request to have her pension go to Andree is denied. Michael Shannon as a fellow cop who stands by Hester and Steve Carell as a self-described "loud, gay Jew" activist head a strong supporting cast.
Page was a producer of Freeheld as well as Into the Forest, another TIFF sleeper that earned very strong reviews. Page and Evan Rachel Wood play sisters in the Pacific Northwest whose lives are thrown into chaos when a mysterious power outage hits the region and lasts for months.
Brooklyn (Fox Searchlight), John Crowley's old-fashioned, elegant film, is based on the acclaimed novel by Colm Toibin and gives Saoirse Ronan her strongest most adult role to date. Ronan is luminous as Ellis Lacey, a girl who, at her family's insistence, leaves Ireland for Brooklyn, New York in the 1950s and gradually becomes her own woman.
Another Hollywood film drawing early buzz was Sicario (Lionsgate), Canadian director Denis Villeneuve's harrowing depiction of the Mexican drug trade and its brutal effect on both sides of the US/Mexico border. Taking the stage at the opening gala was Villeneuve, a TIFF favorite, and star Emily Blunt who proves she's the new Jessica Chastain female action hero. Blunt plays a straight-arrow FBI agent caught up in a covert operation. Her co-stars Benicio Del Toro and Josh Brolin also attended.
Another TIFF favorite, Jean-Marc Vallee (Dallas Buyers Club and Wild) brought his new film Demolition with stars Jake Gyllenhaal and Naomi Watts in attendance. TIFF also saw the world premiere of Jay Roach's solid biopic Trumbo which features a stellar performance by Bryan Cranston as blacklisted Hollywood screenwriter Dalton Trumbo. The high-octane supporting cast features Diane Lane as Trumbo's wife; John Goodman as the blustery B-film producer who hires Trumbo to write scripts under fake names; Louis C.K. as a fellow screenwriter; and most memorably Helen Mirren as powerful gossip columnist Hedda Hopper.
Not one but two very different films about transgender characters had early showings at TIFF. Eddie Redmayne follows up his Oscar-winning role in The Theory of Everything with The Danish Girl, Tom Hooper's lustrous story set in 1920s Copenhagen about Danish artist Einar Wegener who begins to live life as Lili Elbe and eventually becomes one of the world's first recipients of sexual reassignment surgery. Redmayne's astonishing transformation may be the buzz, but one of the big surprises is the performance of Alicia Vikander as Gerde, a painter in her own right and Einar's wife, confidant and supporter. The heart of the film is the love story as the two struggle to retain their relationship as Einar becomes Lili.
Elle Fanning stars in two films at the festival; she's featured in Trumbo as the writer's feisty daughter and she plays the title character in About Ray, a teen transgender boy living in a New York brownstone with his mother and grandmother. About Ray is a small film that may not get widely seen but that nonetheless provides roles to three strong actresses: Fanning, Watts and Susan Sarandon, all of whom attended TIFF.
Featured image: Emily Blunt stars in 'SICARIO.' Courtesy TIFF/Lionsgate