The Brilliant Ta-Nehisi Coates Will Write "Black Panther" Comic Series
National correspondent for The Atlantic, author of "Between the World and Me," a nominee for the National Book Award's nonfiction prize and arguably one of the most important books of the year, and unabashed Marvel Comics geek. These all describe Ta-Nehisi Coates, and they're all reasons to find the news that Marvel has asked him to write the new "Black Panther" comic series very exciting indeed.
The series is set to be published next spring, and for Coates, it's the culmination of a lifelong dream. As a national correspondent for The Atlantic, Coates told the New York Times that it's a place that fosters many diverse interests, but that he's the only comics nerd on staff. It was Coates that Vulture reached out to last April when they wanted someone with a lifelong investment in Marvel to help them unpack the way comics have seemingly conquered the world. The colossal Avengers: Age of Ultron was just about to bow, and rather than mock our current fascination with comics, Coates explained how Marvel's got great source material, with characters that resonate with the larger public. (Although Coates did say in that interview that the best place to encounter superheroes is in comic books.)
For one of our best, most fearless writers on race to be the creative force behind the new "Black Panther" series is not a small deal. It came about after Coates interviewed Sana Amanat, a Marvel editor, at The Atlantic's New York Ideas seminar. They discussed diversity in comic books, as it was Amanat who led Marvel to the creation of the new Ms. Marvel, based on some of her experiences as a teenage Muslim girl living in Jersey City. As the Times reports, this led to Marvel reaching out to Coates and pairing him with an editor to discuss the Black Panther.
Who is the Black Panther?
He's a king from the fictional African nation of Wakanda (which was a set piece in Avengers: Age of Ultron), a technologically advanced where the metal that makes Captain America's shield comes from, among other plot intersections. Check out this video to see how the Black Panther was connected to Age of Ultron, even though he wasn't in the film.
The Black Panther has various powers, but what he defeats bad guys with is his extreme intelligence and his cache of high-tech weaponry. It was Stan Lee and Jack Kirby who created him in 1966—incidentally a few months before the Black Panther party was founded.
In the ever expanding Marvel universe happening on our movie screens, the Black Panther has finally been introduced, and will be played by Chadwick Boseman. His first appearance will be in Captain America: Civil War, which comes out on May 6, 2016. After that, the Black Panther's going to get his own movie in 2018.
Now back to Coates, whose made himself a part of the national conversation on race through outstanding journalism, like his famous piece for The Atlantic, "The Case for Reparations," as well as his aforementioned book. For Marvel to bring someone of his stature, intellect, with his body of work, to craft a new comic series on the very first black superhero is potentially momentous for the industry.
As for the film industry, there has already been speculation—or really more like hope—that Coates coming aboard to pen the new "Black Panther" comic will somehow lead to director Ava DuVernay returning to the solo Black Panther project that she backed away from this past July. Regardless, Coates's involvement in the comics can only have a positive effect on the film—at the minimum, they'll have what's sure to be his incredible source material to work with.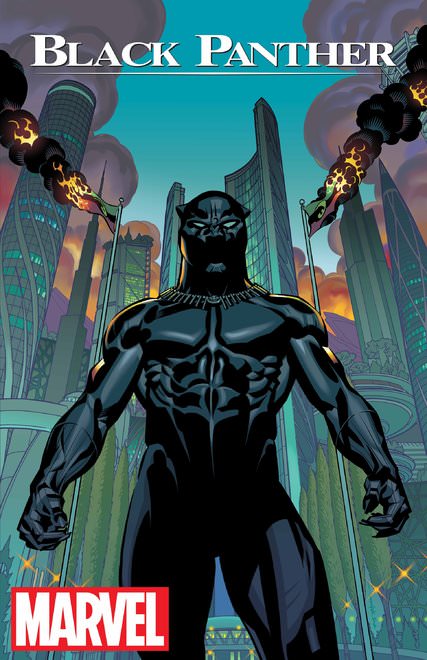 Featured image: "The Black Panther" cover by Brian Stelfreeze