Black Mass & Johnny Depp's Many Film Transformations Recalls his Idol
With Black Mass opening today, audiences will once again witness Johnny Depp completely transform himself into his newest character, the terrifying and notorious Boston gangster Whitely Bulger. Depp is nearly unrecognizable as this killer with a devil's smile, and to help him achieve this startling transformation, the actor turned to longtime make-up artist Joel Harlow and hair designer Gloria Casny, both Oscar winners, to fabricate the complex silicone and hair prosthetics. Harlow and Casny helped create the looks of Depp's iconic portrayals of Tonto in The Lone Ranger, Jack Sparrow in the Pirates of the Caribbean franchise, Barnabas Collins in Dark Shadows, and the Mad Hatter in Alice in Wonderland, just to name a few.
One of Depp's acting heroes is Lon Chaney, whose silent film performances in The Phantom of the Opera (1925), The Hunchback of Notre Dame (1923) and The Unholy Three (1925 &1930 remake), among many others, continue to inspire awe in modern audiences. A friendly but private man, Chaney designed the makeup for all his performances. Speaking in 2008 to the Los Angels Times about inspirations for his performance in Sweeney Todd, Depp said: ". . . the king for me was Lon Chaney. You go back and watch films like The Penalty and see this rage and sadness, this huge range of emotions, without the luxury of dialogue."
It's interesting to look at some of Depp's iconic portrayals in light of Lon Chaney's immortal work, to see how master filmmakers of the past continue to inspire modern film artists and audiences.
Depp's portrayal of Edward in Edward Scissorhands is reminiscent of Chaney's title role in The Phantom of the Opera. Both are disfigured, lonely outsiders, ostracized by their communities, and both pine for the love of a woman they cannot have. Depp's Edward is the more humane and sympathetic, as he comes to an understanding of his fate, while Chaney's Phantom unleashes a murderous spree that only ends with his death.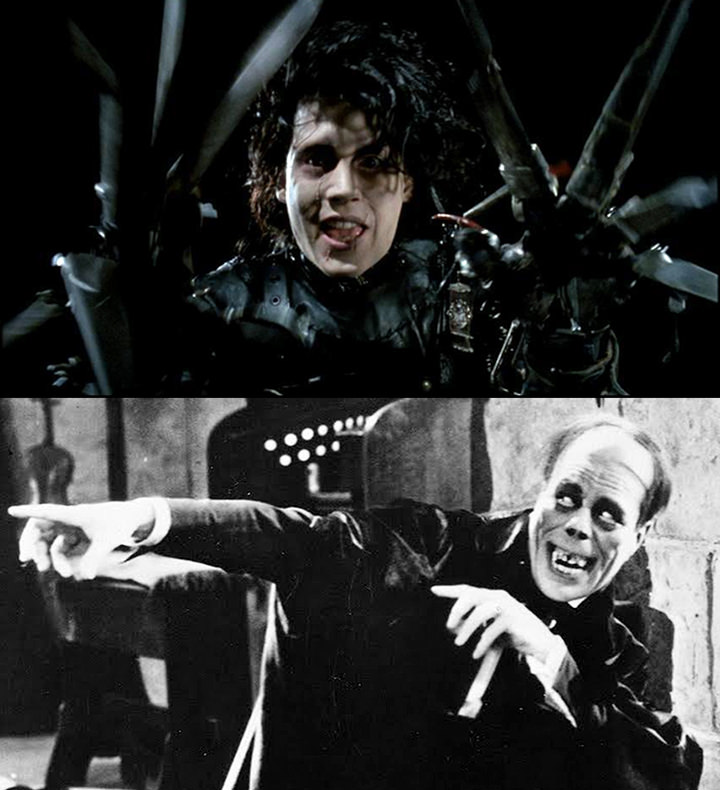 Depp's startling reinterpretation of Willy Wonka in Charlie and the Chocolate Factory took the slight weirdness of Gene Wilder's portrayal in the original film and amped it way up, to the point where audiences did not know whether to laugh with or shudder at Wonka's behavior.
His subsequent portrayal of the Mad Hatter in Alice in Wonderland went against the grain. Instead of a charming, eccentric old man, Depp portrayed the Hatter as a young, joyously mad but tortured hero who tries to help Alice escape the Red Queen. Both Wonka and the Mad Hatter have similar looks, and could have easily been inspired by one of Lon Chaney's most terrifying creations, The Man in the Beaver Hat, in the now-lost film, London After Midnight (1927). Luckily for modern audiences, a reconstruction of the film using still photos was released in 2002 on DVD.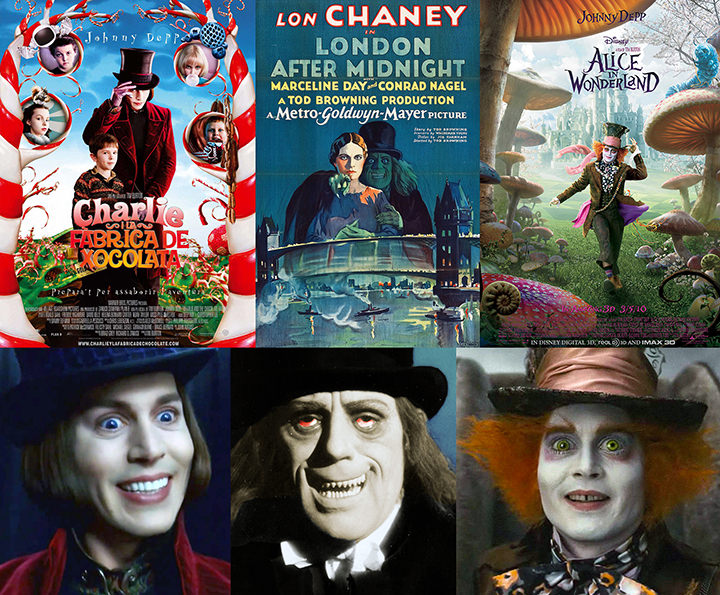 Both Depp and Chaney are masters at showing the human and sympathetic side of disfigured outcasts ostracized by their communities.
Perhaps Depp's most popular character, Captain Jack Sparrow from The Pirates of the Caribbean series, was no doubt inspired by The Rolling Stones's Keith Richards, as Depp has stated. However, knowing Depp's admiration for Chaney and seeing Sparrow juxtaposed against Chaney's portrayal of the two characters he played in the silent film version of Treasure Island (1920, also lost but photos still survive), one can imagine Depp being inspired by his hero.

Now with his portrayal of Whitey Bulger, Depp uses all his skills to portray a modern day and realistic true monster who nonetheless is admired by many in his community for his Robin Hood-like behavior, regardless of the body count. Much like Lon Chaney's realistic portrayals of a deranged magician in West Of Zanzibar (1928) and a gangster in The Road To Mandalay (1926, again lost, but photos survive), where he tweaked his already chiseled good looks into something chilling and unforgettable, Depp, longtime make-up designer Joel Harlow, and hair designer Gloria Casny achieve an incredible level of otherworldly menace in their spot-on recreation of Whitey Bulger's looks.
As Depp states in the film's production notes: "It's…very important, when you're playing someone who existed or exists, to approach it with respect, no matter what. It's their life, so regardless of what they may have done, they deserve as close to an honest version of themselves as humanly possible. So that's where prosthetics come into play. Joel Harlow, who did the makeup for the film and whom I've worked with for years, did an amazing job."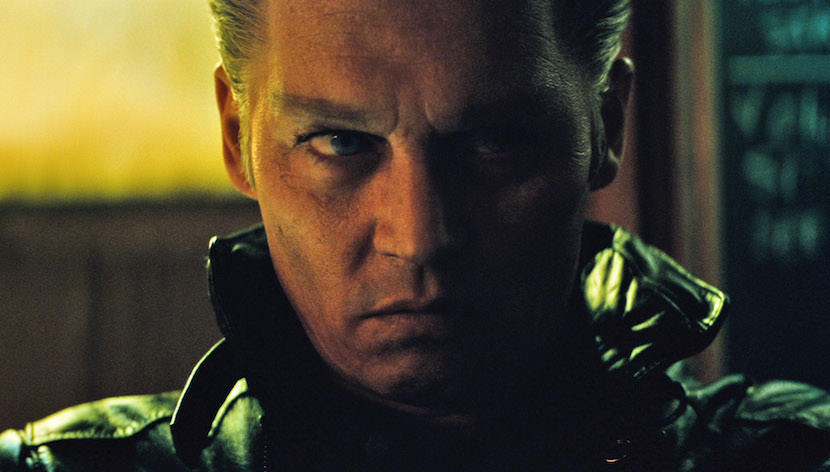 Director Scott Cooper continues, "Johnny wanted to fully embrace the physical aspects of the character. Whitey Bulger was balding and blue-eyed while Johnny has dark eyes and a full head of dark hair. But between Johnny and Joel Harlow, they nailed Whitey perfectly. Through archival footage and photographs, they were able to develop a very complex process to get all of Whitey's facial features right: the distance between his eyes and his nose; the sneer of his lip; his chin; his hairline… It was so convincing that when he walked on the set, people who knew Whitey found it chilling."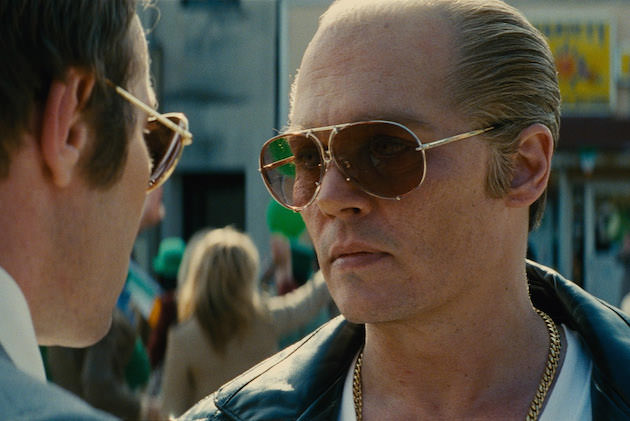 Harlow adds: "From the beginning, it was important to Johnny to look as much like Whitey Bulger as possible. We started with a cyber scan of his head and then, using reference materials from the Internet, I shaped silicone prosthetics. We went through a number of tests before finding what worked: focusing on the forehead and the nose to create an amalgam of Whitey and Johnny. We went to enormous lengths to get the density of the silicone correct, especially on the forehead, so Johnny's expressions would come through organically."
To craft the hairline, hair department head Gloria Casny worked with Harlow's fabricated silicone pieces that had been shaped to Depp's head, and extended over his forehead down to the eyebrows. Hair/wigmaker Khahn Trance painstakingly recreated Bulger's hairline and eyebrows strand by strand, pushing each piece of hair into the silicone prosthetics created by Harlow.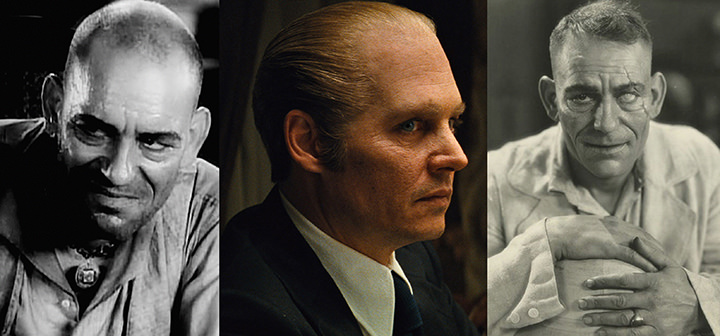 Casny explains in the production notes: "[Trance] had to do one hair at a time to make it look the most natural. I then added a salt-and-pepper back wig to blend into the hairline and cover Johnny's naturally dark hair." Each silicone piece could only be used once, "so we had to do new ones every single day. At one point, we had two people helping Khanh in 12-hour shifts, 24 hours a day. We also had to show stages of aging, which we did by increasing the grey and thinning the hair. Different sideburns also reflected the changing times."
Like Lon Chaney before him, Johnny Depp continues to push the boundaries of film characterization, utilizing cutting edge methods, like those developed by his makeup and hair team, to help him transform his appearance and add a startling level of realism to his performance.
"All in all, it's a stunning transformation," director Scott Cooper sums up.