Star Wars: Rogue One Cast Photo Revealed
The massive D-23 Expo this past weekend in Anaheim has given us a ton of fresh Star Wars news, including this cast photo from the set of Gareth Edwards' Star Wars: Rogue One.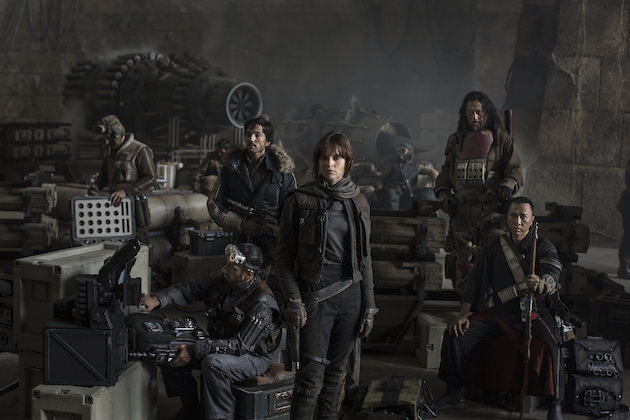 The new standalone Star Wars stories series has begun principal photography, with director Gareth Edwards (Godzilla, Monsters) at the helm, Rogue One centers on resistance fighters, led by Felicity Jones, who have united to steal plans to the dreaded Death Star.
"'Rogue One' takes place before the events of Star Wars: A New Hope and will be a departure from the saga films but have elements that are familiar to the Star Wars universe," said Kathleen Kennedy at the D23 Expo this past weekend. "It goes into new territory, exploring the galactic struggle from a ground-war perspective while maintaining that essential Star Wars feel that fans have come to know. Gareth is such an innovative director and I'm so excited to be working with him and the extraordinary ensemble cast he's selected for 'Rogue One.'"
According to SlashFilm, Jones stars as a Resistance soldier, along with comrades Ahmed and Luna. Then there's the casting coup of Ben Mendelsohn, who steals most movies he's in, as a villain. Alan Tudyk is said to be playing a motion-capture character. Then there's the news that the great composer Alexandre Desplat (read our interview with him about his work on The Imitation Game here), and not John Williams, will write the score for Rogue One. SlashFilm also reports that Darth Vader will make some sort of appearance in the film.
As the photo confirms, the production design on Rogue One will be on par with the incredible eye for distressed, lived-in detail that is part of huge appeal of the Star Wars' franchise. Some of the people infusing Rogue One with its weathered, war-torn look are two men who know a thing or too about creating credible battle scenes— DP Greig Fraser (read our interview with him here regarding his work on Kathryn Bigelow's Zero Dark Thirty) and special effects supervisorNeil Corbould (Black Hawk Down, Gladiator, Saving Private Ryan).