Artist Drew Struzan Thinks The Force Awakens is Best Star Wars Film Ever
The ripple effects from Disney's D23 Expo are still being felt—and now we have this: poster artist extraordinaire Drew Struzan, who has been with the franchise since the very beginning, thinks that J.J. Abrams Star Wars: The Force Awakens will be the best Star Wars yet. In a conversation with Movie-Weekly, Struzan and this to say:
"I got to read the script and subsequently I've seen half of it (The Force Awakens) and I can tell you and the fans this, honest to god, it is far and away probably going to be THE BEST Star Wars you've ever seen"
Struzan was one of many longtime Star Wars collaborators that director J.J. Abrams brought on board, including writer/director Lawrence Kasdan, composer John Williams and, of course, Harrison Ford, Mark Hamill and Carie Fischer. Once Abrams convinced Struzan to get involved, he showed him half the film and let him read the script.
As SlashFilm's Peter Sciretta points out, while you might reasonably assume that Struzan is hardly in a position to say otherwise considering he's a part of the film production, Struzan is not nearly as a part of the beast as others, he's semi-retired, and sounds genuinely enchanted. He also said that Abrams gave him zero direction on how to create his artwork, which is a nice vote of confidence from the director to a man who clearly deserves it.
Struzan said of creating his new poster: "To me it represents the film. The spirit of the film, the new characters, the battle again to find the truth, to grow up, to find the purpose in life. It's all those things that Star Wars had to be and is still."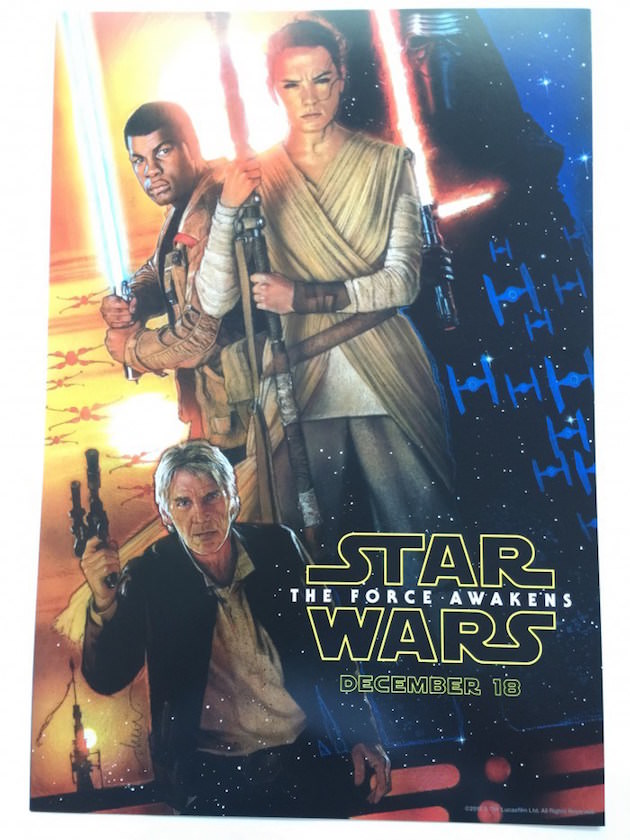 Featured photo: Star Wars: The Force Awakens. Film frame. 2014 Lucasfilm Ltd. & TM. All Right Reserved.