Trainwreck Editor Loves Mistakes: 'It Feels Real'
Some editors might look for the most perfectly delivered take to put in a movie. But not editor William Kerr, who took the lead editing Amy Schumer-led, Judd Apatow-directed comedy Trainwreck.
"I love dirty stuff," Kerr said. "I love mistakes, little things that seem peculiar, because they seem like reality."
The same could be said of the heroine of Universal's Trainwreck –Schumer. She plays a commitment-phobe, cheating, boozing magazine editor (working at a rag perfectly called S'nuff), who falls for a dependable sports surgeon (Bill Hader).
Though the story follows in the well-worn path of romantic comedies before it, the jokes hit again and again, with a memorable side performance from LeBron James, who may have another career as an actor lined up after he retires from the NBA.
Kerr and Apatow share a similar ethos when it comes to editing – Kerr looks for real moments to put into the final cut and Apatow encourages them through improvisation. Apatow's preference towards improvisation gives Kerr a multitude of options as an editor. "I love the way he works because I get many hours of footage a day, and I love putting together different versions, different puzzles in the process of making the story work."
That freedom to improvise comes after lengthy preparations by Apatow and the cast.
"He owns that script," Kerr said. "From pre-production through many re-writes and table reads and rehearsals, all those are recorded and work back into other versions of the script. By the time actors are on the set, they're so familiar with the material they're able to do other versions of the scene that they did not rehearse with each other and improv."
Kerr has worked with Apatow since 1990, when he edited an HBO comedy special with Roseanne Barr and Tom Arnold. It's the sixth feature of Apatow's he's edited, but his first time as a lead editor.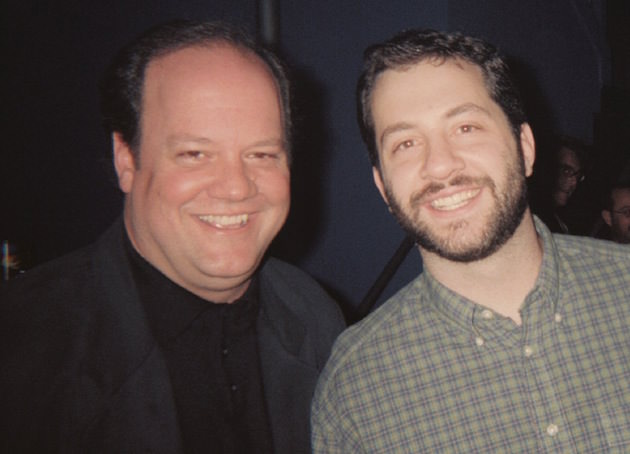 As the lead editor, Kerr looks at all the film shot during the day and immediately starts cutting together scenes.
"Early on, I'll have five or six ways of looking at that scene," Kerr said. " Over the course of the next six months we try many different things."
Watching any scene hundreds of times, it's easy to forget ever finding something funny, but Kerr considered himself blessed with a memory where he can call up his early reactions to scenes.
"I love watching dailies, the rushes, and remembering how I felt when I watched it the first time," Kerr said. If I can recall and remember those emotions and how the footage affected me, it helps in putting together the scene."
Apatow's comedies play for test audiences dozens of times as they try to find the best possible cut. In order to remember an audience's reaction, the editing team will play recordings of a test screening's laughter while they go through the next round of edits. The laughter helps them figure out how to adjust timing or know which jokes had the strongest reactions.
If a character or particular type of humor works particularly well, Kerr goes back to the dailies to find more of the humor that's connecting with audiences.
In Trainwreck, that work clearly paid off. The entire first act is a series of giggles, belly laughs and guffaws before the film settles in and starts to favor romance over comedy.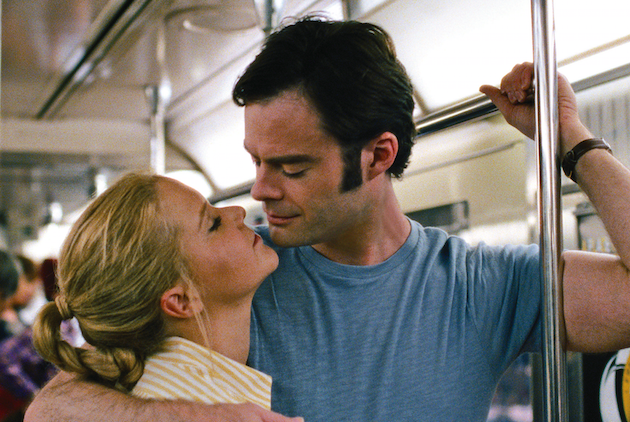 "Even if something works, we'll try something completely different, because we already know it works, and we can come back to it," Kerr said. "We're not precious until we make the decisions about what stays in the picture."
There's one rule. Characters come before jokes. "We have to make the audience laugh – that's a given – but more important is where the jokes come from," Kerr said. "They're funnier when they come from a character rather than setting up a punchline."
Cutting together a picture like Trainwreck requires plenty of help. From the shoot in May until the team finalized the picture around December, different editors come in and out as the workload increases and decreases.
"Judd knows his process really well and he puts a lot of effort into post-production," Kerr said. Helping out Kerr was Nina Kawasaki, the "ringleader" and assistant editor who served as the go-between with the rest of the production team, and editors Peck Prior, Paul Zucker and Jay Deuby.
Also helping out: technology. After graduating from University of Kansas and moving to Hollywood to follow his dream, Kerr worked in television until catching a break and editing his first feature-length comedy: Tommy Boy, a beloved feature starring the late Chris Farley.
"That was the first picture ever to be cut completely on the [editing software] Avid," Kerr remembered. Editing software made editing multiple versions of the same scene, as he did in Trainwreck, cheap and fast. "Before, you would have to make copies, and that was expensive." Or, if he wanted to access a shot, an assistant would have to physically locate the reel of film and queue it up to play.
Times have changed. But editing, in one important way, has remained the same.
"Editing is completely unknown to the average moviegoer," Kerr said. "It's the invisible art. If you don't notice us, that's a good thing."
Trainwreck premieres this Friday, July 17.
Featured image: Amy (AMY SCHUMER) chats it up with LEBRON JAMES as himself in 'Trainwreck.' Courtesy Universal Pictures.