Jane Anderson on her Moving HBO Doc Packed in a Trunk
Writer-director Jane Anderson's career has spanned film, theater and television. She never planned to make a documentary, let alone figure so prominently in one. But for nearly half her life, Anderson, most recently Emmy-nominated for her adaptation of Olive Kitteridge for HBO, has yearned to bring the artwork and the story of her great-aunt, Edith Lake Wilkinson, to the public.
That has happened with Packed in a Trunk: The Lost Art of Edith Lake Wilkinson, a hit on the festival circuit and airing on HBO starting tonight, July 20.
"I'm not a documentary filmmaker so I went to my good friends Michelle Boyaner and Barb Green. I've always loved their work. I said to them, 'Will you make a documentary just as a tool to help us get Edith's work out there?' This had nothing to do with my career as a filmmaker. It was just about Edith," says Anderson.
The connection between Anderson, who's also an artist, and the maternal great aunt she knew only by the paintings that hung in her home growing up in California is deep and powerful. Born in Wheeling, West Virginia in 1868, Edith Lake Wilkinson produced an astounding body of work, much of it done in Provincetown when it was a premiere art colony. She was mysteriously sent away to an asylum in 1924 and was never heard from again. Her personal belongings, including dozens of highly sophisticated paintings and drawings, were packed in a steamer trunk and sent to West Virginia where they sat in an attic for 40 years. It was Jane Anderson's mother who finally opened the trunk and shared its surprising contents with family members.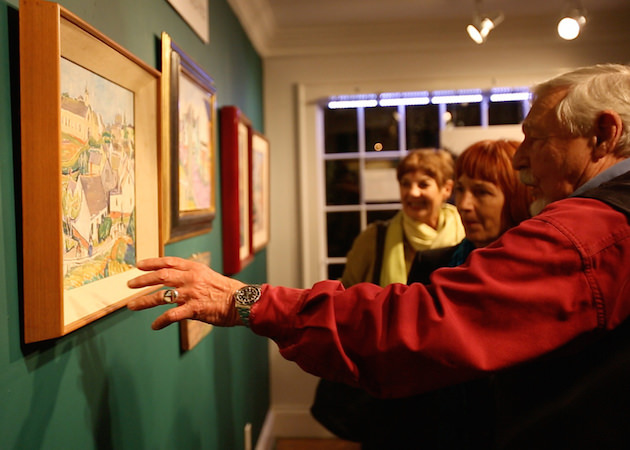 The film follows Anderson and her spouse, Tess Ayers, a producer of the film, as they try to fill the gaping holes in Edith's story. The travel from California to West Virginia to Provincetown, where Edith's place in the community's rich art history is uncovered. They also find out that Edith lived for many years with a female "companion" named Fannie and that the relationship may have played a role in Edith's commitment to the asylum by the lawyer who was put in charge of her estate.
"We made all those discoveries along the way. Those were not set up; we had all our 'Aha!' moments on camera," Anderson says.
"The search was Michelle's vision. Tess and I were reluctantly put in front of the camera," sys Anderson of the documentary's narrative structure. "We began this with a single picture of Edith that we found in the trunk. I love the documentary Finding Vivian Maier but [directors John Maloof and Charlie Siskel] began with an entire storage unit of clothes, tape recordings, so he could make it about her. We didn't have much on Edith so I had to be the narrative. It set my personal journey. It also gave the film a happy ending. If it was just about Edith, it would be a depressing film because she ended up locked away. If you follow my narrative, I bring justice to Edith."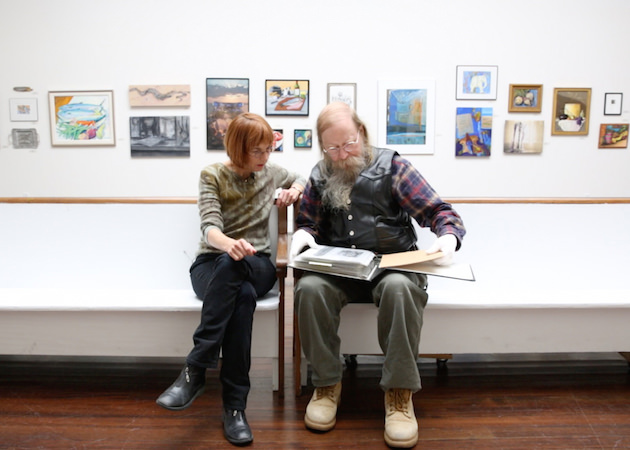 One of the most electrifying screenings of Packed in a Trunk took place last month at the Provincetown International Film Festival. Many of the town's art experts appear in the film and attended the screening at Town Hall.
"It was mind blowing. I felt I was still channeling Edith and it was very emotional for me," says Anderson. Packed in a Trunk earned the PIFF's audience award for best documentary. From there, it was on to another emotionally-charged screening, says Anderson, at Frameline39 San Francisco LGBTQ Film Festival.
"It really was astounding especially because the Supreme Court decision [on marriage equality] came down while we were screening in the Castro and we were able to celebrate on the street with everybody. It was very emotional; the volume was turned way up while people watched the film," she says. "It was almost a more responsive audience than even Provincetown because everyone was so ebullient and astounded that we got these rights." For Anderson, the moment was even more profound because she and Ayers, who've been a couple for 25 years, had gotten married right before the anti-gay Proposition 8 was passed in California, overturning the right of same-sex couple to marry.
Anderson's creative history with HBO includes not only Olive Kitteridge but also her Emmy winning script for The Positively True Adventures of the Alleged Texas Cheerleader-Murdering Mom. She also directed her adaptation of her own play Normal for the network. But Anderson financed Packed in a Trunk herself with half the funds coming through Kickstarter and the rest her own money.
"When I was working on 'Olive Kitteridge,' my producer connected me to [HBO's] Lisa Heller and Sheila Nevins. Once we had a near final cut, I sent it to Lisa and they loved it. In the documentary world, to have HBO buy your film is huge because distribution is the biggest obstacle. Who is going to take it and show it? We feel really blessed that they wanted it," Anderson says.
As for Edith's artwork, Anderson has already bequeathed one white line woodcut and one painting to the Provincetown Art Association and Museum. "I'm not eager to give any of the work away and, frankly, it was hard to pack those pieces and ship them off to PAAM," she says."But I felt they'd reached home. I want the work [to end up] in museums rather than in private collections."
It's fitting that the first of these museums is in Provincetown, the place where Edith's creativity flourished and where, Anderson says, she was happiest. "She loved that town. It was her home."