Thomas Haden Church Talks War Dogs, More in Max
Here's a little known fact about actor/director/writer Thomas Haden Church: Following memorable turns on television (Wings) and in film (Free Money), he stepped away from acting in late 2000 and left Los Angeles for his 2,000-acre cattle ranch in his native Texas. It was director Alexander Payne who lured him back to the screen with a plum part in 2004's sleeper indie hit Sideways, which paired him with Paul Giamatti on an eventful road trip through the California wine country. Church would go on to win an Independent Spirit Award and earn an Oscar nod for Best Supporting Actor for the role, and thankfully put any thoughts of retirement behind him. Since then, he has appeared in AMC's Broken Trail, for which he won an Emmy, as well as an eclectic roster of films including Spider-Man 3, Smart People, Easy A, Killer Joe and We Bought a Zoo.
Church's latest outing is Warner Bros.' MAX, a family action adventure about a U.S. military dog serving on the frontlines in Afghanistan. When his Marine handler dies during combat maneuvers, Max is too traumatized to remain in service and is adopted by the soldier's family living stateside. What ensues is an extraordinary connection between Max and the soldier's teenage brother, and an exciting quest that unlocks secrets about that fateful day and unites the family as they struggle to heal. Church plays patriarch Ray Wincott, a Marine veteran who is grieving the loss of his older son while mired in a difficult relationship with his younger child. The Credits chatted with Church about getting the part, shaping his character, and working with kids and animals.
MAX comes from the director of Remember the Titans [Boaz Yakin] and a producer of Marley & Me, [Karen Rosenfelt], so I'd say you were in very good hands, yes?
Yes, and I knew them both. I've know Karen for a long time and I met Boaz a long time ago, but had not really kept in touch with him as much as just had, you know, friends in common. But Karen, who was at Paramount forever, and her husband [producer] Ken Blancato, have been friends of mine… And then I moved away from LA in 2001 and pretty much lost contact with everybody. But I was so flattered and, yeah, I mean Karen has exquisite taste… as a studio producer, but [also] someone out on her own, [who] has had tremendous success.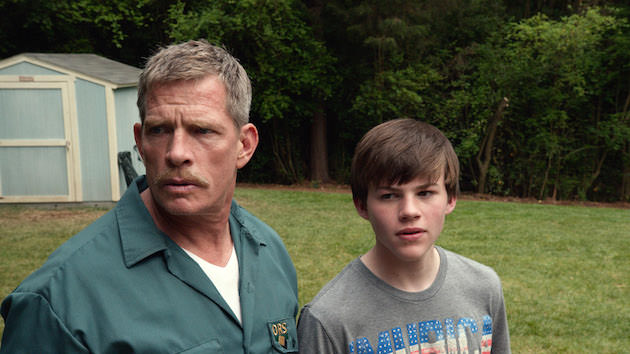 On the surface MAX is a family drama, but it's really much more: There's mystery, there's a thriller aspect to it, it's got some action adventure. Is that what in part drew you to become involved?
I was glad that those elements were there, but it really for me was about to elevate the awareness of the war dogs and how critical their involvement in combat really is to the units that work around them.
How did the part come to you? I saw in the production notes that the director was quoted as saying he couldn't picture anybody else in the role.
It really was just sent to me. I knew, because of Karen and Ken's involvement, their interest in me was very high to play the role. And I got on a call with Karen and she said, 'Look, Boaz really wants to talk to you about this,' and she even said to me then, 'We really think that you're the guy to embody just the sort of man that we want Ray to be.' And so I started a series of calls with Boaz and, of course, the first one was probably three hours long and we spent most of it talking about who we dated [laughs] over the previous 20 years, and who we'd worked with.
Catching up basically.
Yeah, yeah, exactly… and then we got to MAX and we really started to break it down and Boaz was just so transparent with me. He said, 'Look man, I really want you to do this and I really want to make this work, and so I want you to just really go after what it is that you do and do not like.' And we spent the second phone call, I gave him a ton of notes…and I even warned him, I go, 'Look, some of these might be kind of absurd, but these are just my ideas.' And I really and truly thought there's a chance I'm not gonna hear back from him… [But] the next time we talked…we knew we wanted to make the same movie and we wanted to tell the same story about the family…about soldiers and the loss of life in combat and just the bigger canvas of the stories that were intersecting.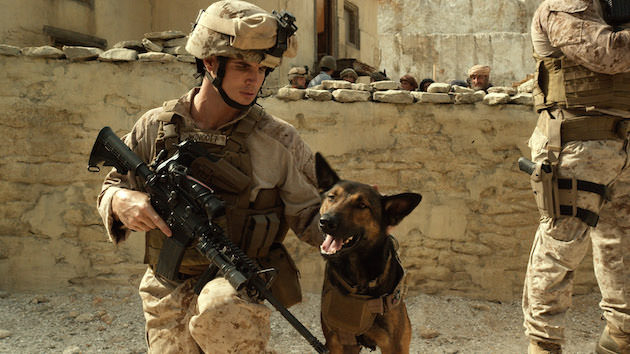 How did the fact that your father was wounded in combat help you shape Ray?
It did in the sense that…all through my childhood and my young teenage years, the college years, my dad and I had a very difficult relationship and it was largely because I am a fairly expressive person and my dad was a very closed-off individual. Not just to me, I have five brothers and sisters and, of course, my mom. And even when I was really young, the way that my dad communicated with his mother, my grandmother, it was, you know my dad was just a very stoic guy and I always understood because of his military background… My dad always had training manuals and tactical manuals and all kinds of military codes and policies and documents that weren't classified. He just would have tons of information around, in his office, in the garage. And my brothers and I were fascinated with everything military and everything wartime. And honestly, the research I did for Ray was when I was 12 years old, 14 years old.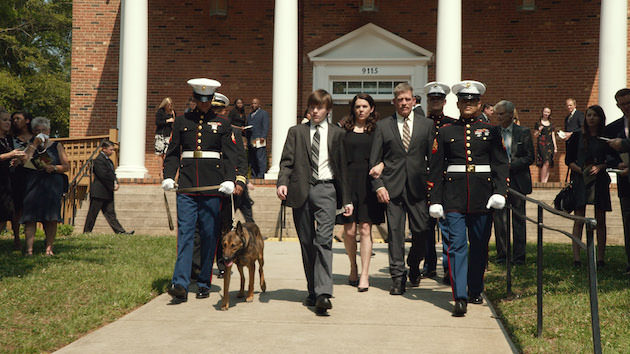 I want to switch gears and talk about working with Max. Can you tell me a little bit about working with the dog trainers? Did they teach you any tricks to work with the dogs?
No, they don't show you any real tricks. The lead trainer was somebody that I had worked with on We Bought a Zoo and George of the Jungle… He was like, 'Look, when you go to 'pay' [the dog], just you gotta do this, you gotta do that and just be mindful you're probably going to get clipped here and there, which I did. But you know, it's just part of it… I never had a puncture wound that took weeks to heal. There were a couple of times the medic had to look at my hand, but you know that's just part of it. I'm sure Josh [Wiggins, who plays the younger son] was practically a chew toy by the time we were done shooting. He had so much to do with the dogs.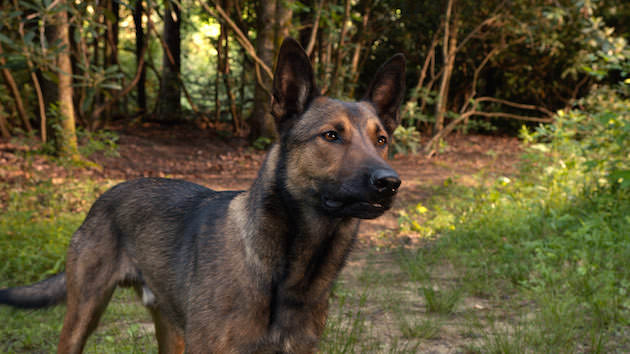 There were five dogs playing Max. Were they very different in temperament?
Yes, absolutely. Each one had a highly specialized sort of acuity to jumping, to being able to lunge, and growling ferociously. One of them could just flat haul ass and run as fast as any dog I've ever witnessed… I mean they were all able to do a multitude of things, but they each had a very specific thing, or a couple of things, that they did very, very well.One of the dogs, I think it was Chaos, they needed him to look really ferocious but not make a single sound, which I thought, 'Wow that's gotta be really difficult.' And then one of them was just an insane loud barker, which doesn't sound like a skill to you or me, [especially when] you're trying to fall asleep.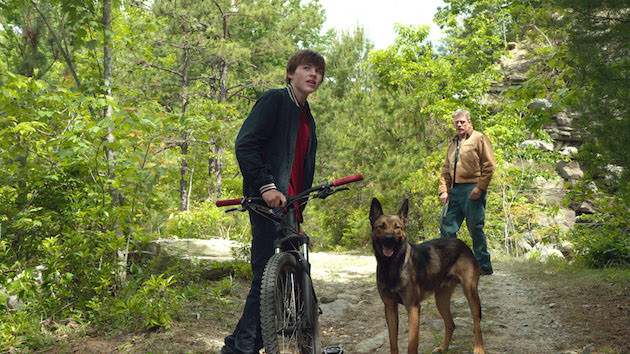 Was there anything that you learned about military dogs that surprised you? One of the things that stuck out for me is you automatically think German Shepherd, but this is what's called a Belgian Malinois.
Honestly, I worked with a Belgian Malinois before on a movie that I directed [Rolling Kansas], and that's what they use as narcotics detection dogs…so I was very aware, because I had to direct scenes with one and get the coverage and all the camera angles to catch him doing what he did very well. I think when [these dogs are] awake, they're ready to hunt, work, detect, attack, charge, chase, do whatever the hell they do. And they do it with just an absolute velocity that I think surpasses pretty much all other dog breeds. I think the Belgian has largely taken over a lot of the service work that German Shepherds did 50, 100 years ago.
There's the famous quote about 'Never work with animals or children.' I think it was WC Fields who said it, I guess because a) they're unpredictable and b) they can upstage you. With Max, and you having starred in We Bought a Zoo, and the movie that you directed, etc., what's your take on this?
Um, WC Fields was also widely known for being a drunk and I think a lot of WC Fields' opinions were probably prejudicial, [laughs] like most objects and humankind and the animal kingdom. I know it is a very famous quote and, yes, I've heard it. In fact, the movie I directed, Rip Torn was in the movie, and we had a scene where there were rabbits all over Rip Torn and he looked at it and he goes, [voice drops to a lower tone imitating Torn] 'You know you're never supposed to work with dogs or kids. I'm here to tell you today I've got an extension. Don't ever work with bunny rabbits, neither!'
But hell yeah, they'll upstage you. I mean, I'm sorry, you can have Brad Pitt standing there and a kitten standing there. The kitten is gonna pull focus. It's just gonna happen every time.
Featured image: Caption: (L-r) LAUREN GRAHAM as Pamela Wincott, LUKE KLEINTANK as Tyler Harne, JOSH WIGGINS as Justin Wincott and THOMAS HADEN CHURCH as Ray Wincott in Warner Bros. Pictures and Metro-Goldwyn-Mayer Pictures' family drama "MAX," a Warner Bros. Pictures and Metro-Goldwyn-Mayer Pictures release.