Talking to the Young Stars of Me and Earl and the Dying Girl
Olivia Cooke, Thomas Mann and RJ Cyler, the three young stars enjoying breakout success in Fox Searchlight's summer hit Me and Earl and the Dying Girl, know they've part of a rare thing in Hollywood: a teen-centric movie that's fresh and original.
The Sundance crowd-pleaser and winner of the festival's Jury and Audience awards for US Drama, Me and Earl and the Dying Girl might on paper sound like a host of other teen movies. But director Alfonso Gomez-Rejon, working from Jesse Andrews' script based on his own novel, finds the delicate balance between irreverent humor and deep emotion in the coming-of-age of Greg Gaines (Thomas Mann), a socially awkward teenager who, with his friend Earl (RJ Cyler), shoots elaborate parodies of classic films (A Sockwork Orange, Senior Citizen Kane, Eyes Wide Butt …). But the boyhood cinephilia poses less risk for mawkishness than the third part of the title: the dying girl. She's Rachel (Olivia Cooke), a classmate battling leukemia whom Greg's mom (Connie Britton) insists he befriend, to both teens' chagrin.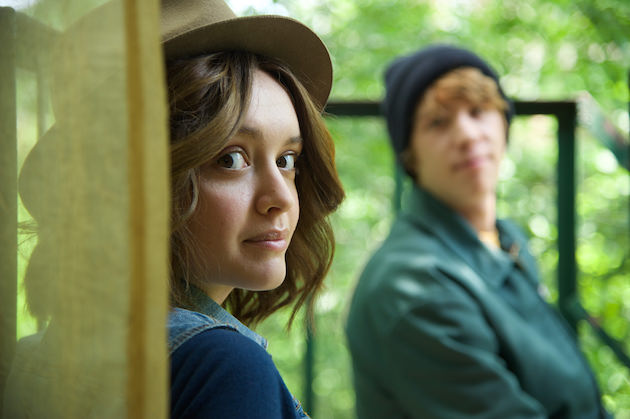 For young actress Cooke, 21, a Manchester England native, the role was breath of fresh air from the usual parts she's offered.
"I get scripts and it's, 'Be like Emma Stone in 'Easy A' but you're also like really, really pretty and you don't know it. All the boys love you, but you don't know it. She's beautiful but not aware. All the boys love her but she's more interested in 'Jane Eyre.'" Shut up! It's so stupid. This role was so refreshing. I couldn't wait to get my teeth into it and not feel embarrassed to play her."
Cooke, who's best known for the series Bates Motel, tried to keep Rachel as authentic as possible. "She wasn't saying riddles or profound things. She's just comfortable and quietly confident with herself, she likes herself. She wasn't written like a lot of these teenage girl characters are, who are riddled with self doubt and self-consciousness and they hate themselves. It was nice to play character who likes herself.
It was while doing research that Cooke decided to shave her head once Rachel begins to undergo cancer treatment. "I met a girl at the UCLA children's hospital who was 16 and had the same leukemia as Rachel. She'd had several rounds of chemotherapy, and was going to get a bone marrow transplant. I talked to her and her dad. She asked me, 'are you going to shave your head?' At that point, I didn't know. And I just thought, what a fake, what a phony [if I don't]. Even though I pretend as an actress, I didn't want there to be one false note. I didn't want to be playing the sickness. I wanted it to feel honest so you would see her as a person because you don't lose your personality. You don't lose your humor because you're going though this awful experience. Alfonso and I made a chart of her treatment so I could physically play her. I just didn't want a false note so people would be taken out of the movie because of anything I was doing."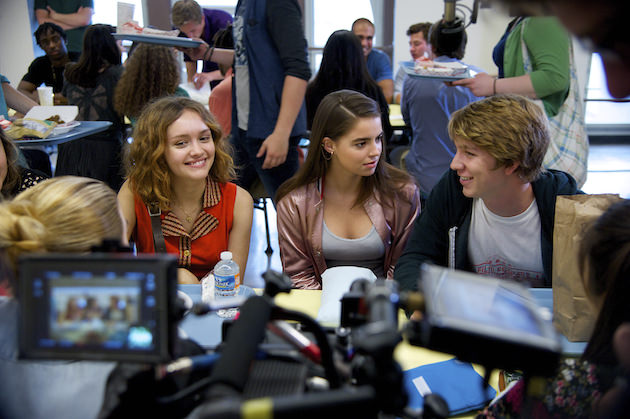 Thomas Mann, 23, best known for Project X and the upcoming The Stanford Prison Experiment, says he was struck immediately by the honesty of the script when he read it one year before he was cast as Greg. "The character sounded so much like the person I was in high school. I've never seen a writer embrace the selfishness of teenagers and the stubbornness," he says. "I loved that Greg is this weird, creative outcast. I wasn't an outcast in high school but I related to the creative part of it, not knowing how to find an outlet for it, his sense of humor and honesty.
"He finds his own artistic voice instead of just making parodies. He grows up in a lot of ways. … It's two artists discovering each other's art."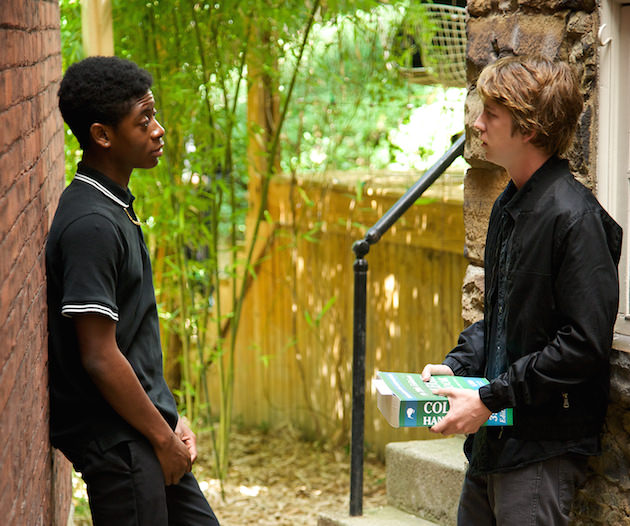 Making his big screen debut as Earl, RJ Cyler jokes that he may be spoiled by starting out on such a high note (though he's been cast as a twin on HBO's new Danny McBride series Vice Principals). "It's my first. Damn. I don't get the bad ones first. It's like starting from a roller coaster and ending on bumper cars," he says.
A movie with a significant cinephile subplot meant that Gomez-Rejon had to teach the young actors about the movies that inspired so much passion in their characters.
Cyler says he "got attached to Midnight Cowboy. That's a personal baby. Alfonso sent me Dog Day Afternoon and Last Tango in Paris. His taste is all over the place. Now I'm learning a lot about the older films and how new ones mimic older ones. I just watched The Breakfast Club and it kept my attention with the whole film set in a single room. There's no movie [made] in this century that could do that."
All three up-and-comers have high praise for the older actors who share screen time, particularly Molly Shannon, as Olivia's loving but sometimes loopy mom. "She's incredible. There's so much s sadness behind the character but she'd have us cracking up," says Cooke. "Just as the cameras were about to roll she'd crack jokes ..,. I'd be in the hospital [as Rachel] and she'd be lying in bed next to me like, 'Oh my God! He did that? Really?' What an asshole.' Then Alfonso would yell 'action' and she'd just snap right into it. She's incredible.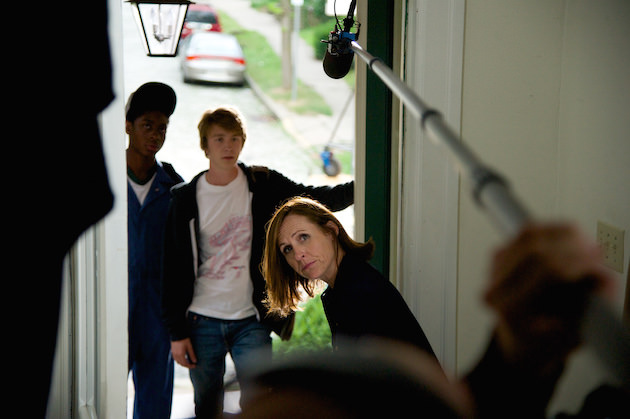 "There's no self-consciousness in her performance. it's lovely as a woman because she doesn't give a shit about what she looks like. She looks natural, aging .. .I feel very lucky [that it's] conceivable that we could be anywhere near related."
Mann agrees it was hard to "keep a straight face" acting opposite Shannon, a Saturday Night Live veteran. "You never know what she's going to do. I ruined a lot of takes that way. [Her character] is tipsy for a lot of the scenes so she did this thing where she'd spin around like six times really fast and then [the director would say] 'action' an she'd stumble around and I'd just lose it."
Mann also says he "got so lucky" by the pair of solid actors, Nick Offerman and Connie Britton, who play Greg's parents. "I was so excited to see who my parents were going to be after I got cast. Nick Offerman is great and Connie can do so much; she makes the most of it it and gave me so much to play off. She reminded me of my mom: naggy but you listen. And you care about what they think."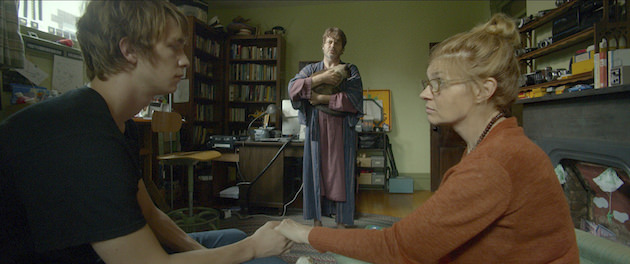 Featured image: Olivia Cooke and RJ Cyler on set of ME AND EARL AND THE DYING GIRL. Photo by Anne Marie Fox. © 2015 Twentieth Century Fox Film Corporation All Rights Reserved