4 Lessons About the Future of Horror From the Stanley Film Fest
Blood splatters the help, clouds roll over the mountains, zombie baby dolls hang from lamp posts, and the Stanley Hotel glows red at night during the Stanley Film Fest, a horror film festival that just wrapped this past Sunday, May 3. Horror genre icons, amateur filmmakers, legendary producers and Hollywood stars mingled in Estes Park, Colorado over a weekend of shorts and feature films haunted by the horror legacy of Stephen King's The Shining.
The Credits was on site looking for scares and a few key take-aways about the future of the horror genre:
People want to laugh and scream at the same movie.
The screenwriter of Saw and Insidious and the screenwriter of Glee might not seem like a natural partnership, but you'd be mistaken. "If you put Glee and Saw in a blender, the smoothie would be Cooties," said Leigh Whannel, who stars in and co-wrote Cooties with Ian Brennan. Whannel said he was eager to try his hand at comedy writing after making a name for himself writing horror films, while his producer Elijah Wood (who ended up reluctantly starring in the film) kept reminding him not to neglect the scary side.
"People like to laugh and scream at the same time," said Cooties co-director Cary Murnion. "Both release endorphins."
Whannel later said on a panel that he thinks horror movies draw nervous laughter even when they're not trying to be funny. "Horror comedies take the laughter that would be there anyway and use it," he said.
Funny scares were a common theme for several movies at the festival, among them Cooties, The Final Girls, and the heavy metal-themed New Zealand film Deathgasm. Cooties premiered at Sundance last year but now has a new ending that was well-received at the festival's opening night screening. The newly-launched Lionsgate Premiere label plans a limited release of the film in September.
Mountains are scary.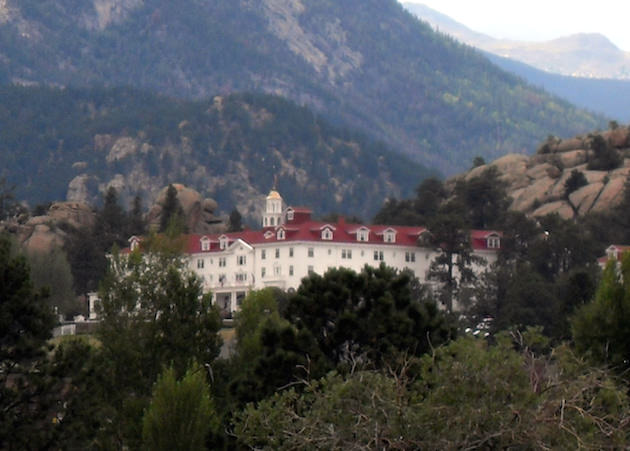 The Stanley Hotel, which inspired Stephen King to write The Shining, launched this film fest in 2013 and hosts it every year in Estes Park, an isolated mountain town located more than an hour away from Denver. Colorado is also home to the Mile High Horror Festival and the Telluride Horror Show, so the mountains clearly prompt terror in more people than just King. At 7,500 feet above sea level in Estes Park, perhaps movie fans are more prone to scream.
The 1980 film version of The Shining was not shot at the Stanley (although the King-backed 1997 miniseries was, as were — in a bit of trivia shared during the hotel tour — several key scenes in Dumb and Dumber).
The Travel Channel's and SyFy's Ghost Hunters have both filmed episodes at the Stanley that support the hotel's claims to be haunted. Elijah Wood, well known for his love of the genre after co-founding the horror-focused SpectreVision label, claims his own paranormal experience at the festival last year involving a flashlight spinning by itself in a room purportedly haunted by Lucy, one of the hotel's many named ghosts. He acknowledged that the location and the stories probably influenced the experience, but "f*ck it, it was fun."
And perhaps that's the informal motto of the festival. Wood said after attending last year's Stanley fest (where he was named the festival's Visionary Award Winner), he vowed to come every year. He was one of the few known stars who stayed all weekend, popping up at parties, panels, and even reportedly in the middle of the night with game-players on hotel grounds. "There's nothing like it," he said of the festival. "It's an all-consuming atmosphere. Attendees are lovers of the genre. It's almost celebratory."
The horror genre is not just for boys.
The horror movie cliche might be the scantily clad actress screaming and cowering in a corner before getting hacked to pieces, but women are starting to play leading roles in more and more horror films.
"There's a grand tradition of horror films starring women," said Karyn Kusama, who directed The Invitation, screening at the Stanley, as well as female-led Jennifer's Body and Aeon Flux. "Part of it is we attribute vulnerability to women and we need vulnerability in horror."
The Final Girls, which premiered at SXSW this year and closed the festival, stars Nina Dobrev, Malin Akerman, Taissa Farmiga and Alia Shawkat and toys with many of those "scream queen" cliches. "What if you tried to tell a story about mourning and death in the middle of a genre that trivialises death?" is how director Todd Strauss-Schulson described the movie. "I think often these horror movies with female, central protagonists are the only movies where male viewers can … see themselves in those [female] characters. It's pretty f*cked up when those women are being chased around and killed." Sony plans to release his movie in October this year, with the number of screens still unknown.
Adam Egypt Mortimer, one of the filmmakers who won a slot for the world premiere of his film Some Kind of Hate after the festival called for entries, was looking for a clear, iconic character to build his film around.
"People who are into horror films….are looking for the emotional connection," he said. "The idea of creating a Jason Voorhees out of a 17-year-old girl seemed perfect."
And Sarah Hagan, who stars in Sun Choke, another new film that premiered at the festival this year, said "there's a lot more content out there for women" now in every genre. "We don't really think about the genre; we play the characters as real as possible," she added, including her co-star Barbara Crampton, who is known for several iconic roles in horror films. "The genre comes out later."
Immersion draws the fans.
If you've ever seen Room 237, Rodney Ascher's documentary of theories about The Shining, you know horror movies tend to draw fans who like to get deeply involved. Since last year, an immersion game has been one of the signature events at the Stanley Film Fest.
"Because of our venue, it's all about that immersive experience," said JoAnna Cintron, marketing and communications manager for the Denver Film Society, which organizes the festival along with the Stanley Hotel management. "It's a horror retreat, in every way. It's a retreat for filmmakers, a retreat for fans."
This year's game was bigger and more high-profile than last. Game architect Dylan Reiff, who was hands-on during the weekend, designed the "interactive experience" that this year asked players to "opt-in" for a more immersive, even intrusive, experience. Last year, players opted-in informally, picking up clues involving a "missing child" scattered around the festival and following along on social media, but this year the game involved text messages and surprise middle-of-the-night visitors to guest hotel rooms. Most of the screams reported overnight in the halls of the hotel were attributed to game play (screams interrupting panels during the day were mostly attributed to Samsung's virtual reality experience in the lobby).
Festival organizers take advantage of the sense of isolation and fraternization possible with both attendees and artists staying in the multi-building hotel campus. Booze flows freely and events are scheduled late into the night, including a foggy, rave-like party with masked band itchy-O, a chicken nugget-eating contest inspired by Cooties, a Rocky Horror Picture Show participatory screening, and a 2 a.m. word-of-mouth magic show. And one of the free swag items handed out to V.I.P. guests were condoms branded with the festival motto "Come play with us." The condoms were actually a leftover promotion tied to It Follows, David Robert Mitchell's film about a sort of supernatural STD. This year's Visionary Award Winner at the festival was Tom Quinn, RADiUS co-founder who helped turn Snowpiercer and It Follows into underground hits in 2014, in part through innovative VOD release strategies.
But romance does happen at the Stanley Film Fest: One couple got engaged between screenings on Saturday in the hotel's Concert Hall. Just be careful, newlyweds-to-be. What happens at the Stanley stays at the Stanley…especially if you never leave.