Stormtroopers, Snoopy & a Virtual Reese Witherspoon: Highlights From the 2015 Creativity Conference
Stormtroopers, Snoopy and a one-on-one audience with Reese Witherspoon—the 2015 Creativity Conference was manna for film buffs, tech geeks and policy wonks alike. The stormtroopers, unusually accommodating, were on hand to help conference goers create the ultimate selfie (the James Bond gun barrel backdrop, where one could get their photo taken against the iconic opening montage in the opening credits to Bond films, was also pretty awesome), ditto Snoopy, who offered as many fist-bumps as he did hugs. But what about that one-on-one audience with Reese? She was a virtual guest, part of a very cool Wild virtual reality experience, where guests could slip on an Oculus Rift and enjoy a few minutes out on the Pacific Crest Trail with Witherspoon, Laura Dern and a very adorable, precocious fox.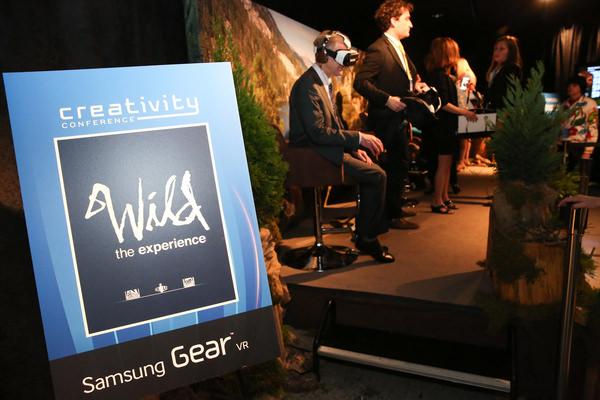 As for the speakers and panels, there was a lot of great insight shared. Without further ado, here's are some highlights from this the 3rd Annual Creativity Conference.
The House of Cards Effect
Rep. Cathy McMorris Rodgers spoke with Jon Karl of ABC News and said that, while she's watched House of Cards, and enjoyed meeting Kevin Spacey (he sat in on a whip session as research for his role), she does wish that not every portrayal of Washington, and politics in general, were as dark and twisted as Netflix's insanely popular show. One thing that she believes Spacey learned from sitting in on the whip session is that they don't whip the "conscious votes," they leave those up to the individual. When it came to shows and films that inspired her, McMorris said that the John Adams series on HBO was enlightening and moving. The different personalities of the founding fathers inspired her, and reminded her how they weren't all just united in one cause, but rather had fierce debates. "Some of these struggles aren't new, but the struggle to ensure America remains strong and a leader continues," she said. When it came to the importance of supporting America's creative community, McMorris said that the country's entertainment and creatives are a big part of what powers the American economy.
Unparalleled Shots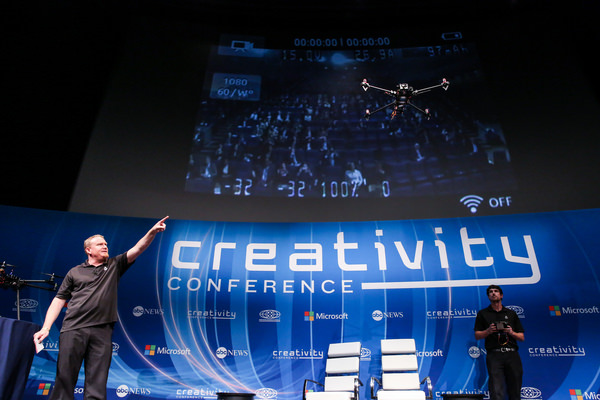 Jim Williams of the FAA discussed unmanned aircraft used for filming. He explained how films were already being shot using helicopters, an expensive and more complicated procedure than using an unmanned aircraft, which actually made film sets safer. Part of the FAA's efforts in regulating this growing industry involved recruiting six companies to be the pioneers in the field, and one of those companies was Aerial MOB, who gave a demonstration of their UAVs. Their UAV, which sounded a bit like a swarm of bees, took off and hovered above the stage. A clip from The Mentalist showed the God's eye view that these tiny, mobile aircraft make possible. The UAVs are outfitted with specialized cameras that manage to shoot a steady picture, no matter how much the tiny aircraft pitches and back and forth, thanks to the gimbal.
Films That Predict and Sometimes Inspire Future Technology

Let The Wookiee Win on Disney Video
ABC News anchor Juju Chang moderated a panel with indie filmmaker (and self-titled "uber geek") Howard Lukk and Microsoft researcher Sidhant Gupta, who works on novel sensing techniques, which aims to create technology that is "sensing everywhere without putting sensors everywhere." Films like Back to the Future Part II predicted things like smart appliances, biometrics, holograms, having access to hundreds of television channels, and many other "futuristic" innovations that are now a part of everyday life. One of the innovations depicted in Back to the Future Part II was virtual reality (VR), which Gupta and Lukk say is coming to both films and to the consumer market. For VR, Lukk says it's something filmmakers are wrestling with now. Being able to move your head and look around, to give the audience that kind of control, is a scary thought for a director, he said. "How do I tell my story when the audience has that much freedom?" Gupta says that Microsoft is already working on something even beyond virtual reality—augmented reality, with their HoloLens, which creates an augmented reality that Gupta noted is right out of the classic Star Wars' chess scene shown above. In the near future, Gupta says that we won't even need the goggles. Gesture technology, like Microsoft's AirWave, were inspired by Minority Report. "When we invented the Kinect, we took away the controller from your hand." So with AirWave, they wanted to put back that feeling the control gave you, but now they do it with air, hitting gamers with a "ball of air," to give them that feedback.
Nancy Utley – President of Fox Searchlight, sitting down with Rick Klein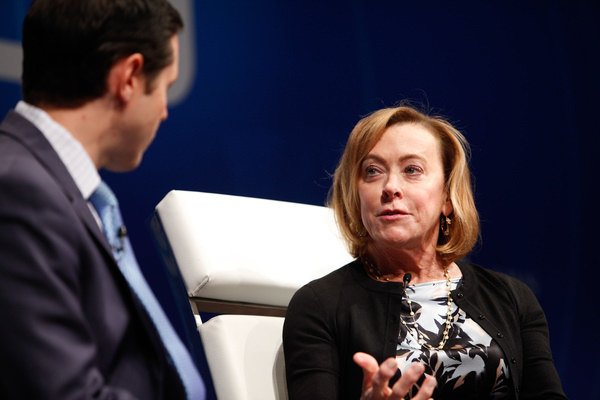 12 Years a Slave, Antoine Fischer, Birdman, The Grand Budapest Hotel, Wild, Black Swan, Beasts of the Southern Wild—these are a few of the stunning films Nancy Utley and her Fox Searchlight team have produced. Utley broke down Fox Searchlight's process, from attending film festivals and connecting with filmmakers in often heated negotiations (competing with the likes of Harvey Weinstein, no less) to finding new scripts. Fox Searchlight usually target directors they want to work with and then asks them what they want to do, creating relationships that last over the several films. Utley said it's a bit easier to buy something already made. At a festival, they're getting press reactions and the reactions from those at there. "Building something from scratch is a lot riskier, a lot harder." Utley described how the festival environment is not the best way to watch a film, because the adrenaline is going, and you can see Harvey Weinstein, Focus, etcetera, all in the theater with you. "You're already feeling competitive, so you have work hard to not let it overwhelm if the movie is really for us," she said. When the film is right for Fox Searchlight, Utley and her team hunker down for a night of negotiations. "We're all type-A personalities," Ultey says of her team, so they're prepared for fight for the films they love.
Harley Jessup, production designer at Pixar
"Story is king, everything we do should be in support of the story," Jessup said. For Monsters Inc., this meant taking years just to get the character of Sully right, while the door vault concept (where the monsters went to work, accessing the closets of children all over the world) had over a million moving doors. The closet door as a portal into the real world was a key bit of magic they had to explain.
Jessup was inspired by visiting Disneyland in 1959, where illustrator Roy Williams did a sketch of Mickey for him. A trip to New York during his senior year of high school was seminal; he found a little booth in the Smithsonian where they continually ran Singing in the Rain, and it gave him the chills. 101 Dalmatians was a huge influence, especially when they worked on Ratatouille. Ditto Ronald Searle, the legendary illustrator, and the film The Red Balloon, which he watches before every Pixar film.
Jessup discussed how they struggled with Ratatouille for four years. Eventually they went to Paris and filmed everything, including restaurants, skies and sewers. They analyzed why some foods look so great on film. Back in California, the entire crew took cooking lessons, and world renowned chef Thomas Keller created the ratatouille they modeled for the film. At Pixar there's an unwritten rule that a film should be entertaining even with the dialogue turned off. A 7-minute clip of Ratatouille with only Michael Giacchino's score proved that point—the film was as moving as ever.
Madam Secretary ­panel with creator Barbara Hall and executive producer Lori McCreary, State Department's Evan Ryan, and Rep. Rosa DeLauro.
Madam Secretray is another show set in D.C. that's rather dark, so the question posed to the panel was; what do these shows get right about DC? Evan Ryan of the State Department said that Madam Secretary does a good job of showing the relationship between Secretary and staff, but when reflecting on one of the most beloved D.C. television shows ever, she had to put her foot down; nobody in the walks and talks that fast in the White House, Aaron Sorkin.
Hall and McCreary talked about the way they script Madam Secretary, which involves a lot of analyzing current political and military news and projecting where it might be headed. "We're tasked with trying to find out what's going to happen five years in the future," Hall said. Lately, it's been eerie how prescient the writers on Madame Secretary have been. McCreary recalled walking into the writer's room and seeing a strange note on a whiteboard: "North Korea threatens war because of a film." They didn't do it because it was too unrealistic. They'd written this months before the Sony Hack.
The panel also discussed how film and TV have such a large impact globally. Ryan explained how House of Cards is very popular amongst the Chinese leadership—perhaps too popular. "It's amazing the ripple effect of these programs," she says. The State Department even has their own film office, in an effort to win hearts and minds overseas. Recently they had a filmmaker go overseas to discuss LBGT rights. Rep. DeLauro said another positive impact from shows like Madam Secretary is how they show women in powerful roles. "Women can hold these tops jobs, they can do them, they know how to do them, they've got the tenacity and fortitude and that can't be challenged."
"He taught us how to do the Monkey." Rep. Nancy Pelosi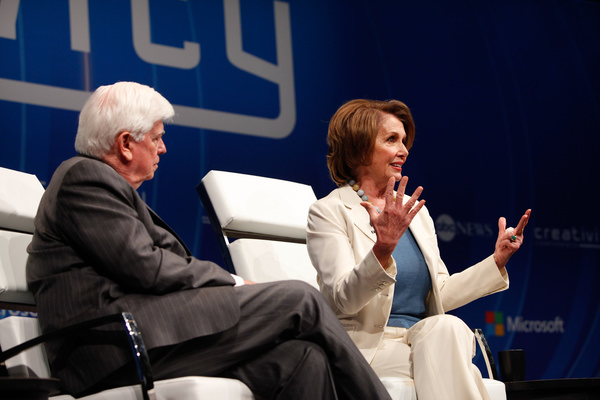 Rep. Nancy Pelosi, a woman with no shortage of tenacity and fortitude, came out to greet her former colleague and old friend Senator Chris Dodd (she was good friends with his sister in college). Pelosi said she's a Star Wars fan (as are her five kids), and said that the Ms. Doubtfire's house is right down the street from where she lives. She talked about legendary California filmmakers, including George Kaufman and Francis Ford Coppola, and how her daughter, Alexandria, is a filmmaker. As for film's impact on the country she has served for most of her adult life, Pelosi said that it's a huge force for job creation. She's long touted the importance of a STEM (Science, Technology, Engineering and Medicine) education as essential for keeping America number one. Rep. Pelosi said that STEAM is the thing, because it includes the arts. "When you talk about the creative industries inspiring the American dream—perfect." Rep. Pelosi recalled how when she and Senator Dodd's sister came back one summer from college (Dodd was in high school at the time), the future senator and MPAA Chairman and CEO taught them how to do the monkey, a popular dance at the time. "I think you've dated us," the senator joked.
Featured image: ABC News Juju Chang, the State Department's Evan Ryan, Rep. Rosa DeLauro, and Madam Secretary's Barbara Hall & Lori McCreary. Photo by Ralph Alswang