New Ant-Man Trailer is Sort of Adorable
The new Ant-Man trailer has a few things going for it, and one of those is Evangeline Lilly. She was the underrated scene stealer and heartthrob that made Lost make sense even at the very end (when it sorta-kinda stopped making sense), and here she plays Paul Rudd's ally and all around bad ass, Hope Van Dyne (that name!). And who isn't excited to see Rudd as a super-shrinking superhero, fighting bad guys while in miniature? In fact, a big part of Ant-Man's appeal is how weird it is when you think about it; a superhero who's the size of an insect? Or actually, according to this photo, is way, way smaller than an insect?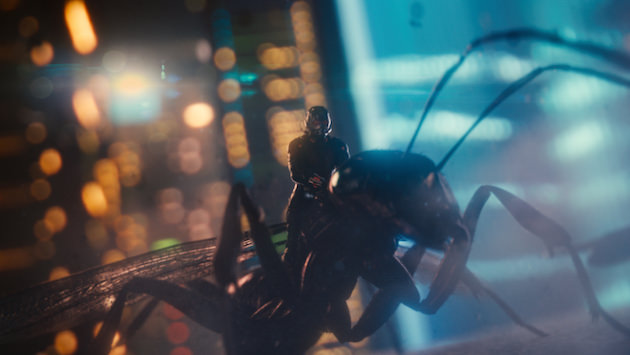 Here's the conceit; Rudd is master thief Scott Lang, and he's tapped by his mentor, Dr. Hank Pam (Michael Douglas) to protect the secret behind his crazy Ant-Man suit (which can shrink a person to the size of an ant and give them superhuman strength). Along with Lilly's Hope Van Dyne, Lang needs to pull off a spectacular heist (and, of course, use the suit and become Ant-Man) while fighting off seriously bad dudes, like Corey Stoll's Darren Cross, a.k.a. Yellowjacket.
With Avengers: Ultron coming out in a few weeks, Rudd's diminutive Ant-Man might bring the same fun, offbeat excitement that Guardians of the Galaxy brought last summer.
Featured image: Marvel's Ant-Man..Scott Lang/Ant-Man (Paul Rudd)..Photo Credit: Zade Rosenthal..? Marvel 2014