James Franco, Jonah Hill Matched up for Murder? Director Rupert Goold Explains
True Story is just that: the real-life story of a journalist who meets with a criminal to understand his crime and write a book about the experience.
In one corner is Michael Finkel, a former star journalist for The New York Times who gets fired after stretching the truth in a magazine cover story. And across the table is Christian Longo, an Oregon man accused of murdering his wife and two children and then going on the run in Mexico.
When found, Longo was using Finkel's name, drawing the journalist in. To satisfy his curiosity (and for lack of other opportunities), Finkel meets the man who assumed his identify in prison, where he's about to stand trial. He thinks it might be a good article, or maybe a book.
The film centers on the interviews Finkel conducts with Longo as he tries to untangle the man's lies about his crime and understand his motivations.
Coming off the success of HBO's The Jinx, and public radio's Serial, True Story will resonate with those fascinated by seeing a criminal open himself up to inquiry. Part of the challenge for the audience is closely watching Longo to figure out when he's lying, and when there's a sliver of truth behind the lies.
When first-time feature director and screenwriter Rupert Goold took a look at the book and the first draft of the screenplay, which is being released by Fox Searchlight, he immediately saw something he wanted to change in the adaptation.
"The book is structured much more as a chapter of Finkel, a chapter of Longo. The mistake Finkel makes is implying there is some kind of equivalency between losing your job and murdering your family," Goold said.
In the movie, he tried to make Finkel, played by Jonah Hill, more understandable to the audience. "My way in was that I can relate to Finkel more than I can relate to Longo," Goold said. "My dad got fired in the recession. I wanted to try to emotionally connect to his journey and the need to work to get out."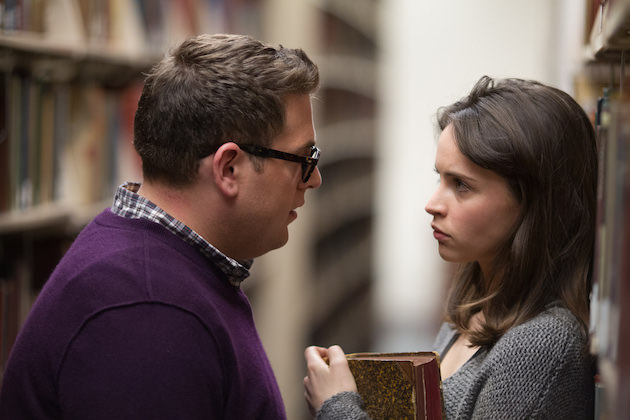 James Franco chillingly and believingly plays Longo, with moments of flourish. "The Longo in my film is almost a doppelganger, a gothic presence," Goold described. "He's a real character, but we didn't approach him as a naturalistic actor would."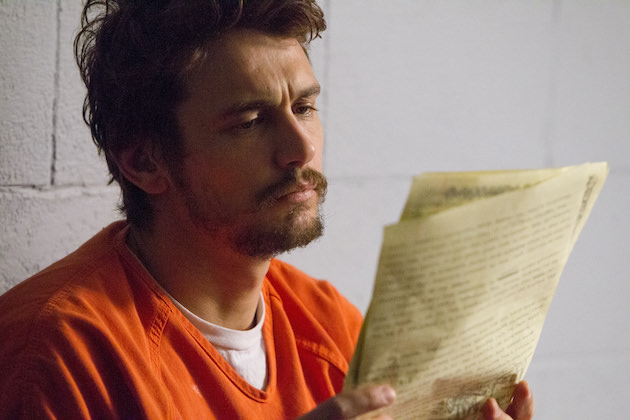 The British director's background comes from the stage, where he's overseen works like Macbeth, King Lear and Oliver! On television, he's directed episodes of BBC Shakespeare adaptations.
But when it came to directing a film, he emphatically wanted to avoid falling back on theatrical conventions. "The very thing that made me an obvious choice for this movie was the long dialogue scenes," Goold said. "But that it could feel stagey, so I wanted to keep an identity that was very oriented in film."
Filming gave him freedom to explore a space with the camera. "In theatre, you're trying to make everything visible that needs to be shown to the audience. Whereas you can make the camera peek around things or capture secret moments."
He found directing actors "more efficient on camera," Goold said. "You're trying to capture something live rather than something repeatable. You keep the energy and focus alive by finding the shortest possible words, or a hand gesture, an expression" to tell the story."
But he also acknowledged that his ease with directing actors came from the talented leads. The Brit was initially unaware that Hill and Franco operated as a comic duo in films like Pineapple Express and This Is The End. He only knew Hill from Moneyball and Franco from his indie work. "I was treating them as dramatic actors, because that's who I thought they were," Goold said.
Their acting chemistry translated well from comedy to drama. "They'd both seen each other be wildly silly on camera, but when we switched to drama they were super competitive and very instinctive about the camera. They know where the camera is and how the personality is revealed through that," Goold said.
Up next, he's working on another project far from the true crime space. "I'm interested in drama that challenges people's assumptions, and this film challenges perceptions about good and evil and justice," Goold said.
But he's keeping his eye on Hill and Franco. "I think they have much more in them than people give them credit for."
Featured image: Jonah Hill, Director Rupert Goold and James Franco on the set of TRUE STORY. Photos by Mary Cybulski. Copyright © 2015 Twentieth Century Fox Film Corporation All Rights Reserved.