From Mockingjay to Boardwalk Empire, Seamstress Lara A. Greene Has Dressed the Best
I Make Movies – Seamstress from WhereToWatch on Vimeo.
If clothes make the man or woman, than costumes often go a long way towards making a movie, particularly in historical dramas. Costumes are a major part of setting the tone of a film or a television show; they tell us so much, even before an actor utters his or her first word. We sat down with seamstress Lara A. Greene to discuss how she got into the business and the incredible projects and people she has had the pleasure of working with, including an unforgettable moment with the late Robin Williams.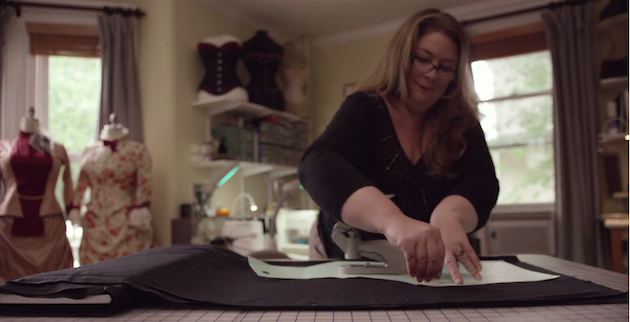 Lara, did you always want to do costume design, even from an early age?
I fell into by accident. I started making costumes for my dolls at a young age, I was into historic costume, non-modern fashion, I was into characters, theater and Halloween costumes. I grew up going to Broadway shows. And I'd volunteered and done some summer stock.
In my third year of college my mom convinced me to change my major to interior design, she did not think I would make money working with costumes. I did well with Interior design but my fellow students at FIT [Fashion Institute of Technology] were so passionate about it and I was not, for me it was a compromise. I had big fights with my family. I withdrew from my classes, left the degree program, and registered for all of the costume and sewing classes. I said, "I have to at least try to succeed with what I love before I give up and settle for something else".
So how did you make that transition into professional costume work?
One of my FIT professors (Joseph Citarella) was head of wardrobe for New York City Opera for Lincoln Center. He hired me for the Summer to work in his costume shop. I didn't realize it was a union shop, after 29 days I had to either join the union or leave the job. So I'm in the union, and that led me to working on Broadway, which led to TV and then to film. It was all from me following my love of historic costume, and costume in general.
When did you realize you were going to make it?
When I was full time at City Opera, I was 24-years-old, making costumes all day, it was so exciting! I learned so much, how to be fast and learned so many sewing tricks. It was awesome to kick costumes out in a factory setting like that. I think what really wowed me was working backstage on Broadway. The first show I did was Cats, and I remember standing in the wing, stage left, and watching the dancers and knowing any second they were going to come off and quick change their costume. It was all so fast paced and that was a lot of fun. I remember seeing the audience from that backstage view, remembering being in the audience myself. I loved it.
What was the switch like to television and film?
My first TV jobs were soaps. I got to work with people I had crushes on when I was teenager. One that I still crush on is Thorsten Kaye, on The Bold and The Beautiful. I always thought he was so handsome and always liked his characters, and in person he is so lovely. There's always going to be celebrities who will be standoffish, but then you meet some who are really cool, really nice. Some you just want to have a beer and hang out with. From Misery, Kathy Bates, I worked with her on Revolutionary Road. Kathy Bates was awesome! She was one of the ones that first made me feel like 'I like her, I want to hang out with this lady'. She probably wouldn't remember who I was, but I loved her.
You must have a ton of moments like that. Do any stand out?
I had a pretty special Robin Williams moment. Apparently there are many who have stories like this but I'm one of the many people whose lives he made magical for a bit. He's the first and probably only movie star with whom I was star struck. It was around 1998. I was an extra wardrobe person hired for a week on Letterman. One of the things I had to do is steam out Robin Williams' jacket before the show.
I'm in his dressing room. I know he's not there. I'm in there steaming his jacket, and he walks in. Usually, for most stars, we give them privacy. So I said, 'I'm so sorry do you need to me leave?', and he goes "No no, go ahead, you're fine." And I'm steaming his jacket and he's wearing these crazy glasses. They're very odd, and he sees me do a double take, and he says "oh you like the glasses? Or these?" Then he pulls out another pair. Then he starts doing this whole juggling, ridiculous, slapstick routine with himself, and I'm laughing, and then I realized what was happening, Robin Williams, Mork from Ork, is performing for me, there's no one else in this room; he's doing this for me! I'm staring with this ridiculous grin on my face, and I said "I love you," and he said "I love you, too."
The Mockingjay 1 and 2 costumes looked like they were difficult to make. Did any stand out for you?
There were so many beautiful and unique costumes in Mockingjay! I was really impressed with the fabrics and cuts of nearly everything. What you think is a simple uniform is really so interesting in design and cut. We had some complicated and innovative fabrics to work with – some were quite challenging and required extreme precision while sewing. One of the most interesting things I got to work on were these crazy camera men of sorts that follow Katniss and the rest of the characters when they go back to raid the Capitol. They are wild lobster tail, snail shell looking things made by this incredible shop,(I think they are the company that made the Batmobile). I remember looking at them on the table and someone told me each cost more then a new SUV. They were crazy unique, specially built custom costumes. Sometimes rigging and working on things like that can be very intimidating because you can't just go out and buy another one.
Is there favorite films or television shows that you have worked on?
On Boardwalk Empire I got to make so many beautiful things. There's a long yellow coat that Margaret [Thompson, portrayed by Kelly Macdonald] wears in Season two when she goes into NYC that I was proud of. The swimsuit scenes, Episode 8 of Season 2, Angela [Darmody, played by Aleksa Palladino] and her lover wear a very traditional swim suit and modern scandalous swim suit, I loved making those especially. Countless garments – the maid's uniforms, children's dresses, tons of skirts and blouses… I did so much. Almost all of the things that Lucy [Danziger, played by Paz de la Huerta] wears went through my hands. Our shop made beautiful clothing!
How about film?
For me, one of the best ones was Enchanted. I'm a fan who loves the Disney films; it's one of my favorite productions. It was a ton of work and crazy hours, awesome cast, awesome crew, great people, magically fun costumes.
There were many versions of the giant white dress, so much work had to be done to them, that dress goes through a lot of stunts. One of my favorite moments: When the dresses arrived from LA and Amy Adams tried on the first dress, she started acting like a runway model, doing the model walk up and down the hall, striking fierce poses. It was awesome! We were all laughing so hard! I liked her instantly and am a fan to this day.
We had a lot of fun. To get to the kitchen we had to walk through where the animators were. They were hand animating and hand drawing the cartoon part of the film – they had a whole bunch of inspirational things on the board, I loved seeing that every day. One funny memory, it was Summer and there was fly sticky tape hanging from the ceiling, and the next day I walk by and there's a cut-out of Jeff Goldblum's face [star of The Fly] on it, LOL! It was a great atmosphere, so many awesomly talented and fun people on that production!.
If you would like to check out Lara Greene's historical work, please go to her Facebook page: http://on.fb.me/1yoScvU