Actress Katharine Emmer Wanted A Life in Color, so she Became a Director
NYU graduate Katharine Emmer looked to have a bright acting career in front of her. She landed an episode of Desperate Housewives; she had a role in indie film Puccini for Beginners, which was nominated for the Grand Jury Prize at the Sundance Film Festival. At NYU she was the recipient of the Annual Tisch Artistic Achievement Award. But even with her growing resume, she was not a full-time working actor; the way she was paying the bills was as full-time working nanny. With few roles available for her, Emmer took matters into her own hands. Life in Color is her feature film directorial debut. She also is the writer, produced, editor and star. Now that's how you get it done.
Life in Color is not Emmer's first foray into filmmaking. A year before her feature debut, she and her friend Adam Lustick took a stab at the process with the 6-minute short, The Third Wheel. From a 6-minute short to an 86-minute feature, Emmer's creating her own breaks.
Life in Color is a semi-autobiographical story of an architecture school dropout who joins forces with a failed comedian (turned birthday party clown) after she is fired from her nanny job (partially due to the clown). With nowhere to live, the two housesit together. The cast is comprised of Emmer's comedian friends, Josh McDermitt from The Walking Dead, Jim O'Heir from Parks and Recreation, Adam Lustick from Harvard Sailing Team, and Fortune Feimster from Chelsea Lately. The project was conceived as a vehicle for Emmer, McDermitt and Lustick.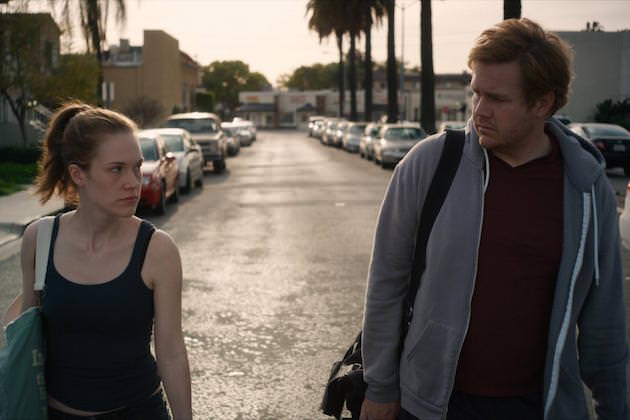 We sat down with Katharine Emmer following Life in Color's SXSW premiere to talk about how she carved out her new career.
With limited roles, do you think actors have no choice but to create their own movies? Did you find the process of becoming a filmmaker challenging?
I would highly recommend creating your own film to anyone who is frustrated and not seeing roles they want to play from an acting stand point…create your own work. Absolutely. To be honest, and I don't know if I should say this or not, but it is the truth. I was insecure going into this project, because I didn't have a background. I had friends who had gone to film school. I wasn't versed in how to make a film. I started off with the easiest thing, familiarizing yourself with the kind of films you want to make or familiarizing yourself with the landscape. I watched a lot of low budget films; I knew I didn't have money.
So how do you make a film that you believe in without the money to do it?
I watched filmmakers like Ed Burns, the Duplass brother's early work when no one knew who they were, and Lena Dunham's Tiny Furniture. All of these artists were where I was at one point in their career. I loved their work; it was honest, compelling, it held my attention and was made without a lot of money behind them. I wanted to set out to tell my own story and do it via that way. I sort of thought if I could just assemble the right people to do it, I can make it happen. Maybe it was blind naivety.
This film is an offbeat comedy. When you were creating the film did you think that was the direction that you want to go, or did it happen during production because of the comedy chops of your cast?
I wanted to tell a story as true to life as possible, and the thing I thought about was how life has both dramatic moments and funny moments. I think it was a natural progression of okay, I think this is going to be a grounded comedy. It's a man and a woman who find themselves attracted to each other, so then it is a grounded romantic comedy.
This is semi autobiographical – how much of yourself did you bring to the role?
I think we always play versions of ourselves, but in terms of the actual text and storyline, there were definitely things I was grappling with. I had just turned 30 and you go, 'Oh my gosh, am I where I want to be in life, am I doing what I was meant to be doing?' If you are not in that place, which I wasn't, you think about how you're going to get there. There people are who just go through life and never get there; will that be me? All those issues, which hopefully the film tackles, were things I was going through, so they were things I knew.
The person who fired you when you were a nanny was male; I don't know a lot of filmmakers who would have made that choice. Was it conscious?
I wish I could take full credit, but the truth is it was sort of circumstantial. The people that I wanted to write for were the males in my life and who I thought would be great for this kind of role. I think it was just a coincidence. I would love to be able to write a piece with more than one strong female protagonist character; it would be interesting.
Why did you primarily choose comedians?
It was really just who I know. I met Josh in an acting class. I wrote Life in Color and we were ready to shoot when he got cast on The Walking Dead. He shot the last half of season four of that show, and then shot our film before the season aired. Between the two of us, we were able to find people. He was friends with Fortune [Feimster]…Jim O'Heir and I share a mutual friend. I couldn't go to actors and offer them a million dollars to do this movie, so you really have to pull from your own resources.
How many people did you have to approach to make this film?
The actors I know love to work and love to act, so almost all the actors were really excited about it. I don't think I had to pull that many arms to do the film. We didn't have a casting director, so I really learned the importance of having the right person play the right role. There were friends I didn't put in it, which I wish I could have, but you want to put the right person in that role.
Who inspires you and wants to make you keep creating?
I love Louis CK. What he is doing on his television show, how he is taking these unconventional shots and approaches in every episodes is different and unconventional. The Duplass brothers, what they are doing with Togetherness on HBO – OMG, I love it. I am one of their biggest fans. It's proof that you don't need bells and whistles to reach people, to tell great stories, and be entertaining and not boring. On the other side of the spectrum, I am obsessed with Peaky Blinders. You can take things like the soundtrack, the music they use and the shots they use. It is so well done and there is something I can take away from that and apply it to my own work.
Seeing this film, do you think it has morphed away from your initial intentions into something greater?
No, I tried to not have too specific of a vision, something so locked in that you panic if something isn't how you imagine, but yes, it's better than I thought it would be. I tried to be really open to letting it become what it was going to become. It is shocking; I started off staring at a blank screening and now here we are. That is crazy!
What advice would you give to up and coming filmmakers?
When you are writing a script, go to people… I didn't like doing it, but you can ask them to work for less than what they normally work for. People will do it. Not just actors, but also sound mixers or whoever it is – if they believe in your story, they will want to help you. You, in turn, can pay that forward when you are in a position to do so. Don't be afraid to ask for favors and ask for help. Otherwise, so many people couldn't share stories because they don't have the financial resources.