Sandy Powell Creates the Couture of Cinderella
Shakespeare in Love, The Aviator, and The Young Victoria. These are but a few titles on legendary costume designer Sandy Powell's illustrious resume. It's funny to think she's from this modern day and age, because her designs perfectly represent the day, age, history, and emotion of each film she is a part of. It's as if she travels back in time to design her many sartorial masterpieces.
When it came to costuming the many characters of Cinderella, Powell admits to marching to the beat of her own drum at first. "Of course I watched the [original] film before starting my own design process—but only out of interest, not necessarily as a source of inspiration," she says.
The animated film's unforgettable imagery, however, subliminally incepted her many times. "Once I started designing, I noticed there were definite similarities which means that I must have been influenced and inspired subconsciously without even realizing it. The images from the animation are so iconic they are ingrained!" she exclaims.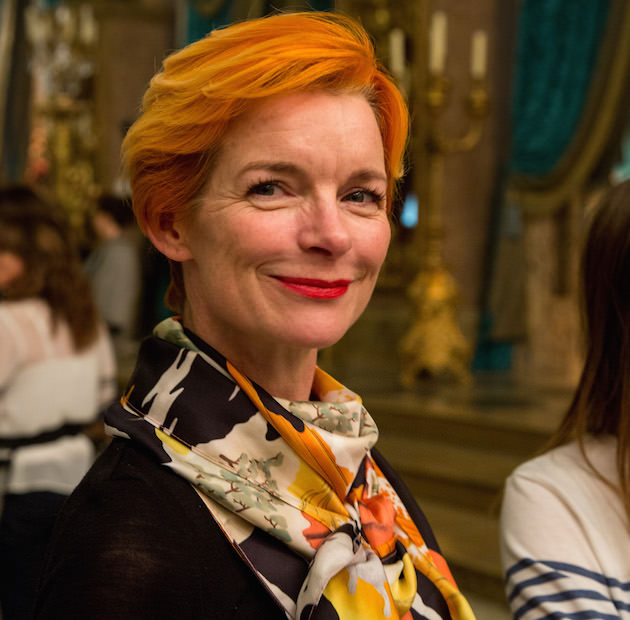 Powell recalls drawing up a unique journey for each of the main characters in the film. The most difficult character to dress, she reveals, was none other than Cinderella herself. "She is the most iconic and we had a lot to live up to," she admits. "I thought it was important to keep her simple and unadorned to complement her simple and good nature. Even at the ball I decided not to give her jewels or a tiara in order to make her stand out from the crowd in her simplicity."
The Prince is the most like his animated counterpart, Powell notes. "There was never any doubt that he should be in uniform and it seemed perfect that he should be in white for the ball," she reveals. "I used various shades of blue to accentuate his startling blue eyes."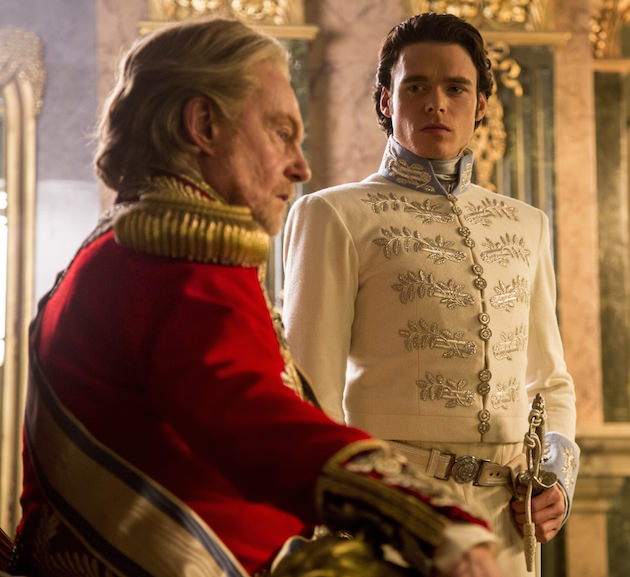 The Stepmother, played by the stunning Cate Blanchett, was the most fun character to dress, according to Powell. "Her silhouette is very graphic and I used a strong jewel-tone color palette, along with a lot of black to accentuate her dramatic nature," she observes. "Audiences need to notice that [the Stepmother and her daughters] were spending all Cinderella's father's money on clothes—hence the multiple changes." Gauche, unsophisticated, and over-the-top were key motifs to composing Anastasia (Holliday Grainger) and Drisella's (Sophia McShera) closet. "It was as if they dress from head to foot in the same designer label," Powell mentions. "The stepsisters need to be seen as beautiful on the outside but ugly within."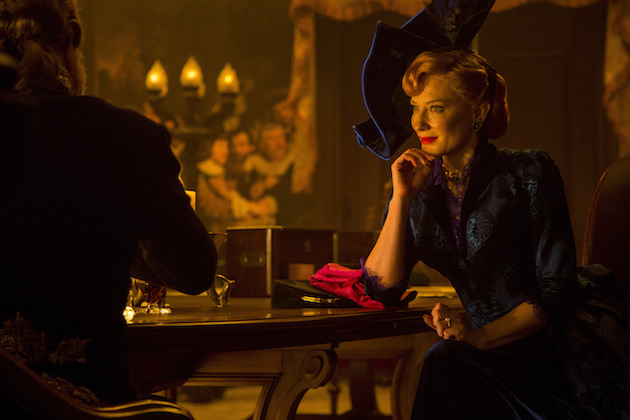 After weeks of crafting varying interpretations of Cinderella's iconic gown, the winning design ended up being a nod to its predecessor. "Blue, or varying shades of it, just seemed to be the best color to use," Powell details. "What I wanted to show in the dress was a lightness and simplicity. Despite the fact that it's physically huge, I wanted it to appear weightless." Powell and her team used several layers of the finest textiles, and the result was a breathtaking, almost liquid shade of blue mixed with lilac that looks alive when Cinderella dances, walks, and, of course, runs away.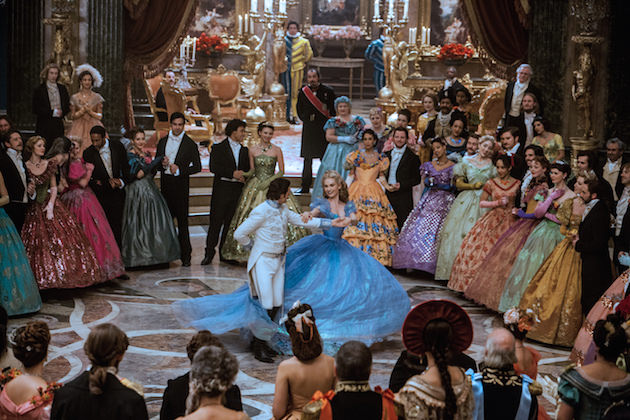 Dreaming up the glass slipper was the biggest challenge of all. "I wanted it to look like a shoe that people would actually desire—yet be impossible to wear, unless you were Cinderella," Powell observes. Swarovski, the world-famous purveyor of fine crystal, collaborated with costume designers to make the heels all the more lifelike. "The shape of the shoe was based on an original shoe, which I found in a museum during my research, from 1890," Powell continues. "It had an impossibly high heel of five inches but was incredibly dainty. I worked with the talented technicians at Swarovski for months, envisioning how we could achieve this. Fortunately, the end result was a success!"
Featured image: Holliday Grainger is Anastasia, Cate Blanchett is the Stepmother and Sophie McShera is Drisella in Disney's live-action feature CINDERELLA which brings to life the timeless images from Disney's 1950 animated masterpiece as fully-realized characters in a visually dazzling spectacle for a whole new generation.