Patricia Clarkson on October Gale, Finding the Right Roles & More
If she's not the hardest working woman in show business, she's certainly one of the most visible. Patricia Clarkson, with her trademark sultry voice and a smile that could crack stone, has a new film out tomorrow and recently starred in the hit Broadway play "The Elephant Man" opposite Bradley Cooper. One of the most respected and versatile of contemporary actresses, Clarkson over the years has made important films with first-time directors (Lisa Cholodenko, Tom McCarthy, Peter Hedges) as well as iconic veterans (Martin Scorsese, Woody Allen).
Recently, Clarkson could be seen in two smaller, searching films. In Last Weekend, now out on VOD, she teamed with the debut directing duo of Tom Dolby and Tom Williams in a story of a privileged woman who is forced to reckon with an empty nest and a less-than-ideal marriage.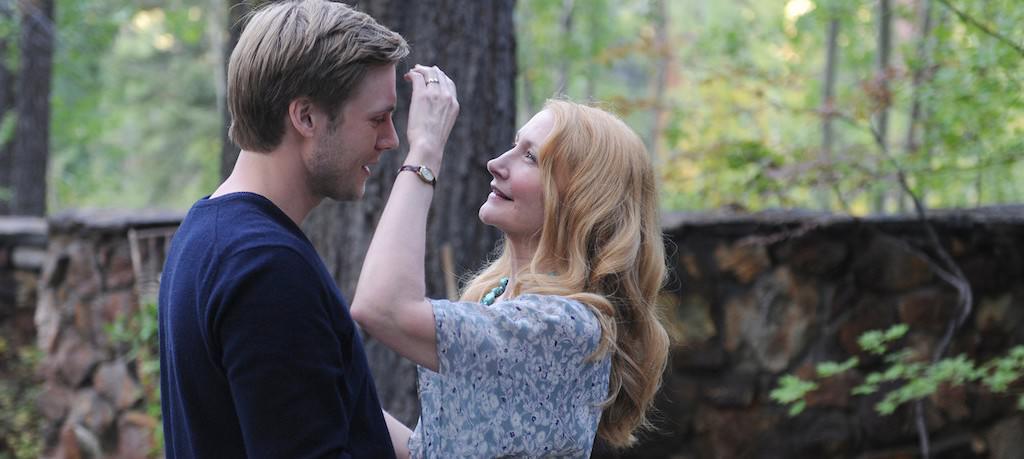 Then there was Learning to Drive, which reunited Clarkson with her Elegy director Isabel Coixet for a film that Clarkson had championed for years. She plays a recently divorced, self-absorbed Manhattan book critic who takes driving lessons from a Sikh instructor (Ben Kingsley) with marriage troubles of his own.
Both Learning to Drive and October Gale, directed by Ruba Nadda, who also directed Clarkson in Cairo Time, debuted at the Toronto International Film Festival. October Gale, a thriller with Clarkson as a doctor who arrives at a remote cottage during a storm and takes in a mysterious man with a gunshot wound, opens in theaters on March 6.
Besides all that, Clarkson provided the voice of Susan Sontag in the highly-acclaimed documentary Regarding Susan Sontag now on HBO GO.
"I do get offered many things and I guess, maybe fortunately, I can pick and choose. I do still need to do money jobs, so to speak, but now some of my more artistic choices involve money. I actually get paid now to make small films and that was my goal. And I don't have to do things I really don't want to do," says Clarkson.
"October Gale was brutal. It's a gorgeous and amazing film and a great part for a woman. But when it was done, I needed a rest. [The work] never ends when you finish a film; there's press, costume fittings for the next role…it comes with the territory and I don't have a staff or entourage so I deal with a lot on my own. The upside of doing films you love is that it's never difficult to hawk them."
This past fall, Clarkson, 55, returned to the stage for the first time in years in The Elephant Man with Cooper and Alessandro Nivola and has garnered rave reviews for her role as Mrs. Kendal (the part that Anne Bancroft played in David Lynch's 1980 film version). "The conceit of the play is that a beautiful man plays John Merrick and we watch him in a medical lecture as he becomes the Elephant Man in front of you. Mrs. Kendal is a lovely, stunning, funny character; the relationship they have is so moving and delicate. The three of us go on such an emotional journey. We have to show up every night really ready to go."
Although trained at the Yale Drama School where, she says, "it was nothing but theater; they didn't even do film then," Clarkson had not appeared on Broadway in 20 years. "I did Blanche DuBois at the Kennedy Center 10 years ago. I love shooting films; movies are my favorite thing to do of all the disciplines, so I took a break," she says. "Then Bradley wooed me to The Elephant Man. [Director] Scott Ellis said I wasn't going to do it two years ago but when he called me, I said 'let's go.'
"It's the hardest work you'll ever do. Bradley, just the contortions he goes through; Alessandro, in essence, carries the play, he's the center. It's a rare and beautiful thing that I'm the age I am and get to be in a play with two of the most beautiful and talented actors alive."
Once she finished with the play, Clarkson, a native of New Orleans, hopes to devote time to a film that has long been her baby: a biopic of legendary actress and fellow Southerner Tallulah Bankhead. "We have to get the right director and we are getting closer. The good thing is the longer we wait, the deeper my voice gets. It's something I hope to have happen this year. I'll never give up on it. I'm dying to play her," says Clarkson with the husky laugh that punctuates much of her conversation. "The script mixes fact and fiction; it's a great story about a really colorful lady. I'm lucky. I hope to keep taking journeys with these bold and daring women."
At an age when many actresses search for good movie roles or head for TV, Clarkson is still cast as women of vibrant sensuality and sexuality. She's also avoided cosmetic surgery. "This is what I look like at 54," she says. "It's not for me, but if it makes you feel better, fine. For some big stars, the pressure is unbearable and you do look better with Botox and filler. But I want my face to reflect all of the emotion it has. Do I look good when my face falls apart in an emotional scene? No, but isn't that the experience? When your body weeps, it's a deeply physical experience and you have to be there. And everybody knows your age anyway." She breaks into that infectious laugh again.
"I know what is it to be this age and have gone through what I've gone through and all of that comes into play," she says. "There's so much more that I can bring to the screen and so much more to go! There is different I'll bring to the characters I play at 60 and, hopefully, at 70 and 80."