Berlinale 2015: Jack Pettibone Riccobono's Phenomenal The Seventh Fire
The first time the director Jack Pettibone Riccobono filmed the Ojibwe tribe at northern Minnesota's White Earth Indian Reservation, it was to document the tribe's efforts to preserve their local wild rice, considered sacred for centuries. Riccobono returned to the reservation in 2010 to show the short documentary about their efforts, The Sacred Food, but also to find someone to talk to him about a different, quietly growing problem at the reservation. Having learned of the surprising migration of inner city gang culture to rural, native communities, Riccobono and one of the producers of the potential new project, Shane Slattery-Quintanilla, couldn't find much on the topic, either on film or in print. The hope was that someone from the Ojibwe community would be willing to discuss what was going on.
"Do you want to know about native gangs? Let's go talk." Lifelong White Earth resident Rob Brown approached the director himself after The Sacred Food screening, Riccobono recalled. They hit it off, and Brown became one of the two main subjects of The Seventh Fire, which premiered on Saturday during the Berlinale (where The Sacred Food also screened, in 2007). Natalie Portman, who came on board as a executive producer after seeing "the reverence with which Jack treated [the subjects]," (she and Riccobono have been friends since college) was also on hand for the premiere of the Terrence Malick-presented documentary.
With Rob leading the way, Riccobono's series of 14 shoots over two years documents the residents of the would-be idyllic Pine Point community at the White Earth reservation, in the throes of a mostly overlooked drug crisis. Presented with no fanfare for the series of entrenched problems it depicts, the film is noticeably respectful of its troubled subjects. Much of that is due to Rob, middle-aged and tattooed, introduced while mixing up a batch of fake methadone, which he's trying to get to the right shade of pink. "I could tell he was a once in a lifetime subject for all his complexity, his intelligence, and his backstory," Slattery-Quintanilla explained after the screening. He does line after line of cocaine, chats with the camera about this and that (Riccobono made a point of doing in-the-moment interviews), is sweet and playful with his pregnant girlfriend and some local kids at the playground, where he pretends to get stuck on a slide. Even after he explains the symbolism of his complicated gang tattoo, Rob seems like the kind of neighbor you'd still trust to watch your kid if you had to run out unexpectedly, and his chilled-out eloquence makes the problems White Earth faces look almost normal. Hanging out in a sodden kitchen on a sunny afternoon, Rob chats with a female friend and her baby. The ubiquitous tray with four lines of coke sits on the table, and Rob takes two and barely interrupts their conversation. His friend looks on, chatting, and when he's done, she hands him her baby, so she can quickly down a line, too. She takes her baby back. They continue talking. Cut.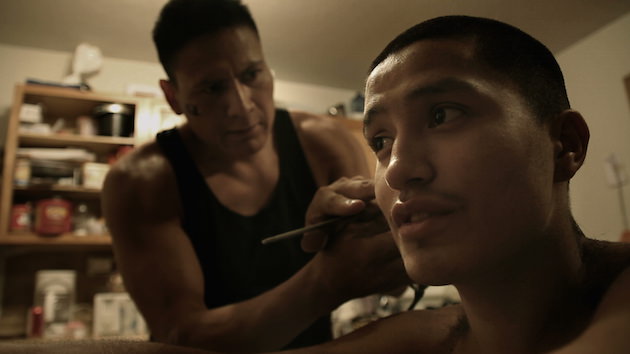 During the course of the film, though, Rob is sentenced to three years in prison, his fifth time behind bars. Reading from the file in his defender's office, he gets to an assessment from a case officer noting his 39 childhood foster homes, 3 group homes, physical abuse, sexual abuse — the file also notes that he's a good writer, and that he had wanted to pursue it seriously. Over the course of his stint in jail, Rob gets sober. He becomes lucid, sad, and driven, missing his daughter, Persephone, whom he named decades before she was born, when he was in third grade. He read the myth of Persephone and her beauty while locked in a storage closet for "bad behavior," and told himself he'd name his first daughter after the universally admired goddess. Present-day, adult Rob is still literary, pacing during the prison intake process, reciting a poem to himself which he wrote about his present situation. In prison, he works on a novel. "He kept a journal from behind bars and sent me sheets and sheets of writing. We want to help him publish a book of his poems," Riccobono said, regarding Rob's post-prison plans (he's been approved for early work release this spring).
Riccobono and his production team are equally involved in a different sort of way with Kevin Fineday, the second subject of The Seventh Fire. Kevin, whom the crew met a year into filming at the reservation, turned 18 during the course of shooting. He's as involved with drugs — acting as a go-between for sales between both natives and local teenagers — as Rob, but he's at the beginning of the cycle, not stuck in the middle of it. Kevin is prone to adolescent posturing, sometimes swaggering, and writing off his girlfriend breaking up with him (over salt in the meth, she claims), but in more promising moments, he spends afternoons with his clean, sweet father, and debates with himself the merits of getting a regular job.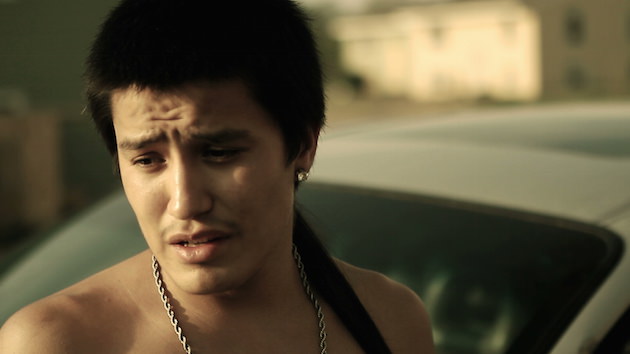 Like Rob, he comes off as a decent guy without a lot of options, dealing however he can with the monotony of systematically poor, rural reservation life. After the film, Portman delicately phrased it thusly: "I think there were many young people who were very close to their tradition, proud of their tradition, and clearly, when that's lost, people try and find something to replace it." The documentary crew eventually called Albino Garcia, a native outreach worker who tries to help cases like Kevin's avoid turning into those like Rob's. Though Garcia didn't make much headway during the film ("I see this film and it breaks my heart. My elders, if they see this, they will cry," he acknowledged after the screening), Riccobono said that he'd been back in contact with Kevin, to let him know he was welcome in his program, if he could make and stick to a three-month plan to "stay straight."
With drugs come violence, so the story goes, but the film is rarely violent though it's apparent it's there. "It's always a tricky balancing act," to show it, said Riccobono. "We felt that we were communicating a sense of danger and what it's like to live in this place. But there were certain ethical lines — we didn't want to ever glorify or encourage behavior because we were there. It's a complicated issue." The only truly violent scene emerges at a party gone too far, in a fight between a few women. The next morning the hosts seem amused, if unsurprised, at a long lock of hair clearly yanked from the victim's head, fluttering under a rock in their front yard.
Gang influence, like violence, is another missing yet present factor. We're used to movies and documentaries about gangs where talk of the gang identities is practically non-stop. On the reservation, you can feel its presence and make assumptions that the violence, the drugs, and the poverty are somehow gang related, but almost no one ever talks about it. "The native gangs are very particular and very unique, because they're spread out across a huge geographic region," Riccobono explained. "Often gangs are really focused in one particular neighborhood or turf, but in a native community" the network is more far-flung. "And the nature of what a gang is is loose and interpreted by people in different ways." With Rob and Kevin, and the living rooms and kitchens of their girlfriends and neighbors and families, the film presents a new side of gang culture that's mostly gone unnoticed, and which is nothing new for either its members or victims. "You see things that I don't think we've seen on screen before," Portman said. "It's something we really need to adjust in our country and something that we don't pay enough attention to right now."