Sundance 2015: The Horizon Award Reception for 20-year-old Verónica Ortiz-Calderón
Park City, Utah – Twenty-year-old Syracuse University Student Verónica Ortiz-Calderón was awarded the inaugural Horizon Award last night for her short film Y Ya No Te Gustas (And You Don't Like Yourself Anymore), at a reception held at Sundance House.
Ortiz-Calderón's thoughtful, arresting debut, which was selected from more than 400 submissions from up-and-coming female filmmakers, premiered to a room full of film industry heavyweights. Accepting the award, and a $10,000 scholarship check from Sharon Waxman, founder, CEO and Editor in Chief of The Wrap, a slightly overwhelmed Ortiz-Calderón laughed: "I really needed this for tuition".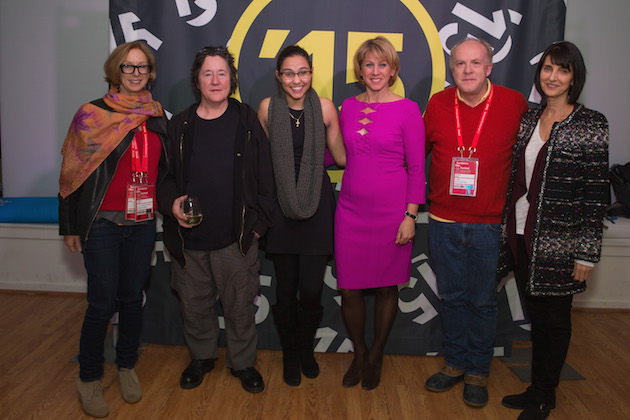 "I guess movies and TV taught me a lot, they taught me how to speak English as my second language, they taught me everything I know about American culture," she continued. "They taught me about seasons, which was really really confusing because we don't have seasons in Puerto Rico, it's summer all year round. They also taught me that I was different, they taught me that I could never be the leading lady, that I could never be the action hero. I never saw myself represented on screen, ever. It made me feel that I was unworthy and that I had to change who I was, but being here tonight proves that under represented stories have a place."
Horizon Winner Veronica Ortiz-Calderón from Horizon Award on Vimeo.
The Horizon Award was co-founded by producers Lynette Howell (The Place Beyond the Pines, Blue Velvet, Half Nelson), Christine Vachon (Boys Don't Cry, Far From Heaven, One Hour Photo) and Cassian Elwes (All is Lost, Dallas Buyers Club, Margin Call), who will act as mentors to Ortiz-Calderón during the festival.
Elwes explained that the idea for the award came following the release of a 2012 Women in Film study, which showed that women comprised only 9 percent of directors among the top 250 domestic grossing movies worldwide.
"Suddenly a light bulb went off and I thought, I know why don't we bring a young director to Sundance and instead of giving them money, which they get anyway, what about actually talking to them and introducing them to people?" he said. "I know we can't fix this problem right away but one of the things we can do is try to get in front of it by trying to identify young talent out there now."
The jury was comprised of influential film industry producers, executives, and directors, who reviewed more than 400 submissions from 200 colleges and universities worldwide, including the United States, Canada, the United Kingdom, Australia, Columbia, China, and more.
CreativeFuture co-hosted the reception. Other corporate and organizational co-sponsors of the 2015 Horizon Award include The Black List, The Creative Mind Group, Indiegogo, The Sundance Institute, Twitter, Vimeo, and Women in Film.
Featured image: The Inaugural Horizon Award winner, Verónica Ortiz-Calderón. Courtesy Horizon Award/Sundance Film Festival