Sundance 2015: Talking With The Royal Road Director Jenni Olson
One of the world's leading experts on LGBT cinema and long a force in the independent film world, Jenni Olson is also a respected filmmaker whose latest, The Royal Road, earned critical acclaim when it played to enthusiastic audiences at its world premiere at the 2015 Sundance Film Festival.
The Royal Road is a personal, poetic film essay marked by empty urban land-and cityscapes of San Francisco and Los Angeles, against Olson's voiceover narration. The Royal Road is another name for the El Camino Real, a historic thoroughfare that runs along the coast from San Francisco, the city Olson calls her muse, to L.A. The Royal Road is rich with California's history, beauty and architecture as Olson explores themes as seemingly random as California's Spanish colonial past, references to Hollywood movies, and her own musings on sexual identity and unrequited desire. The film will be on the festival circuit throughout 2015 before it's available on VOD later in the year.
A film programmer, archivist and historian, Olson weaves references to movies such as Vertigo, Sunset Boulevard and Summertime through her film but with a film lover's passion not as academic treatise. She describes Sunset Boulevard as "a Hollywood movie about Hollywood movies" and The Royal Road as "a film about film."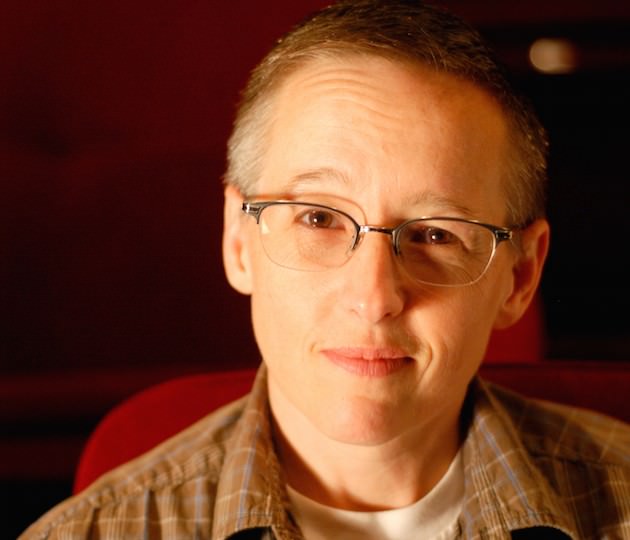 While growing up, says Olson, "watching movies was a cherished relief from the awful realities of daily life. Experiencing myself as a fictional character has been a mode of survival for me ever since." In 1986 she was getting her B.A. in Film Studies at the University of Minnesota when she read Vito Russo's book, The Celluloid Closet (about the history of homosexuality in the movies) and it changed her life, she says. "It really enabled me to come out and inspired me to start an LGBT film series on campus, which then merged into the Minneapolis/St. Paul LGBT Film Festival." Olson's day job is VP of E-Commerce and Consumer Marketing for Wolfe, the most prominent distributor for LGBT titles. She co-founded the first global LGBT streaming movie platform, WolfeOnDemand.com. In the '90s, Olson helped launch PlanetOut.com, where she established PopcornQ.com, the largest LGBT film and entertainment site on the web. She was a pioneer in the then-nascent technology of e-commerce and streaming video offerings back in 1995.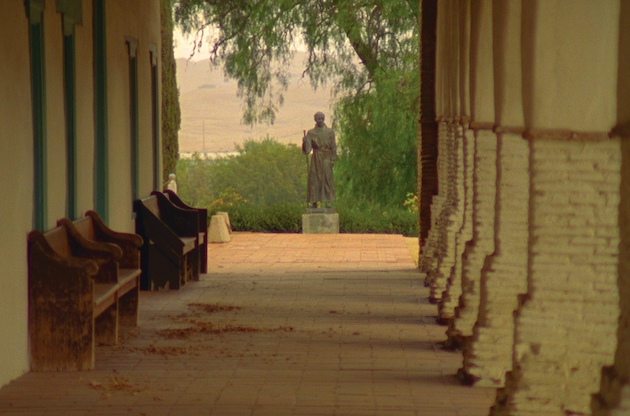 This year's Sundance screening marked Olson's fifth visit to Park City ("It it never gets old," she says) and the chance to reconnect with colleagues from "the queer film world who are all proud of me." Her first visit was in 1996 with Trailer Camp, her hilarious compilation of vintage movie trailers. Her short Meep! Meep! followed in 2001. Then 2005 marked the world premiere of Olson's The Joy of Life, her first feature that tackled some of the same visual and thematic terrain as The Royal Road. The Joy of Life went on to play a pivotal role in renewing debate about the need for a suicide barrier on the Golden Gate Bridge, as well as earning the 2005 Outfest Award for Outstanding Artistic Achievement and the 2005 NewFest Award for Best U.S. Screenplay. Olson's 2009 short, 575 Castro St. about the late activist Harvey Milk's former camera store, premiered at Sundance and the Berlin Panorama in 2009. Commissioned for the release of Gus Van Sant's Milk, the film can still be seen online at the Milk website, on the Sundance YouTube Screening Room, and in a permanent installation at 575 Castro Street which is now home to the Human Rights Campaign Action Center and Store.
Her roles as archivist, programmer and critic have made her an expert in LGBT cinema, leading to Olson's appearances as an historian and cultural critic in several documentaries such as IFC's Fabulous! The Story of Queer Cinema and Vito, a documentary portrait of Vito Russo. She also serves on many advisory boards including the Outfest/UCLA Legacy Project for LGBT Film Preservation and the San Francisco Jewish Film Festival.
Olson worked on The Royal Road for five years but first started shooting landscapes in 1997, creating building blocks along with her writing until the project began to gel. Shot on 16mm by cinematographer Sophia Constantinou, who was Olson's director of photography on The Joy of Life, the carefully composed static shots taken in early morning hours of vacant streets and ambient sound achieve an almost dream-like mix of architecture, light and motion.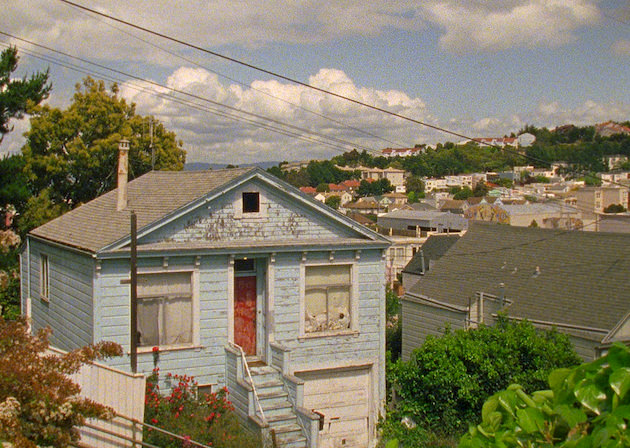 "It makes sense to shoot a film about preserving the landscape with the physical qualities of film," Olson says. Beyond aesthetic reasons, she prefers film for practical ones. "I feel safer shooting on film than on digital," she says, comparing the loss of 90 percent of silent movies to what might happen to digitally-shot films once formats change in the future.
Olson considers herself "a proud experimental filmmaker" whose visual odysseys are enhanced by her personal stories, perspective and experience. "It's important to represent our own reality," The reward for artist and the audience is to "feel less alone."