Paul Thomas Anderson & his Team Tweak Los Angeles in Inherent Vice
There can be few novelists more daunting to adapt for the screen than Thomas Pynchon. The worlds he creates, with their sprawling casts and Ouroboros-like narratives, present major problems for any filmmaker looking to keep his or her film coherent and under nine hours. Paul Thomas Anderson, the man who riffed on Upton Sinclair's "Oil" and turned it into the mesmerizing There Will Be Blood, is as good a candidate as you'd likely find to handle such an assignment. He and his team may have tackled Pynchon's breeziest, funniest novel, "Inherent Vice," but the story is still populated by a dizzy cast of lowlifes, creeps, fascist cops, lawyers, political militants, real estate moguls, surfers, loan sharks, tenor saxophone players, dentists, and all of these connivers are investigated, in one way or another, but the story's hero, Larry "Doc" Sportello, kind of stoned, clumsy Philip Marlowe (which is a little like the way Robert Altman tackled Marlowe himself in take on Raymond Chandler's The Long Goodbye, moving Marlowe into 1970s era Los Angeles, no doubt a touchstone for Anderson here).
Here's an extremely simplified synopsis of the story: Private eye Doc Sportello (Joaquin Phoenix) has his consistently altered state further complicated when his former girlfriend Shasta (Katherine Waterson) shows up with a story about her current billionaire land developer boyfriend, Mickey Wolfmann (Eric Roberts), and a plot by his wife and her boyfriend to kidnap him and have him committed. It also includes a frozen banana chomping psychopath cop, Bigfoot (Josh Brolin), Doc's attorney Sauncho Smilax, Esq (Benicio Del Toro), Deputy Los Angeles D.A. Penny Kimball (Reese Witherspoon), ex-doper Hope Harlingen (Jena Malone), undercover sax player Coy Harlingen (Owen Wilson) who, for some reason, faked his own death, and Chick Planet massage parlor manager Jade (Hong Chau) to name a few of the players involved her.
Production designer David Crank said that Anderson distilled the spirit of Pynchon's trippy, densely complex story until it became fused with his way of seeing the film. "Though we referred to the book sometimes and looked back to see what Pynchon wrote," Crank said in the production notes, "we tried to never be enslaved by it…if you're too literal about a work of literature, it usually doesn't work, and what Paul likes to do is simplify and strip back until you have just the right kind of shell in which the actors can do their work."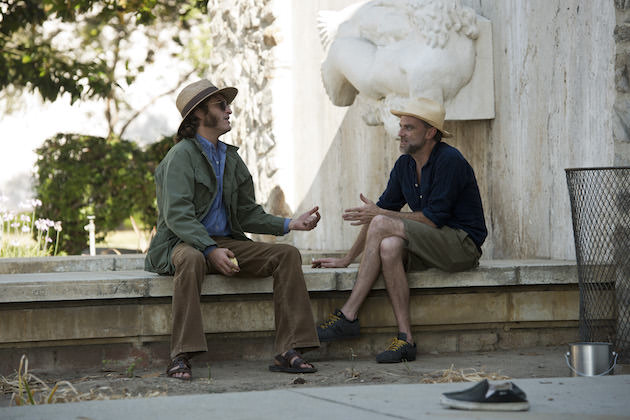 This is no easy feat considering Doc's investigation takes him all over a vividly realized, drug-soaked Los Angeles that flowed from the mind of one of the most celebrated living novelists. His trippy, dangerous journeys take Doc from his comfort zone among L.A's beachside surf shacks to more sinsiter locales, including the LAPD's Parker center, construction sites, rehab centers, Topanga mansions, seedy massage parlors, coastal diners and the sleek, intimidating headquarters of the nefarious syndicate Golden Fang. Anderson's adaptation included more than 60 locations.
The question for any adaptation, but to an even more difficult degree with Pynchon, is how do you take the fluidity of the language on the page, and the novelist's ability to take his protagonist anywhere, and turn that into a satisfying film experience that can be made with a realistic budget? You get help, of course. Anderson brought many of his longtime collaborators on board to adapt Pynchon's world, including Crank, cinematographer Robert Elswit (he won an Oscar for Anderson's There Will be Blood), costume designer Mark Bridges, and editor Leslie Jones. They were essential in helping him translate Doc's investigation for the screen as he plunges into Pynchon's vividly realized 1970s Los Angeles.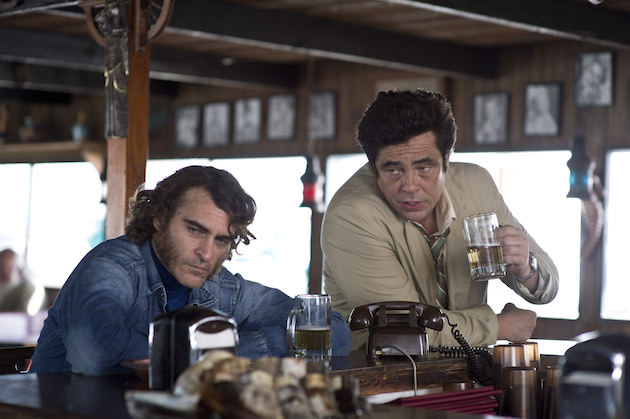 The work largely began with some extended road trips. Crank, who was the art director on There Will Be Blood and, along with collaborator Jack Fisk, did the production design for The Master, joined Anderson as they drove around L.A. in their best approximation of Doc's own investigative journey, looking to find the real life counterparts to the places he finds himself. "There was a rather long scouting period," Crank said in the production notes. "We visited and re-visited places and it's a very intuitive process with Paul, where he tries to react in the moment to the places and how they match with the mood in his mind."
While Pynchon's worlds can be hyper-kinetic and stylized, Crank said that Anderson's work has gained a naturalism over his last few films. This isn't the first time Anderson has looked at the Los Angeles area in the 70s; his darkly hilarious, vibrant 1997 hit Boogie Nights lies on one end of the spectrum, while his work on There Will Be Blood and The Master lie on the more naturalistic end that Crank's referring to. "He's becoming more and more interested in the organic," Crank said, "and I can see why that approach is so exciting to him. In my job, that meant working with him location by location. We kept in mind all the different thematic elements of the film, but the idea was never to get stuck on them."
What Crank needed to help Anderson capture was to find a way to visualize the nuances in the shift between the 60s and 70s, when Flower Power was wilting, but before the 70s style began to really flourish. "It's a true transitional era," Crank said, "that was exciting but there was also a danger of making the design just a collection of bizarre things."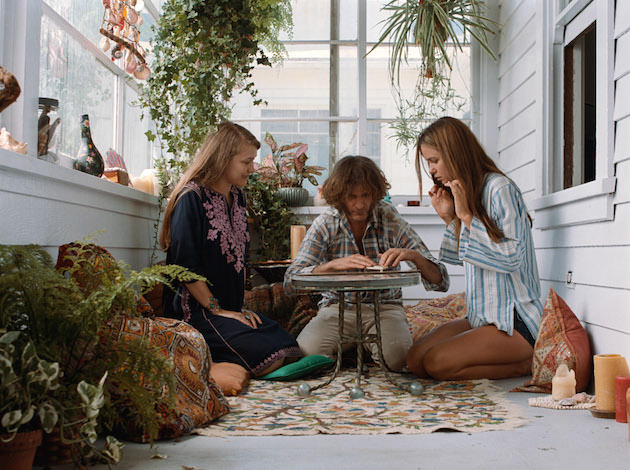 What he needed to do was to find the right elements that would reflect a city in the midst of a metamorphosis without it distracting from the story. "The idea was to never leave you thinking, 'Oh, this is a period film.' We wanted more of a worn look, a look of people living in this world and the objects in a room are just there because they wound up there," he said. "We didn't want sets that look art-directed. We didn't talk about where things should feel noir and where they should be more in the hippie realm. It's all part of the same world."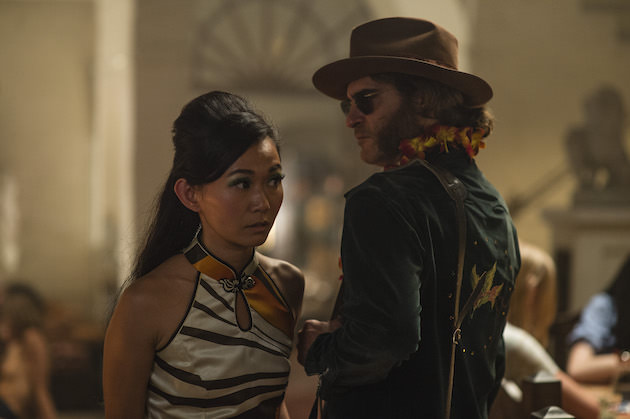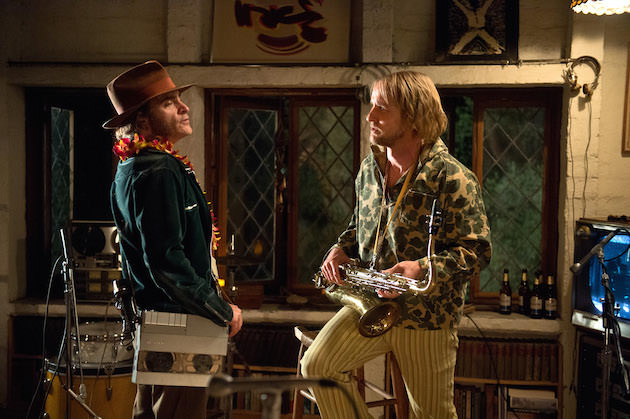 Sometimes you get lucky. When Crank scouted Manhattan Beach to find Doc's beach apartment (in the fictional neighborhood of Gordita), he found exactly what he was looking for; a 60s-era shack, owned by a free-spirited woman whose place captivated Anderson. Only they couldn't' actually shoot there, so Crank and his team recreated the house as a set.
Crank was tasked with recreating the interiors of Los Angeles' formerly storied Parker Center, the LAPD's downtown headquarters from 1954 to 2009. The building was originally designed by architect Welton Beckett, the same man who designed the iconic Capitol Records building, as well as the Cinerama Dome in Hollywood. The Parker Center was an eight-story, rectangular complex built in the modernist International Style, a white dome of fascist power to Doc and his associates. Crank and his team recreated the Parker Center in a homeless mission on Skid Row downtown. "We found this great library that had just this kind of long row of windows and we re-dressed it and it really felt right."
For the octopus-like Golden Fang who have their tentacles into seemingly everything, Crank created their lair inside Ambassador College in Pasadena. The filmmakers also made use of the Chowder Barge diner in San Pedro, the Channel View Estates construction site, the house of an older man's place in Baldwin Hills (this was the home of Josh Brolin's brutal police detective Bigfoot), to a place in Compton that doubled as Adrian Prussia's (Peter McRobbie) office/torture chamber. The basement of the Los Angeles Theater, which the team first used in The Master, was the swank club where Crocker Fenway (Martin Donovan) meets Doc.
Inherent Vice opens this Friday, December 12, the result of a team of extremely talented filmmakers coming together to create their own vision of one singular novelist's work.