At Long Last Filmgoers Will Head Into the Woods
Into the Woods began its life as a musical by Stephen Sondheim and James Lapine, debuting on Broadway on November 5, 1987 at the Martin Beck Theater. Former New York Times' theater critic Frank Rich (later an Op-Ed writer, now an editor-at-large at New York Magazine) wrote in his review, "The characters of ''Into the Woods" may be figures from children's literature, but their journey is the same painful, existential one taken by so many adults in Sondheim musicals past." Adapted for the screen by Lapine and directed by Rob Marshall (the first Broadway musical Disney will have ever released on the big screen), Into the Woods threads the plots of a few choice Grimms fairytale characters and explores the consequences of each character's journey.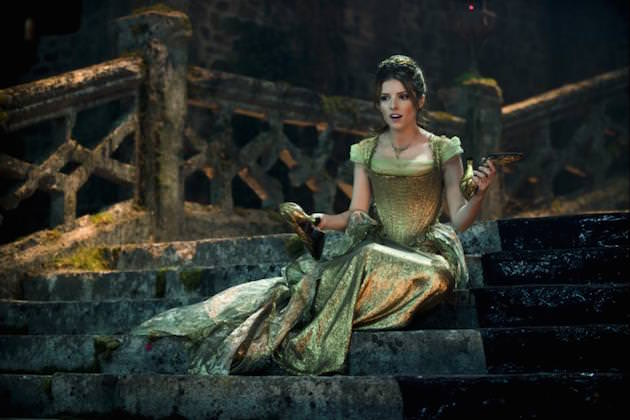 The musical follows Cinderella (Anna Kendrick), Little Red Riding Hood (Lilla Crawford), Jack and the Beanstalk (Daniel Huttlestone), and Rapunzel (MacKenzie Mauzy)—their narratives are woven together together by an original story involving a baker and his wife (James Corden and Emily Blunt) who want to start a family. The problem is, they've had a curse put on them by a witch (Meryl Streep). And that doesn't even represent every big name actor in the film. Into the Woods premieres on Christmas Day, bowing opposite Angelina Jolie's World War II epic Unbroken and Clint Eastwood's Iraq war film American Sniper.
Marshall has brought together a formidable creative team, many of whom have collaborated with him in the past. They include our recent interview subject, costume designer Colleen Atwood, who won two of her three Academy Awards on Marshall projects (Memoirs of a Geisha and Chicago), and cinematographer Dion Beebe, who also won an Academy Award for Geisha and worked with Marshall on Chicago and Nine. The list of talent who came together to bring Woods to the screen is a long one. It also includes production designer Dennis Glasser, whose work with the Coen Brothers (Barton Fink, O Brother, Where Art Thou?) Sam Mendes (Skyfall) and Tim Burton (Big Fish) has made him one of the most sought after filmmakers in his position. Then, of course, there are the stars. Including the above mentioned cast, there's Chris Pine as Prince Charming, Johnny Depp as the wolf, and Christine Baranski as Cinderella's stepmother.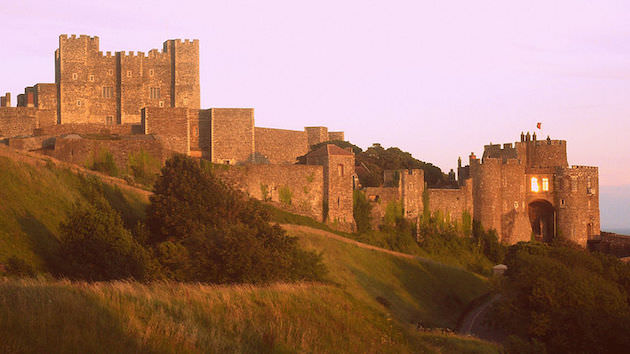 The production took place in England, filming on location in some of the Kingdom's most storied places. One of the those locations was the stunningly picturesque, 800-year old Dover Castle, which has been getting a lot of action lately — it recently served as a location for Avengers: Age of Ultron. Dover Castle was ultimately digitally altered in post production to give it its fairytale look, but it's a spectacular enough setting as is. Situated above the White Cliffs in England, Dover Castle's is referred to as "The Key of England," thanks to its strategic importance, a rich history that includes holding back the French in the 13th century and as the headquarters of the Admiralty's regional command during World War II, where the castle's secret tunnels helped the Allies rescue troops from Dunkirk as German forces closed in. In the film, the castle serves as the location for Cinderella's wedding to Prince Charming.
And where might Marshall and his team have shot those crucial woods? Word is filming took place in Virginia Water, which has Windsor Great Park, some 5,000 acres that were once the private hunting ground of Windsor Castle. Previously, three Harry Potter films used this location's beauty to serve their fantastical story to great effect.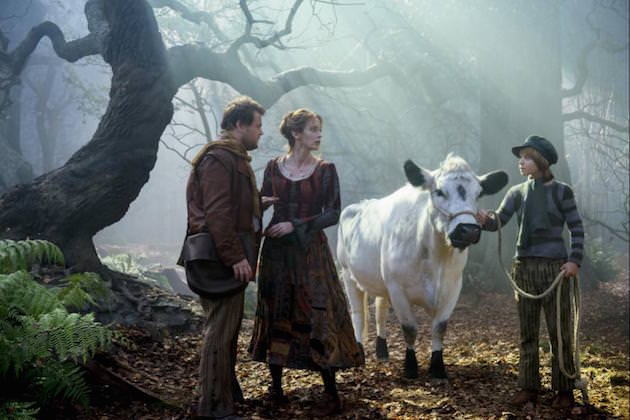 Rapunzel's tower, meanwhile, was filmed at Waverley Abbey, where it was built between the abbey's dorter and refectory. The cast and crew also descended upon Hambledon, Oxfordshire. Villagers watched as Chris Pine galloped into the town's main square on a horse. A crew of roughly a hundred helped prep the ground with mud and puddles, and they sprayed the roof of houses with water to give the scene it's necessary chilly look. Residents were even asked to remove their satellite dishes during filming — almost anything can exist in a fairytale save for DirecTV. The Wheeler's Butchery sign was covered up so the establishment could become James Corden and Emily Blunt's bakery.
The Music
Into the Woods ran for 764 performances on Broadway, winning a Tony Award for best score (as well as best book and best actress). The musical not only made its' mark on the Great White Way, but traveled the country and became a West End production in 1990, revived on both Broadway and in London, became a television production, DVD recording an a 10-year anniversary concert.
The songs that found their way onto the big screen include "Children Will Listen," "On the Steps of the Palace," "Agony," "Giants in the Sky" and "No One Is Alone."
You can make the plunge Into the Woods yourself on Christmas day.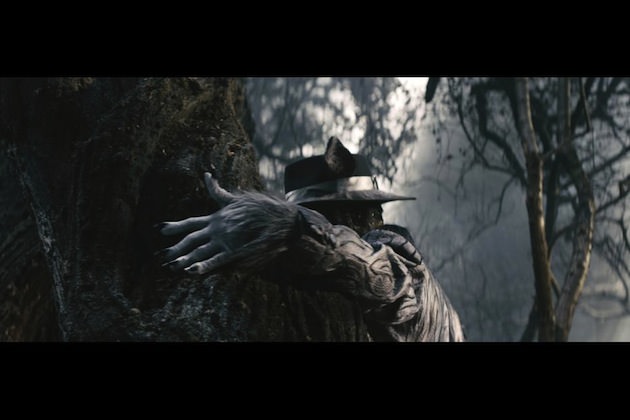 Featured image: Johnny Depp as the Wolf and Lilla Crawford as Little Red Riding Hood in Disney's INTO THE WOODS. Courtesy Walt Disney Studios.