Spirits & Passion Collide in The Book of Life
Animator, painter, writer and director Jorge R. Gutiérrez has won Annies and Emmys for his animated television series El Tigre: The Adventures of Manny Rivera for Nickelodeon. His work caught the eye of another Mexican polymath, writer, director, producer and novelist Guillermo del Toro (Hellboy, Pan's Labyrinth, Pacific Rim), who's producing Gutiérrez 's feature debut The Book of Life, which bows this Friday, October 17. The Book of Life is an enchanting story of friendship, family and courage as old school traditions and new school animation come together for this powerful visual narrative.
Set in Mexico in the 1920's on the Dia de Los Muertos (the Day of the Dead), The Book of Life follows a love triangle between three best friends – Maria (Zoë Saldana), a feisty damsel that is anything but distressed, Joaquín (Channing Tatum), the local hero with an ego even bigger than his biceps, and Manolo (Diego Luna), a soft spoken bullfighter who'd rather be strumming a guitar than side-stepping a charging bull. After two underworld spirits, the kind-hearted La Muerte (Kate del Castillo) and self-absorbed Xibalba (Ron Perlman, a Del Toro favorite), place a bet on who will win Maria's heart, Manolo must travel through three fantastical worlds and face his greatest fears to prove that his love goes beyond any mortal barrier.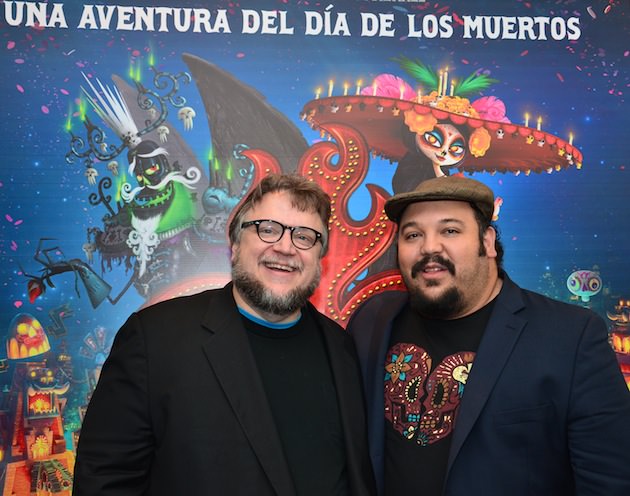 What creative spirit possessed Gutierrez to bring this deathly-inspired tale to life? The animation, story and music, as well as his passion for the Day of the Dead, suggest the director's deep-rooted love for his Mexican heritage.
"The Day of the Dead and the Dia de Los Muertos is my favorite holiday because I think the idea behind it is incredibly universal and beautiful, and the idea is this: as long as we remember those who came before us, as long as we tell their stories, we sing their songs, we cook their favorite dishes, we tell their jokes — they're here — they're here with us," said Gutiérrez in an interview with The Huffington Post's Nell Minow.
This triple-threat loves the Day of the Dead so much, he even proposed to and married wife Sandra Equihua – who so happens to be the creative director of The Book of Life – on the holiday. In a behind-the scenes interview with IMDB, Gutiérrez explains that his personal connection began when his best friend passed away at the age of nine. His grandmother explained to him that his friend is with him always. And it is this message that inspired Gutiérrez to dedicate the film to him.
From the characters to the scenery, the compassionate storytelling and loving detail is there in every frame. The Book of Life is a celebration of love, connection and family, one aided by Gutiérrez's background as an animator.
"I wanted the world to feel handmade," said Gutiérrez in a behind-the-scenes featurette. To achieve this look, he took inspiration from Mexican folk art. "These folk art toys were a reflection of the people. And I love folk art because of that. It's this idea that it is art by the people for the people. It's a mirror of who we are in Mexico."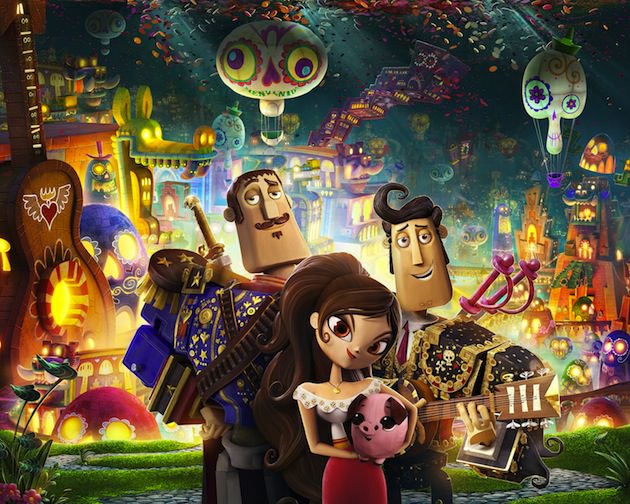 To make sure fellow animators got the imagery right, Gutiérrez employed Central American artisans to hand carve wooden puppets of the characters, which were later rendered into 3D form.
Despite the finesse that comes with computer-generated animation, Gutiérrez insisted that his artistic team leave this holiday's classic imagery of vibrantly colored marionette style puppets, rusted metal and chipped paint true to form. "I kept saying to them, 'We are digital artisans, and I want to see flaws and mistakes and texture and dirtiness because that's what gives folk art its flavor'," Gutiérrez said to Minow in The Huffington Post.
Even the music attests to the influence that Gutiérrez's love affair with his native city had on the film. From Elvis Presley and Biz Markie to Rod Stewart and Mumford and Sons, Gutierrez's musical direction gives iconic songs a new, Mexican-inspired life with Mariachi style covers. Plus, new songs from Us the Duo and the team of Paul Williams and two-time Oscar winning composer Gustavo Santaolalla make the soundtrack as colorful as the animation.
Although inspired upon tradition incredibly unique to Mexico, The Book of Life's message to honor the past while writing your own future is a theme that knows no cultural barriers.