Interstellar's Out of This World Crew
In a little over two weeks, on November 7, Christopher Nolan's long awaited Interstellar will finally hit screens across the country. Jeff Jensen's cover story for Entertainment Weekly uncovered a lot of juicy details which add up to what sounds like the director's most personal, and possibly ambitious, film yet. When Jensen was on set in October of 2013, the film's code name was Flora's Letter. As Jessica Chastain told Jensen at the time, she stumbled upon the code name's significance by accident. "One day, I noticed this girl. She was really shy and sweet. I went up to her, and she told me her name. And she was Chris' daughter. All of the clues fell into place. You had to be a little bit of a detective, and when I figured it out, I was incredibly moved: Interstellar is a letter to his daughter."
It's long been known that Nolan has a preference for the practical over the computer generated, and to do this he needs a team of immensely talented individuals across the entire spectrum of the process, from set design to editing. From his Dark Knight trilogy to Inception, films that would appear to be require a huge percentage of CGI from start to finish, Nolan relied on his crew and his actors to do as much of the actual work as possible. For Inception's gravity-subverting scenes, Nolan had a hotel corridor built by production designer Guy Hendrix Dyas, special effects supervisor Chris Corbould and his longtime cinematographer Wally Pfister that could rotate a full 360 degrees to create the effect of multiple gravitational pulls for scenes set during the second level of dreaming.
For Interstellar, a film that has protagonist Cooper (McConaughey) lead a mission into the far reaches of space (along with Anne Hathway's Brand and Wes Bentley's Doyle) to find a suitable new planet for humanity to live on, Nolan was still committed to building practical sets and filming against real backdrops as often as possible, to ground his cosmic story in a reality his actors are interacting with. As Jensen has it, Nolan loathes blue screens "the way the Amish loathe zippers," so the "vertiginous swirl of stars" that are right outside the window of Cooper, Brand and Doyle's spaceship Endurance were actually projected onto a floor-to-ceiling curtain outside of the windows of the massive spaceship Nolan and crew had built on the same soundstage Nolan and his crew had once built Batman's cave.
Jensen notes one of the most amazing things about what Nolan has achieved in his career thus far; the ability to make a two hour, 47-minute saga that isn't based on a comic book or meant to launch a franchise. It isn't escapist (despite its' protagonists leaving Earth), has no merchandise tie-ins and no existing fan base—save for Nolan's, of course.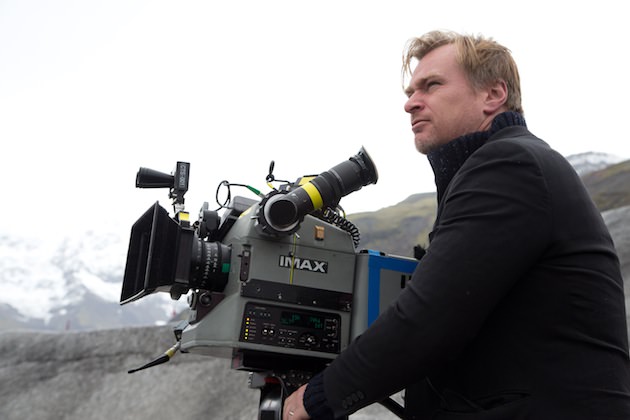 And what Nolan has once again in Interstellar, beginning with his co-writer and brother, Jonah (credited as Jonathan on their films), is a crew every bit as capable and exacting as he is. Interstellar began it's life not a Nolan film but a Steven Spielberg project, and it was his brother who had first been tapped to be involved, as the screenwriter. "I wanted to confront all the things that are wrong with us and threatening us, but to focus more on hope," he told Jensen. "After all the research, all the conversations with Kip and Lynda, the thing that jumped out was how precious life is in the first place." When Spielberg's DreamWorks moved from Paramount to Disney, a new director was needed for the project.
We know who the director is, so let's take a quick look a few members of his crew who made his latest epic possible.
Cinematographer: Hoyte Van Hoytema
(This is Hoytema's first time working with Nolan. Previous films include Her, Tinker Tailor Soldier Spy, The Fighter and Let The Right One In.)
Once Nolan's long time cinematographer, Wally Pfister, began directing his own films, geeks like us we wondering who Nolan would choose as his next lenser. Enter Dutch-Swiss cinematographer Hoyte Van Hoytema, fresh off the beautifully shot Her. Hoytema's not as well known in the States, but this will change, as he's not only is the man behind the cam for Interstellar, but also the next film in the Bond franchise, Bond 24. Hoytema is making a career of replacing legends; on Bond 24 he stepped in for Skyfall cinematographer Roger Deakins, who had a scheduling conflict due to working on the Coen brothers Hail, Caesar! Hoytema is becoming a legend in his own right, however. If you've already seen Her and want further proof of his skills, check out his work in the best vampire film of this century (in our humble opinion), Tomas Alfredson's 2008's Let The Right One In.
Production Designer: Nathan Crowley
(Previous Nolan films: Insomnia, the Dark Knight trilogy and The Prestige.)
How many production designers can say they doubled as farmers to get the necessary shots for a film? We know of one, Nathan Crowley. As Jensen reported, for the scenes on an Earth in the midst of its death-throes, Crowley and the crew planted 500 acres of corn in rural Alberta, Canada (where most of the Earth films were shot), just to destroy them in a controlled apocalypse. They used wind turbines, cardboard dust and smoke from the fire burning the corn to vividly create our planet being cooked alive. For alien planets made mostly of roiling seas, ice and rock, it was off to Iceland for cast and crew.
Composer: Hans Zimmer
He's one of the few composers in the business who everyone knows by name, yet he was willing to take a risk on Interstellar, responding to a request by Nolan to do something a little unorthodox. Nolan asked Zimmer if he would spend a day writing some music for the film without telling him about the genre, characters, title or plot. He gave Zimmer an envelope with a one page letter in it, which contained the fable at the heart of the story. Nolan and Zimmer eventually conducted 45 scoring sessions, triple the amount they did for Inception. Zimmer told Jensen a line from Nolan's letter that started it all; "Once we become parents, we can't help but look at ourselves through the eyes of our children."