Erik Parker & One9 on Their Doc Nas: Time is Illmatic – Part I
"I'm an eighth grade dropout…I didn't know what the future was going to hold," says Nasir Jones at the outset of journalist Erik Parker and multimedia artist One9's documentary, Nas: Time is Illmatic. For the uninitiated, the future held one of the most groundbreaking hip hop albums of all time (the titular "Illmatic"), a legendary career, and its creator becoming the namesake of a fellowship at Harvard University's Hip Hop Archive. Parker and One9 have made a moving portrait of an artist, an album, and the people and neighborhood that influenced him. It only took ten years to make.
The initial idea was to commemorate the 10th anniversary of hip hop artist Nas's groundbreaking debut album, "Illmatic." It was 2004, and Eric Parker approached One9 about creating a DVD based on Nas's life. "We thought, you know, just a couple of guys would get together and we would just finish it in one year and have it out before the year was ended," Parker says. "A documentary, or a DVD, or piece of video on the making of Illmatic."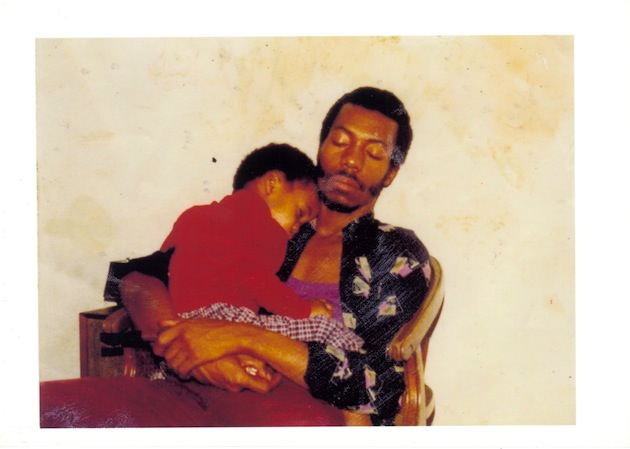 Everything changed for the first time filmmakers when they interviewed Nas's father, Olu Dara. "He explained to us a great deal about the history of Natchez, Mississippi, and about the Jones family," Parker says. Olu Dara is an intriguing, powerful presence in the documentary, the elusive parent with the musical gifts that Nas inherited. Once you watch Time is Illmatic you hear Olu Dara's influence on the album, the jazz layered beneath many of the tracks. Dara was in and out of Nas's life, but he was the one who got the young Nasir into music, putting a trumpet into his hands at a very young age (and not letting him use it until he was seven, at which time Dara believed his young face could withstand the instrument's torment). Yet Parker and One9 go far beyond focusing on Nas's mercurial, talented father—they follow leads, from interview to interview (including his charismatic brother Jabari, known as Jungle), and track down an impressively comprehensive list of people from Nas's past, people involved in the making of "Illmatic," and fellow artists inspired by the album's release, including Alicia Keys, Kendrick Lamar, Erykah Badu, Pharrell and Busta Rhymes.
"You can trace my artistic roots all the way to Natchez, Mississippi," Nas says at the beginning of the film, and Parker and One9 do just that, ferreting out how his father shaped his son's vision of an artist's life, and how that musical tradition goes back generations in the Jones family. But Dara eventually left Nas, his brother Jungle and their hardworking mom Fannie Ann in the Queensbirdge projects in Queens, the largest public housing project in the country. Dara couldn't have known he was leaving his young sons in a neighborhood that would be such fertile soil for a budding musician. Yet this was an environment that could kill as quickly as it could inspire. Nas and Jungle go to great lengths to praise their mom, who passed away from cancer in 2002, but there is only so much any working parent can do to shield their children from the temptations, and dangers, of a place like Queensbridge.
"Back then the style was fresh," Nas says in the film. "Colorful, rich, we used to have jams in the park. DJ Hot Day from Queensbridge, he brought out his equipment to the park." Parker and One9 trace Nas's hip hop roots to those exciting days in the mid and late 80s, when neighborhoods all over the city were raising up their star MCs, and a young Nas watched in awe as local talents from "The Bridge" became legends. Plunking Nas down in Queensbridge was like putting a teenage Michael Jordan in a housing project filled with NBA All-Stars. Marley Marl, Kool G Rap, MC Shan and Roxanne Shanté were all coming into their own right in front of the young rapper's eyes.
Hip hop enthusiasts can more or less remember what it was like the first time they heard Nas's "Illmatic." It's one of those seminal albums that redefines what's possible in a particular genre, but more than that, one that seemingly comes out of nowhere and galvanizes a whole new generation of fans. "Illmatic" was a narrative about one young man's life in The Bridge, a poetic kaleidoscope capturing his family, his friends, his day-to-day struggles, the people he's lost and those they've left behind. "Illmatic" dropped in 1994, and Nas became more than just a hip hop star with the release—he became an icon.
For those paying close attention back then, Nas didn't actually come out of nowhere. His potent lyricism was already seeping out into the atmosphere—he was featured on Main Source's debut album, "Breaking Atoms," in the song "Live at the Barbecue," Nas's first ever on-record appearance. A spirited lyrical battle between Queensbridge and the South Bronx began. Parker and One9 do great work outlining the particular players in this battle of wits and lyrics. One of The Bridge's main stars at the time was MC Shan, while the South Bronx had the extremely talented KRS One. These battles exploded on the radio (MC Shan's beloved "The Bridge" was a massive hit, followed up by KRS One's "The Bridge is Over," an even bigger smash), and the dizzy, one upmanship war of words between boroughs and projects lit up the New York rap world. There was no clear frontrunner in this intra-city rap battle, that is, until Nas got involved. Then it was game over for the South Bronx.
Still, nobody was quite ready for "Illmatic." "When that album first came out, I could not stop playing it," One9 says. "I was playing it over and over and over and over again. All my friends were listening to that album. I don't think we stopped listening that album." At the time One9 was steeped in the work of Erik B and Rakim, Pete Rock, A Tribe Called Quest and Wu-Tang, legends all. "I knew at that point, 'Illmatic' was separate from every other album that came out. And that was a crazy era too. 'Illmatic' changed my life at that point."
"Each one of his lyrics had a lot more depth than we were used to hearing at the time," Parker says. "So you could hear different things each time you listened to it, and each song had a message that was just as poignant as the last."
When Parker first struck on the idea and presented it to One9, neither one knew much about making a film. "I'm glad we took that time cause we developed as filmmakers. This is our first film and we didn't have any idea we were going to make this type of film when we first started," One9 says. "Erik was saying, 'We're just going to make a music documentary. After our first few interviews, we realized we can't just make a music doc. This goes deeper, this goes into the social issues, the family issues…let's come about it in a way that is totally unique to what 'Illmatic'represents."
"Otherwise it might have been all surface, talking about the great little tidbits of knowledge and the magic that happens [when making an album]," Parker says. "We wanted to find out what created and influenced his mind, and that's what we decided to go after."
They looked at the album's song titles, like the incredible second track, "N.Y. State of Mind," which puts you down in the middle of the Bridge with Nas, from police raids to crack to young stick-up kids shooting their way to fame, in a little under five minutes of relentless, piano-backed lyricism. "So we thought, let's look at the history of the Queensbridge houses and how that related to Nas's family moving there…what issues did they face—you know the drug invasion, the crack era. All of that took place in what we call the New York State of Mind," One9 says. In the third track, "Life's a Bitch," Nas raps about a time where he was "robbing foreigners, take they wallet they jewels and rip their green cards," and "now it's all about cash in abundance, niggaz I used to run with is rich or doing years in the hundreds." He raps about selling crack, "Once I stood on the block, loose cracks produced stacks, I cooked up and cut small pieces to get my loot back." There's also a jazz horn on this song—it's the work of his father.
One9 and Parker used this song to look closer at the families that were torn apart during the crack era. Every song on the album is a window into the soul of not just one young man, or even an entire housing project, but an era. "'One Love' looked at the prison systems, so many of Nas's friends being locked up," One9 says. "So we looked at song titles and related it to a bigger issue that was going on in the community…music was going to be the thread, but the issues were the core of what we were getting at."
Check back tomorrow for Part II and find out how Nas's album resonated across an entire industry, how they managed to get the incredible shots of Queensbridge, and the educational outreach that is a part of the release Nas: Time is Illmatic. Click here to find out if the documentary is screening near you, or download it on iTunes or On Demand starting on October 3rd.