Gone Girl at the New York Film Festival
The early reviews have already begun flooding in, and tonight, at 5pm, those of us in the press who haven't attended a 20th Century Fox screening will be lining up outside Walter Reade Theater at the New York Film Festival for Gone Girl.
Director David Fincher has become one of the most reliably inventive filmmakers of his generation, and perhaps one of the best at adapting novels and short stories for the screen.
The first adaptation was his 1999 uppercut, Fight Club, his adaptation of Chuck Palahniuk's novel starring Ed Norton and Brad Pitt. Like his pitch black serial killer film Se7en four years earlier, you watch Fight Club and know that he is the only person who could have directed that movie. Grimly beautiful and darkly funny, Fight Club was also an eerily prescient film about men blindly following a charismatic, unhinged leader. His next was the brilliantly unsettling 2007 film Zodiac. Based off of cartoonist Robert Graysmith's book about the Zodiac killer (Graysmith is played in the film by Jake Gyllenhaal), Zodiac took Fincher's work from Se7en and poured it through the sickly yellow and brown lens of the San Francisco Chronicle's smoke stained offices during the Zodiac Killer's horrific run, where Graysmith worked and became obsessed with the case. For one of the most terrifying murders ever put on film, watch Fincher's take on the Zodiac's Lake Berryessa crimes in the film — jaw dropping and awful. A year later, he released The Curious Case of Benjamin Button, based on an F. Scott Fitzgerald short story about the titular character's condition of aging backwards, a film that required groundbreaking special effects. Just two years after that Fincher tapped Aaron Sorkin to adapt Ben Mezrich's book about the founding of Facebook and managed to turn a bunch of geeks huddled in front of computers into the compelling, complex The Social Network. This film also marked the start of Fincher's collaboration with the musicians Trent Reznor and Atticus Ross, who would go on to score his next two contemporary adaptations.
Those adaptations have something in common – they are based off massively successful books, a much harder hurdle to vault for a filmmaker. The first of these was his take on The Girl With the Dragon Tattoo, which not only had to follow the international best seller, but also the highly acclaimed Swedish adaptation starring Noomi Rapace. Fincher's version, starring Rooney Mara (who was in The Social Network) and Daniel Craig came out in 2011 to very strong reviews – his version and the 2009 Swedish version both have a very robust 86% fresh rating on Rotten Tomatoes.
Which brings us to Gone Girl, which is based off of, and scripted by, Gillian Flynn's 2012 monster bestseller. We try not to read reviews before we see the films ourselves, but a glance at what critics like New York's David Edelstein, Variety's Justin Chang, Entertainment Weekly's Chris Nashawaty and The Hollywood Reporter's Todd McCarthy are saying is unsurprising — Fincher's nailed another adaptation. Chang calls it a "mesmerizing adaptation of Gillian Flynn's novel." McCarthy writes that it's an "unfailingly absorbing melodrama." There's even been comparisons, like Joshua Rothkopf made for Time Out New York, between Fincher's adaptation of this fearlessly sick thriller and Mary Harron's adaptation of Bret Easton Ellis's American Psycho.
Flynn's book was deceptively simple; the story of a wife's disappearance, the media sniffing blood, and the suspicious husband's baffling miscues in front of said media. Told through both Nick and Amy Dunne's diary entries, the story gets going when former New York magazine writer Nick returns to the Missouri home he now shares with his wife Amy, on their fifth anniversary, to find a shattered glass coffee table and signs of a struggle. His wife is gone.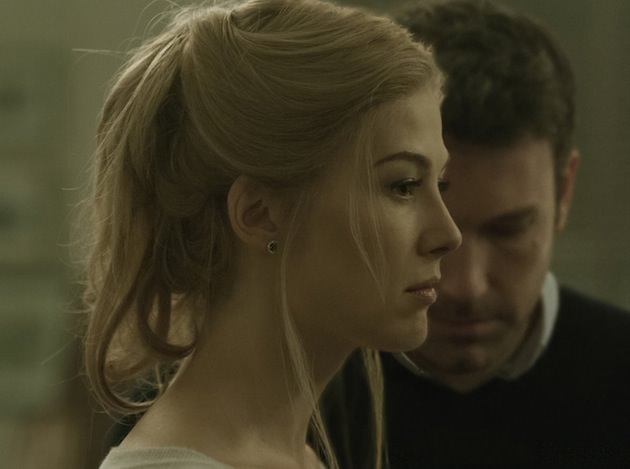 It's rare that a novelist gets to adapt his or her own book. Jonathan Tropper just did it for This is Where I Leave You, but Flynn's adaptation comes with a huge built-in fan base, all clamoring to see how she and Fincher would manage her book's structure and shifting perspectives via diary entries.
For those of you who haven't read Flynn's book, the film will offer a series of revelations. Nearly everything reported thus far about the adaptation says that all of the decisions made to capture the queasy thrill of this story (essentially about the toxicity of a marriage), most crucially the two leads, Ben Affleck as Nick Dunne and Rosamund Pike as his wife Amy, have been spot on. These are, in fact, the best notices Affleck the actor has gotten in his career.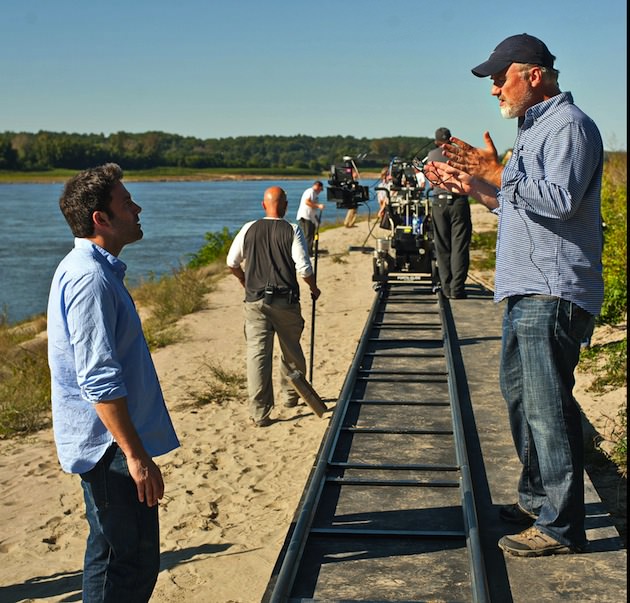 Fincher has shown an incredible ability to take potent source material and make it his own without sacrificing the voice of the original creator. Having that creator onboard to write the script certainly helps. Some of the crew worth mentioning includes production designer Donald Graham Burt, who had the huge task of replicating the crucial, corrosive Dunne household, and cinematographer Jeff Cronenworth, who Davd Edelstein describes in New York as framing the characters from just below eye level so you always see a bit of the ceiling to "suggest how hemmed in these people are by circumstance and stupid choices and a house that's like purgatory in beige."
In a few short hours, we'll be gleefully spending our time seeing how Fincher, Flynn and the rest of the Gone Girl team managed to translate the Dunne's brief purgatory in Missouri, swiftly leading them both into hell, from page to screen.
Featured image: Nick (Ben Affleck) and Amy (Rosamund Pike) have a memorable date. Courtesy 20th Century Fox.