Drawing Katniss, Magneto & More: Costume Illustrator Phillip Boutte Jr.
Phillip Boutte Jr. has been involved in film since he was three years old, when he began acting. He acted until he was around 16-years old, when he was growing tired of the roles he was being offered. "I didn't like the way they were portraying young black men on TV," he said, "every audition I was going on was for 'Wiseass Kid number five,' so I had an identity crisis about what I wanted to do, but the one thing I always loved doing is drawing." Boutte Jr. thought that, perhaps if he pursued his passion for drawing, he might be able to "creatively change this thing around."
He went to Cal State Long Beach and majored in illustration and minored in film. There he had a professor named Robin Richesson who introduced him to costume illustration, storyboarding and, not to point too fine a point on it, his future. "She's a dual union member, in the local 800 (the art director guild) and the 892 (the costume designer guild), and we always knew that during summer break Robin was working on something cool." That "something cool" included Steven Spielberg's War of the Worlds and the first Iron Man.
Boutte Jr. graduated college in spring of 2006 and went to Comic-Con that summer. "I went every year, but this year I was looking for a job," he said. He and his friends noticed on the program schedule that the costume designers guild was there and having a panel. When Boutte and his friends attended the autograph session, one of his friends' portfolios (which, of course, they brought with them) caught the eye of Isis Mussenden, costume designer on the Narnia triology. "She hired my friend Oksana Ndevniaya to go to Prague the next week, for eight months, to do The Chronicles of Narnia: Prince Caspian, and we're like, 'Oh my god this is an actual, real job!"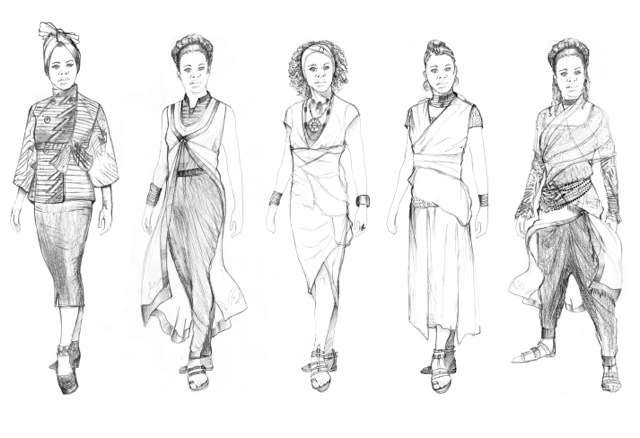 Boutte Jr. wasted no time after that. He joined the costume guild, took out a loan with his credit union, and by January of 2007 got himself hired to work on The Mummy: Tomb of the Dragon Emperor. "I worked on that movie for six months, and basically got a costume and illustration 101 class in that job."
It was on Mummy that Boutte Jr. got work with the costume designer Sanja Hays. "She became my work mother in terms of showing me the ropes and taught me what was expected of me illustration wise. I was very green, I was primarily working by hand, then scanning in my drawings, then doing a digital painting. That was the start."
It was on J.J. Abrams' Star Trek that he began to find his style, working closely with costume designer Michael Kaplan (Fight Club, Se7en). "I think I really started to get my legs there, specifically working on young Spock. Some of those illustrations challenged me to step outside of my comfort zone and draw things I'd never thought of drawing before, of translating things and how to portray different textures and fabrics. Drawing to show the difference between stretched nylon and wool and chiffon— I felt really, really challenged."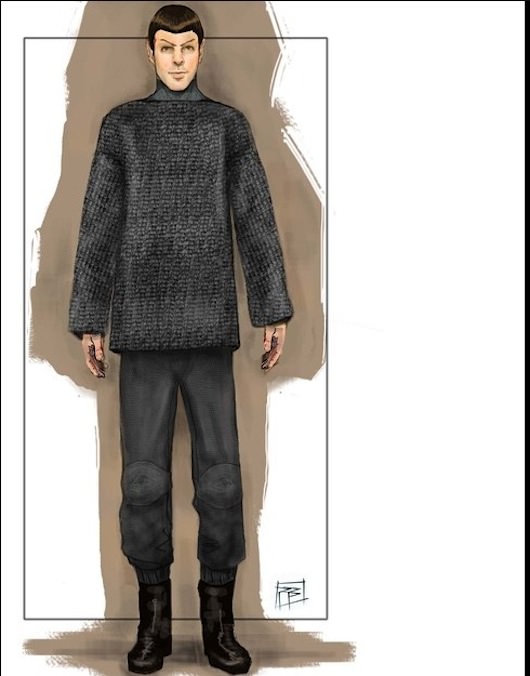 Part of Boutte Jr.'s challenge was staying true to the classic appeal of the Star Trek look (Nehru collars, monochromatic colors for specific members of the crew), while also crafting something that's new and edgier. "Almost every costume had to have that classic 60s aesthetic, and you just build from there. Whatever the costume designer throws at you, and it can be anything from your main actors to your background characters, it's my job to illustrate it and try and translate the thought process of my costume designer."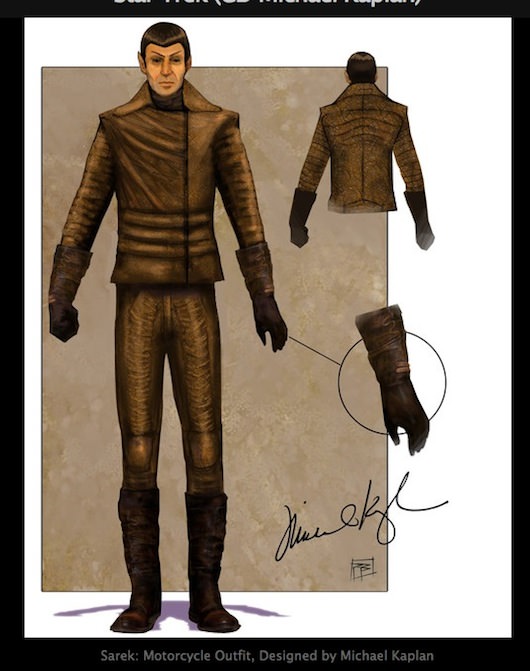 Boutte Jr. worked on Christopher Nolan's 2010 dreams-within-a-dream mind blower Inception, another seminal experience for the young illustrator. "That was with Jeffrey Kurland, and he's a designer who likes to design everything, right down to the socks, ties and shirts, so there's a lot of detail work in that movie. For a person who's not paying attention it would go totally unnoticed, a viewer will think, 'Oh, that's just an expensive suit,' but Jeffrey designed all that stuff, including the hanker chiefs, buttons, zippers…every little detail of the garment is picked and designed.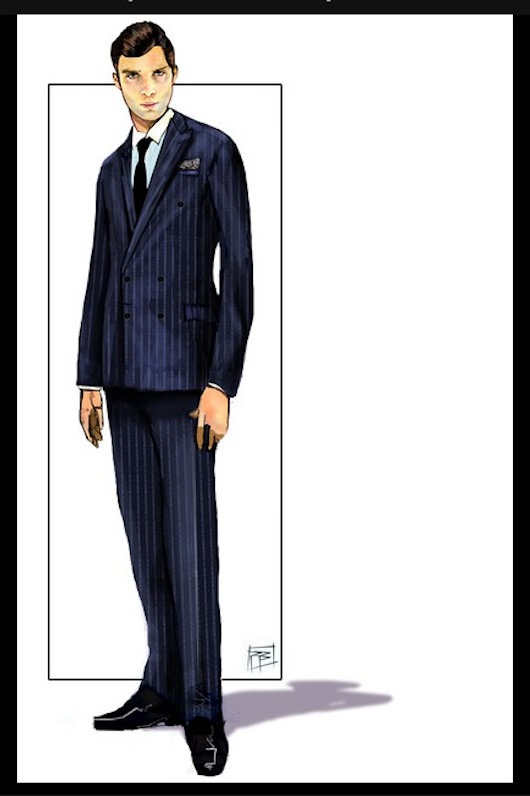 Working with Kurland on Inception vastly improved Boutte Jr.'s drawing style thanks to both Kurland's attention to detail and the fact that he's also an illustrator himself. "He sits and illustrates all day, and he feeds you stuff, shows you designs, give you swatches, so you have a good base to start with because he knows exactly what he's thinking, and it's easy to know what he's thinking because he shows it to you."
Another big learning curve for Boutte Jr. was to see how a costume is constructed, piece-by-piece, and how the way a certain actor is built and the way his character moves needs to be factored in. "When you actually construct a jacket, there's so many choices to be made, right down to stitches, does it button or zipper, if so where does it button, where's the zipper, etcetera? You're not used to thinking in these terms as an illustrator, you just draw it, but at this level you need to know everything about the costume and the person wearing it. This guy slouches so the seams need to be here so it makes it look like he's standing up straight, etc., but it makes you more detailed at your job and more professional."
Boutte Jr.'s favorite design in Inception was for Marion Cotillard's character Mal, who was Leonardo DiCaprio's dead wife and haunted him, and the story, throughout. "Her evening dress was my favorite. It's complicated in terms of the lace work, and it was one of the first times I looked at one of my illustrations and felt it had that costume illustration look. I had to fight through how it was going be constructed, it was so tight I don't think she could sit down in it, they had a leaning board so she could lean and rest in between takes. In the beginning, she's standing next to a chair, but you never see her sit down in that dress because she couldn't, so it cuts away then back, and she's sitting." Everything Marion Cotillard wears in Inception was drawn and made.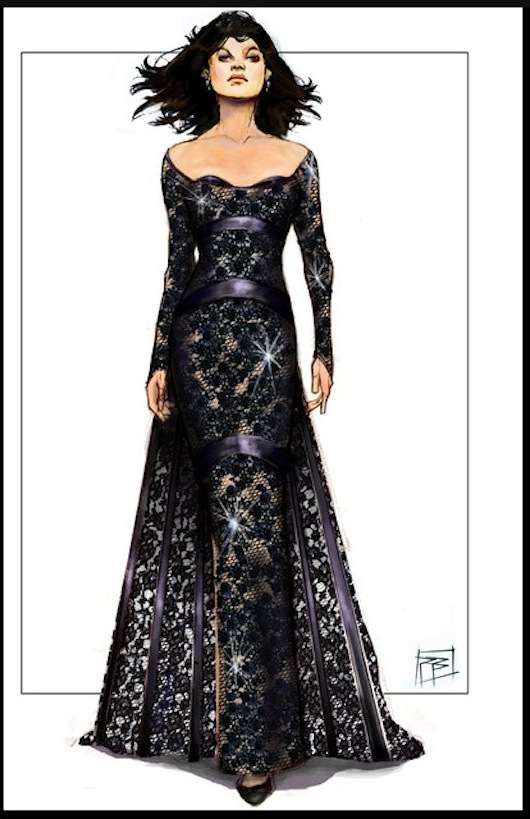 For someone who grew up reading comic books, Boutte Jr.'s work on Man of Steel, The Wolverine and X-Men: Days of Future Past has had a special place in his heart. On Man of Steel he transitioned his style to look more digital and photo realistic. Working with James Acheson and Michael Wilkinson, Boutte Jr. saw his skill set advanced into the realm of doing nearly everything digitally.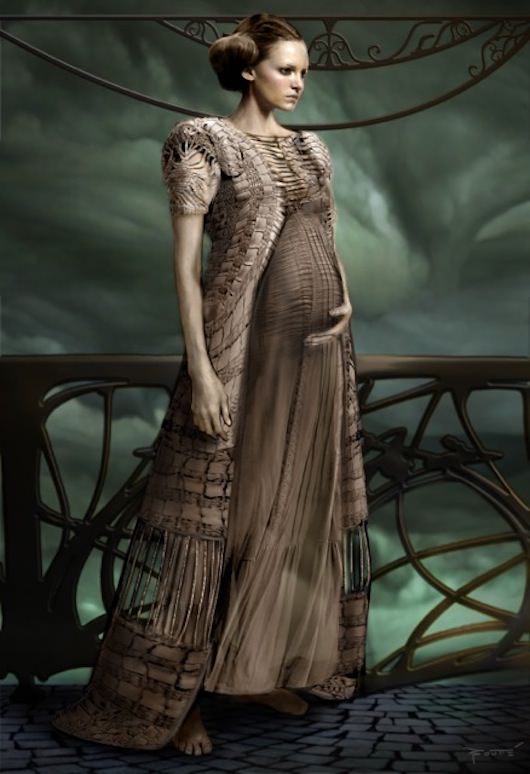 "I started out by doing traditional stuff, a pencil sketch with water color, then it went to just a pencil sketch, scanning that and then digitally painting it, then digitally scanning fabrics, then from there it went to adding photo references, and then from there it went to photo real, which is a combination of photos and painting. Now almost everything is digital, and on Man of Steel I learned how to digitally sculpt in the computer. I can digitally sculpt something and hand it to a fabricator that can then be grown on a 3D printer and put on an actor. Say you got Tom Cruise—you scan him, then give that scan to me. Now I'm no longer guessing, I'm digitally sculpting directly onto Tom Cruise's body, pieces that will go right onto his costume in his exact proportion."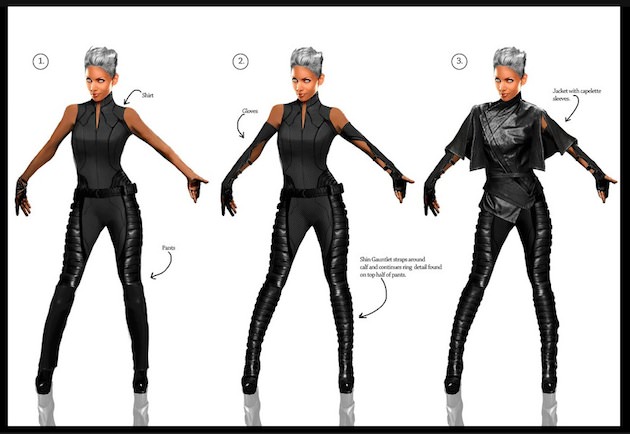 On X-Men: Days of Future Past, Boutte Jr. was digitally illustrating a slew of the main characters, including Magneto, Dr. Xavier, Beast, Storm and Iceman. Newer characters, like Blink and Bishop, were also under his purview. "I went from coming in with pencils, paper, ink and brushes to coming in with a computer, a tablet, an extra screen, and a printer." As his style and his skill set deepen, Boutte Jr. can count on more work coming his way, but not necessarily more understanding about what he does from even those closest to him. "Even with family members, I can tell them I'm working on X-Men: Days of Future Past, and explain everything to them, and then I'll look on Facebook and my uncle will give me a shot out for designing the costumes on X-men, not illustrating them. Nobody really gets it [Laughs]."
Whether or not his family can correctly say what it is he actually does, you can see more of his work in upcoming films like The Hunger Games: Mockingjay Part 1.