Saying Goodbye to James Gandolfini in The Drop
James Gandolfini's final film performance can be seen this September 12 in The Drop, directed by Michaël Roskam. The script, the first by master crime writer Dennis Lehane, is based on his short story "Animal Rescue." Gandolfini plays Cousin Marv, a once formidable Brooklyn heavy who now runs his namesake bar, a place that does a little more than provide drinks to thirsty locals. Cousin Marv's place is a also a 'drop bar,' one of a selection of watering holes where members of organized crime stash away money that can't be put in any bank. The idea of a drop bar came to Lehane through the research that he's amassed over the years for his novels, three of which became the films Mystic River, Gone Baby Gone and Shutter Island, although the drop bar is a Lehane invention, coming from rumors and whispers he heard over the years, nothing more. "I'm a big believer in Einstein's line that imagination is sometimes more important than knowledge," he said in the press notes. "I didn't get too hung up on what may or may not exist in the real world, because the story is more 'once upon a time in Brooklyn.'" Who better to have manning your drop bar than Gandolfini, an actor who was at the peak of his powers when the film was being shot last March.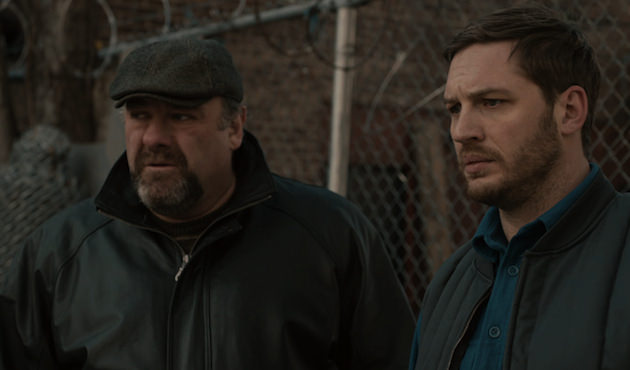 Gandolfini was surrounded by a cast of excellent international actors, due in large part to the Belgian director Roskam's deep roster of European connections. The Drop is really the story of Marv's younger cousin, Bob Saginowski, played by the British Tom Hardy (if you only know him as Bane, see him in last year's remarkable Locke). Bob is a reticent, withdrawn loner tending bar at Marv's, dealing with the drops and doing his best to stay out of trouble and at a remove from life itself. One day, Bob finds an abandoned pit bull puppy, which leads him to a young woman, Nadia (Noomi Rapace, Swedish, the original Lisbeth Salander in The Girl With The Dragon Tattoo). The two begin to care for the dog, and Bob slowly starts to reconnect with life. The puppy's owner, Eric Deeds (the formidable Belgian actor Matthias Schoenaerts from 2012's Rust and Bone) and Nadia's former boyfriend, comes into the picture demanding the return of his dog and 'his' woman. Complicating Bob and Marv's life exponentially is a robbery at the bar, which brings the real owners of the small pub into the picture—the Chechen mafia. Now the deck is dangerously set against the two cousins.
In Lehane's original short story (which he intended to be a novel but just couldn't make work) and the first draft of his script, Marv was a minor character. Once news of Gandolfini's interest spread, however, Lehane reworked the script to give Marv more of a role to fit the late actor's incredible talent. "As soon as Jimmy Gandolfini was cast, I actually wrote more lines because I know there's a certain pitch to my dialogue with certain characters," Lehane said. "It's extremely hard for most actors and Jimmy was the sweet spot. I couldn't have dreamed of a better Cousin Marv. The last thing I did on the script was to flesh him out more and give him extra lines because I knew he could handle it. That was a joy." Marv is the character who is "chasing the past harder than anyone else," Lehane said. "He blinked when some tougher guys came along and he's never gotten over it, so he's making one last-ditch effort to grab the brass ring."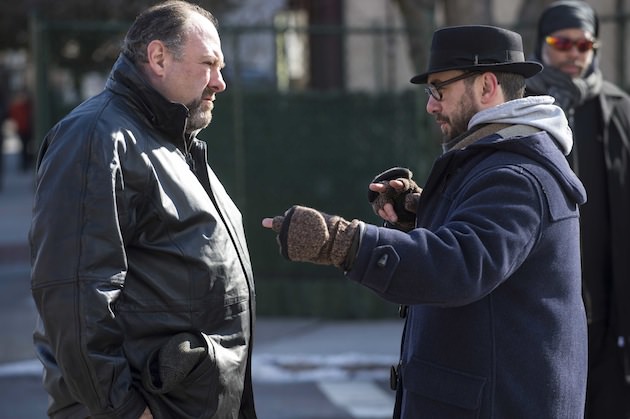 Director Michaël Roskam, who's 2011 Bullhead was nominated for an Oscar for Best Foreign Language Film (and starred Schoenaerts), said he was surprised to find Gandolfini on set when he wasn't due to shoot a scene or rehearse. "It was amazing to work with a guy who had such a track record," Roskam said. "He was so experienced, and yet he would question himself so hard. I finally understood that that's how he approached every character. He started blank, like the notebook he carried with him. He analyzed the journey of his character and he wrote it all out. He allowed himself to be very vulnerable and insecure with me. I think he was afraid that I would be intimidated and tell him everything he did was good."
Hardy said that Gandolfini's power was such that he felt he failed him at times. "I felt I failed Jimmy several times simply because I was enjoying watching him work when I should have been working too."
It's hard to reconcile that this will be the last film role we ever see James Gandolflini play, but the fact that he played it with his usual dedication, commitment and humility is not surprising.
Featured image: James Gandolfini is Cousin Marv and Tom Hardy is Bob in The Drop. Courtesy Fox Searchlight Pictures.