Into the Storm Brews a Mighty Economic Wind in Michigan
The premise of Into the Storm is simple and terrifying; a series of tornados, each more violent than the next, lays waste to a small town. These freakish storm systems (achieving EF5 status—the highest metric on the Enhanced Fujita Scale, with winds of more than 200 miles per hour) behave erratically and do things they haven't done before, sending terrified residents under ground (if they're lucky) and confuse and humble the storm chasers who follow and film them. This 'cli-fi' disaster sends a two-mile wide tornado at its characters and asks the viewer to consider what they might do in a similar situation.
Into the Storm is set in the fictional town of Silverton, Oklahoma, smack dab in the middle of Tornado Alley, the boundaries of which, while not scientifically defined, are primarily considered to run through northern Texas, Oklahoma, Kansas and Nebraska. When director Steven Quale and his team were scouting locations to film, Michigan piqued their interest for several reasons. One, as Quale said in the production notes, the state has the advantage of being flat (close to the topography of the Tornado Alley states), beautiful, and with real weather. The second advantage was the state's film tax incentives, which bring in productions in the best of circumstances but for Storm, after an unforeseen hiccup, became a huge reason the film was able to be completed.
Storm was initially contracted with the very talented VFX house Rhythm & Hues to handle the creation of the cataclysmic tornados that are the film's raison d'etre. Then in 2013, Rhythm & Hues had to file for bankruptcy protection (they've since found a new owner), and the production lost some $3 million worth of VFX work. As The Hollywood Reporter's Carolyn Giardina recently wrote, Storm's filmmakers would need to find new VFX vendors, fast, and affordably. Thanks to Michigan's film tax incentive program they received a $9.5 million direct cash-refund, which helped bring down the cost of the physical production and freed up cash for the crucial VFX shots they needed to get (some 600 total). Due to Quale's extensive experience working with multiple VFX houses at once as the second unit director on Avatar, Storm utilized 15 different effects houses, with specific studios selected for the film's myriad tornados, each of which looked and behaved differently.
From the state's investment of $9.5 million, Storm created roughly 470 jobs (with another 43 jobs created indirectly) and spent $31.6 million in Michigan, according to the Michigan Film Office. Along with the jobs added and the money pouring in for equipment rental, food, and lodging, Into the Storm had no less tangible effects on the spirits of the people of Michigan, especially the students at Oakview Middle School. Oakview was transformed into Silverton High School, a major location in the film where not one but multiple twisters bear down on students and teachers, on graduation day, no less. Oakview Principle John Bernia told the Oakland Press that when he checked out what the crew had done to his school, he found "mud on the walls, debris everywhere and cars flipped over in our parking lot." He described how film crews dressed the interior of the school as if a huge tree had come through the windows and watched an evacuation scene being shot that included bus drivers careening down Lake George Road, ferrying terrified children out of the path of the oncoming tornados. It's as close as Bernia would ever like to get to seeing how his school might actually look after a natural disaster.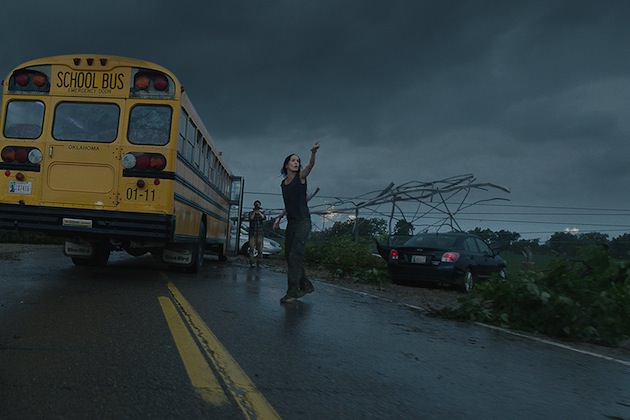 Production designer David Sandefur promised that the school was returned in pristine condition. "We warned them it was going to be a tornado movie," he said in the production notes. "It was all just on the surface, though—we didn't break anything other than a window and a few sidewalks, but as in all movie magic, it all gets swept away. It was a beautiful school."
For the students of Oakville, however, the film will likely be a blast. "You always see movies filmed in these interesting locations, and you think, 'Man, I wonder where that is,' and for this movie, we know where it is and get to go to (school and) work there every day," Bernia told the Press. The school district's facilities and energy manager, Andy Fountain, was on set for most of the production at the school, helping the crew with whatever they might need, from cluing Quale in on where it was okay, and not okay, to dig near the school, controlling the school's lighting and air conditioning for the crew's needs, and feeding the approximately 1,100 extras who came to the school to film the graduation scene, more than twice the number of students who actually attend Oakville Middle.
Into the Storm utilized various parts of the state, including creating a path of destruction in downtown Pontiac, filming a pivotal scene towards the end of the movie in a culvert in Auburn Hills, with additional shooting in Detroit and more than half a dozen other Michigan locations. Auburn Hills was the location they chose for the central family's house—in the film, their neighborhood is completely decimated. It took the art department some three weeks to make the Auburn Hill neighborhood look like a tornado hit it. They utilized empty lots between newly built houses to stage their carnage, then spent nearly a week cleaning it up after.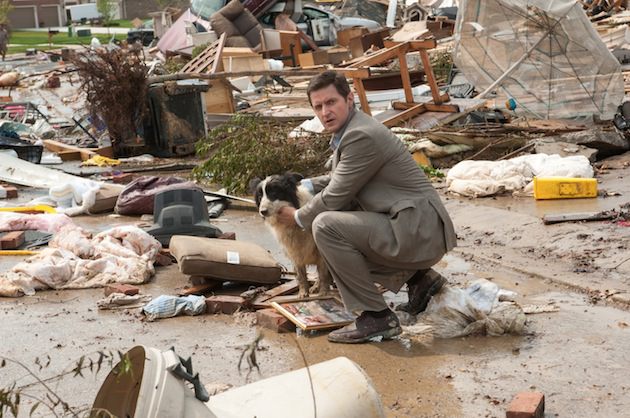 Michigan's Motion Picture Studios also got in on the action. It was on their sound stage that part of a very big scene was filmed, the abandoned paper factory two of the leads find themselves trapped in. Three locations were used to create the sequences of shots that take place in the crumbling, flooding factory: an old warehouse, a dirt lot that was used for the exterior, and the sound stage. The pit the two leads fall into was eight feet deep, six feet wide and ten foot long, and was filled with 10,000 gallons of water.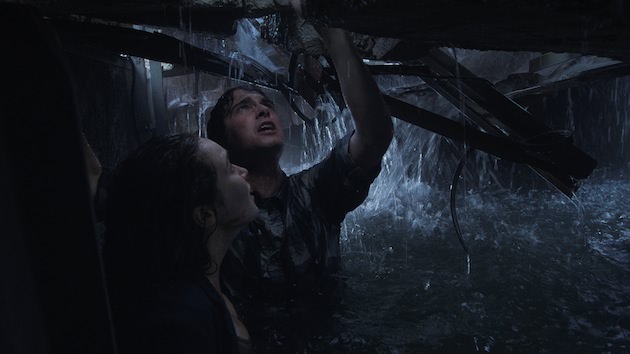 Michigan has plenty of television shows and films in the works, none larger than Batman v Superman: Dawn of Justice, which according to several Michigan residents and media outlets, began filming in the state this week. Michigan Live reporter Eric Lacy wrote that the news director of local radio station WWJ 950 AM posted a photo of a scene being filmed in Detroit's Corktown neighborhood, which fits into On Location Vacation's report last month that a car chase scene would likely be filmed in that very neighborhood. Batman v Superman was awarded a $35 million incentive from the state, based on $131 million of projected in-state expenditures. Another 406 Michigan workers are expected to be hired, with an additional 6,000 days of extra work, and another 500 local Michigan vendors being required for the production crew. Local hotels can expect a bump of $5.1 million, with another $3.5 million coming from out-of-town crew using their per diem payments in the local economy. It's a super-sized economic boost for a state that welcomes twisters, caped crusaders and whatever other powerful forces filmmakers can conjure next.