Richard Linklater on his Masterful, Moving Family Epic Boyhood
It's hard not to be a Richard Linklater fan. Before Boyhood came out, we got the chance to sit down with him, Ethan Hawke and Julie Delpy to discuss their incredible 18-year odyssey making the Before trilogy. They were, unsurprisingly, passionate about what it was they'd accomplished—they captured a single relationship and covered it, in nine year increments, over 18-years. In Before Sunset, Jesse (Hawke) and Celine (Delpy) are young, bright, voluble strangers who meet on a train and impulsively spend 24-hours together in Paris. Nine years later in Before Sunset, they meet again, now in their 30s and, while still energetic conversationalists, life's inevitable disappointments have tempered the fever pitch of their conversations some. Only now they're old enough to know they can't go another nine years without each other. Another nine years pass until we meet them again in Before Midnight, now married with two kids, and the relationship we witness over this single day and night looks a lot more like a conventional marriage than either Jesse or Celine would probably have imagined—compromise, frustration, and ultimately, verbal combat. The last scene is explosive, all the more so because over the course of three films we've gotten to know them so well.
The Before trilogy would mark a watershed moment in most filmmakers careers, yet Linklater is perhaps one of the most daring American directors working today, and Boyhood might just be his masterpiece, a viewing experience unlike any other in the history of cinema. The film spans 12-years in the life of a single Texas family, with singular focus on Mason Jr., the boy of the title who becomes a young man right before your eyes. Slate film critic Dana Stevens had it exactly right when she wrote that it's a "gradually unfolding miracle." Part of that miracle is how the film was made, and the bold collection of collaborators who signed on to Linklater's passion project and stayed with him, for a week or so a year, for twelve straight years from 2001 until 2013. His collaborators include his primary cast—Ellar Coltrane as Mason Jr., who he met when he was just six years old, his cinematic soul mate, Ethan Hawke, as his father Mason Sr, an incredible Patricia Arquette as his mother Olivia, and his own daughter, Lorelei, who "cast herself," as Linklater says, as Mason's older sister Samantha. Then there's his incredible crew members (more than 450 worked on the film at one point or another), who helped Linklater figure out, year by year, how to make a film shot in bursts look like a single, cohesive story. These include his co-producer and longtime editor Sandra Adair, production designers Rodney Becker and Gay Studebaker, and costume designer Kari Perkins. And the list of people who believed in this project and helped make it a reality also includes executives, specifically IFC Films president Jonathan Sehring, who had to justify, year after year, why the company was spending money on such a wild, improbable idea.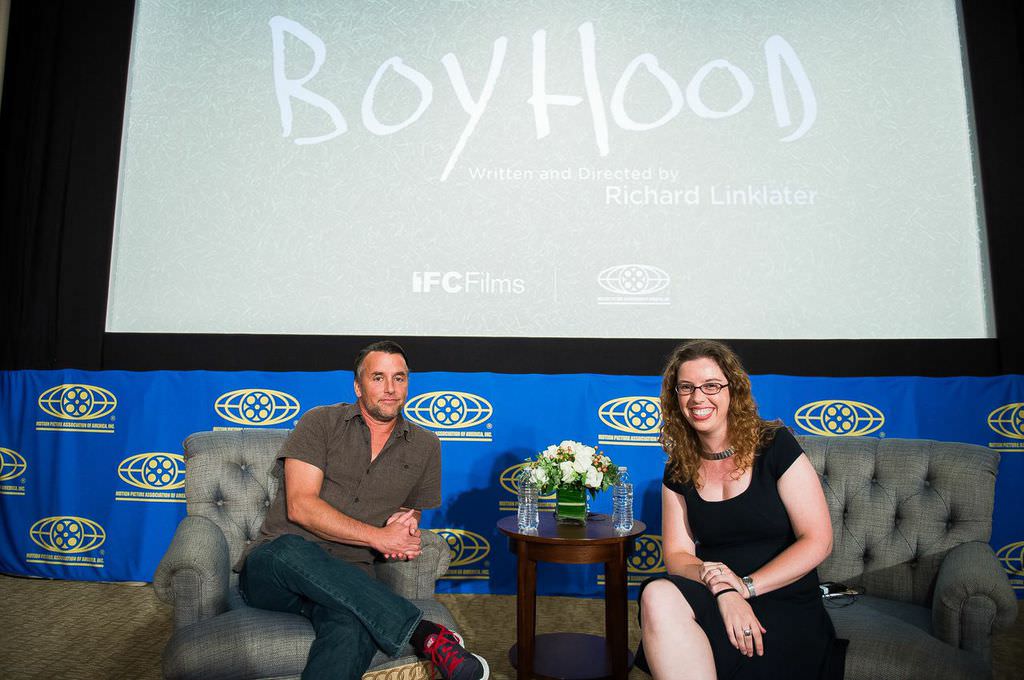 The Motion Picture Association of America hosted a screening of Boyhood where Linklater sat down afterwards with Alyssa Rosenberg, cultural and political columnist for the Washington Post, to discuss how his film came to be, what it means to him, and how he made a collaborator of time.
Boyhood_edit2 from The Credits on Vimeo.