Evolving Man into Ape: Simian Choreographer & Actor Terry Notary
This summer's most highly anticipated sequel, Dawn of the Planet of the Apes, packs a serious blockbuster punch: it has state-of-the-art digital effects, sweeping apocalyptic scenes, and a cast and crew of thousands. But one man alone is responsible for the most crucial element of the film—teaching actors to convincingly portray apes.
Actor and movement coach Terry Notary is Hollywood's resident go-to ape expert, as well as one of the most sought after movement specialists in the business. He was a part of the first Planet of the Apes remake, in 2001, helmed by Tim Burton, where he was a choreographer, movement coach and stunt double for Tim Roth's murderous simian, Thade. He added motion capture specialist to his resume on a host of huge movies, including Fantastic 4: Rise of the Silver Surfer, and Avatar, took on the lead creature performer for the surprise hit Attack the Block, and has choreographed movements and played a goblin (twice) in the first two films in Peter Jackson's Hobbit trilogy, as well as being a stunt double for the ferocious Orc, Yazneg, in the final film in the installment. Starting in 2011, Notary took on the roles of Bright Eyes and Rocket, as well as coaching actors, in the film that rejuvenated the Apes franchise, Rise of the Planet of the Apes (2011).
The 45-year-old California native takes a holistic, Method-like approach to turning actors into simians.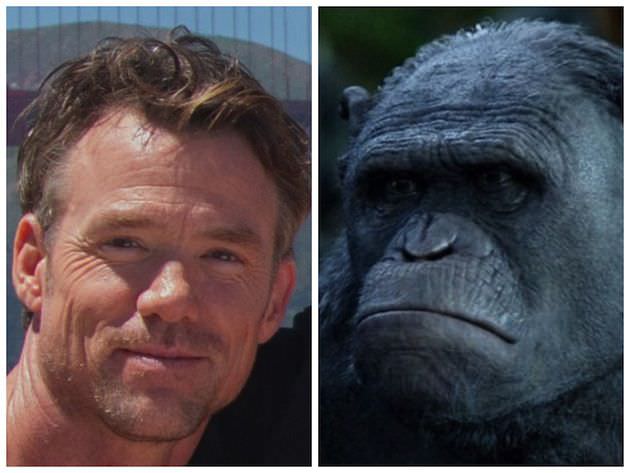 "The first thing anyone needs to know about apes is that they go through life with an almost complete lack of tension, and lack of effort," Notary says. "They are super economic, they are incredibly powerful and they use their muscles, but only when they need to. As humans, because of our culture and society, we have learned that hard work and effort is rewarded. We work hard, we grimace our faces. Apes don't do that."
The key to teaching actors to be apes, says Notary, is undoing. "We are undoing, first, the social issues and context we have as humans, not adding anything. We have been socially conditioned, and we have this identity, this persona, that allows us to survive in society. It becomes this signature that we carry with ourselves. You have un-do that when you become an ape. You sit, you breathe, and you drop in to yourself."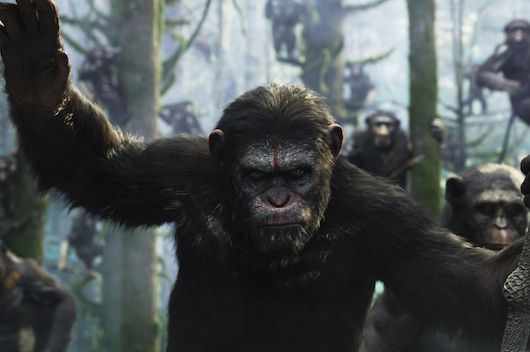 Getting hairy with it is not all about theory, however. In the weeks prior to shooting, Notary leads his actors through workshops to get the ape-like movements down right. For Dawn, Notary had Judy Greer, who plays the chimpanzee Cornelia, and Toby Kebbell, as the bonobo Koba, amble about using short arm crutches that brought their torsos down closer to the floor and lowered their center of gravity. The actors were instructed to turn their feet out like a ballet dancer.
"My trick is to remind myself I have a thumb on my foot," Kebbell told The New York Times.
The actors also watch videos of apes in motion. "Obviously we study apes," says Notary. "We see how their feet fall in relation to their arms and hands. The foot falls right before the hand, logistical things like that. It's actually like learning how to do ballet. You work the basics, and you work it, and just try to get it right."
Notary's ability to teach ape movements comes from a lifetime of jumping, running, tumbling, and leading an extraordinarily physical life.
"My mother put me in gymnastics when I was eight years old because I was hyperactive," Notary says. "And then I got a gymnastics scholarship to UCLA and was a four time NCAA All American." After college, Notary joined Cirque Du Soleil, which, he says, changed his life.
"It was like this whole world opened up. I learned to be a performer. I learned how to create characters. I learned to have presence and projection. We played and we made lots of mistakes, but that's where you find he the gems."
After four years and half years performing with Cirque in Las Vegas, Notary moved to New York with his wife, who had been cast as a Rockette at Radio City Music Hall. While there, Notary began working for the Metropolitan Opera doing specialty acrobatics. He also ran a small circus company for promotional events and a photography studio.
Three years later, he learned that Ron Howard wanted five Cirque du Soleil actors for a project that later became How The Grinch Stole Christmas. His life changed again.
"I sent a tape in and I got the job the very next day," he says. "I was teaching the Whos of Whoeville how to move. One thing led to another and eventually I got a call for Planet of the Apes."
Notary's dedication to craft is apparent in his portrayal of the chimpanzee Rocket, the second-in-command to head ape Caesar.
"I love to play Rocket," he says, "because this character is really just me quieting the cerebral side of myself. It's like having full permission to be open like a child again. For him nothing else exists. There is a freedom in it. He wears his emotions on his feet."
Just like Rocket, Notary encourages each actor to let their own essence shine through. "Cornelia is just like Judy Greer," he says. "She is just innately beautiful and has this childlike quality about her. It's so real, and so true in her. Judy doesn't even know she has it. Her spirit is gorgeous. And that's what Caesar sees in her—she's the Jackie Onassis of the Ape kingdom, and we got that across despite the makeup."
Featured image: Andy Serkis in his performance capture suit, and Serkis again after Weta Digital has transformed him into Caesar. Courtesy 20th Century Fox.