Comic-Con 2014: A Snapshot of Films, Panels & Events
Comic-Con and its overflowing abundance is upon us once again. We'll help guide you through the costumed chaos with a selection of offerings from top movie studios, the "only at Comic-Con" events, and our own wish list of events.
Major Studio Showings:
Thursday, July 24
11:15am Toy Story That Time Forgot (Disney)
If the words "you've got a friend in me" set your heart aflutter, then be sure to attend ABC and Disney•Pixar's first look at the upcoming holiday special, Toy Story That Time Forgot. Executive producer Galyn Susman (Toy Story OF TERROR!), director Steve Purcell (Brave), and head of story Derek Thompson (WALL•E) offer an peek into the sketches, storyboards, and concepts that contributed to the Disney•Pixar special!
12:30pm Sony Pictures Entertainment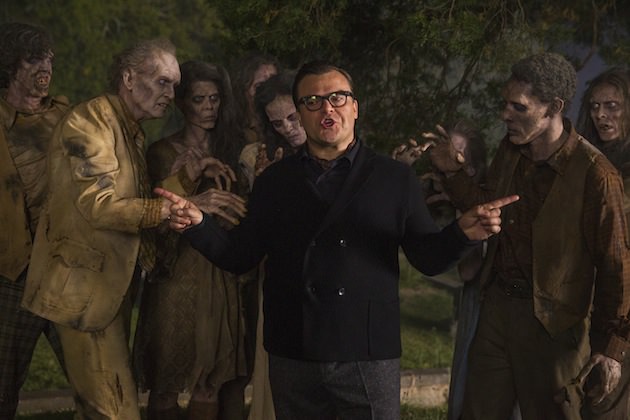 Boosting nightlight sales around the world, the book series Goosebumps by R. L. Stine is making the leap onto the silver screen. Jack Black stars as the author himself and Rob Letterman directs. Jack and Rob will discuss how the monsters are taking shape on screen. The film hits theaters August 7th, 2015.
Director Chris Columbus will also make a special video announcement about his upcoming film Pixels.
2:00pm The Art of Big Hero Six (Disney)
Could this be our next modern Disney hero? Inspired by the Marvel comics of the same name, Big Hero 6 is an action-packed comedy adventure about robotics prodigy Hiro Hamada, who learns to accept his talents and become a techie superhero. Director Don Hall, producer Roy Conli, production designer Paul Felix and character designer Shiyoon Kim discuss the visual development of the film.
3:00pm Paramount Pictures
Paramount will be offering the chance to view exclusive footage and previews for their upcoming films.
Friday, July 25
4:20pm 20th Century FOX Presentation
Over 2400 people have RSVP'd for this event, so get there early for seats and watch this mysterious presentation.
7-9pm World Premiere of Batman: Assault on Arkham (Warner Bros.)
Based on the bestselling Batman: Arkham video game series, the latest Batman animated film is the highly anticipated next entry in the ongoing series of DC Universe Original Movies. After the film, hear from a panel featuring fan-favorite Batman voice Kevin Conroy (Batman: The Animated Series), Matthew Gray Gubler (Criminal Minds), Troy Baker (The Last of Us) and John DiMaggio (Futurama), as well as producer James Tucker (Son of Batman), director Jay Oliva (Justice League: War), dialogue director Andrea Romano (Batman: The Dark Knight Returns), screenwriter Heath Corson (Justice League: War) and moderator Victor Lucas (Electric Playground).
Saturday, July 26
10am-12 Warner Bros. Pictures
Warner Bros. will return Hall H to present their three upcoming movies: Jupiter Ascending, Mad Max: Fury Road and The Hobbit: The Battle of the Five Armies. We are especially excited about the second two films.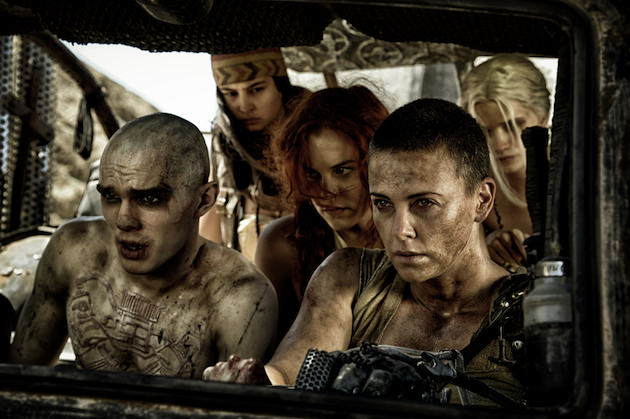 Mad Max: Fury Road, directed once again by George Miller, returns to the post-apocalyptic universe created three decades ago with Mad Max. Tom Hardy reinvents Max Rockatansky and offers a creative new take on the cult character. The film also stars Charlize Theron, Nicholas Hoult, Zoe Kravitz, Riley Keough, Hugh Keays-Byrne, and Rosie Huntington-Whiteley.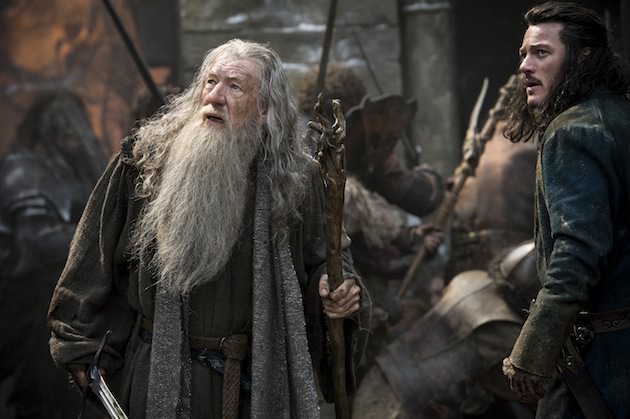 Award-winning producer/director Peter Jackson returns with The Hobbit: The Battle Of The Five Armies, the final film in The Hobbit Trilogy. Bilbo and the races of Dwarves, Elves, and Men are faced with difficult choices as they face destruction. The star-studded cast includes Ian McKellen as Gandalf the Grey, with Martin Freeman as Bilbo Baggins and Richard Armitage as Thorin Oakenshield. The ensemble includes Evangeline Lilly, Lee Pace, Luke Evans, Benedict Cumberbatch, Ken Stott, and James Nesbitt, with Cate Blanchett, Ian Holm, Christopher Lee, Hugo Weaving, and Orlando Bloom.
Sunday, July 27
10-11:30am World Premiere of Scooby-Doo! Frankencreepy (Warner Bros)
Zoinks! Those meddling kids are back and this time Mystery Inc. is investigating a cursed castle haunted by a terrifying ghost. Attend the world premiere and hear from a panel including Mindy Cohn (Facts of Life), the voice of Velma, Grey Griffin (Scooby-Doo! Mystery Incorporated), the voice of Daphne,and screenwriter Jim Krieg (Green Lantern: The Animated Series).
2:15-3:15pm World Premiere of Tom and Jerry: The Lost Dragon (Warner Bros.)
Beloved childhood figures Tom and Jerry return to their old, violent ways in the all-new original movie Tom and Jerry: The Lost Dragon. The cat and mouse tackle sorcery (and singing) to help return a baby dragon to its mother—all while comically beating each other up. Producers/directors Spike Brandt (Tom and Jerry's Giant Adventure) and Tony Cervone (Tom and Jerry's Giant Adventure) will be on hand to present the film.
The Most "Comic-Con" Events:
Thursday, July 24
8:00pm – 9:00pm Tournament of Nerds
The Upright Citizens Brigade Theatre answers the most pressing questions of Comic-Con: what superhero would win in a fight? Could Spiderman take out Dumbledore? Through rigorous academic debate…OK, through a comedian battle of nerd proportions, celebrity guests and famed comedians will tackle fantasy fights of epic proportions. Hosted by Justin Donaldson (Reno 911!) and Hal Rudnick (Screen Junkies), the panel features Marc Andreyko (Batwoman), Maddox (The Best Page in the Universe), Jesse Snider (Evil Ernie), Roger Barr (I-Mockery), Mike Carlson (Conan), Aaron Sparrow (Darkwing Duck), and celebrity guests!
Friday, July 25
10:00am – 11:00am Star Wars Origami
(Self-explanatory.)
1:00pm – 1:25pm There's an Octopus in Your Head?
The Kickstarter-funded film by Ari Grabb (animator and director) is described as "an animated heavy metal rock opera about a self proclaimed pancake master who is trying to understand his troubled psyche by asking the devil what the root of his pancake obsession is. It will be a strange, beautiful, twisted, surreal, humorous outlook on artistic identity as the main character struggles between choosing happiness or culinary mastery." Ari Grabb will be in attendance, as will Gabriel Acosta (sound mixer).
2:30pm – 3:15pm [adult swim]: Mike Tyson Mysteries
Mike Tyson is donning an animated trench coat to take on the role of detective in this new comedy series. His crime solving team includes the Ghost of the Marquess of Queensbury, Mike's adopted Korean daughter and his sidekick: a pigeon. Attend for a first look at the new series and see the legend himself at a panel discussion featuring Mike Tyson, Rachel Ramras (MAD), Jim Rash (Community), and producer Hugh Davidson (The Looney Tunes Show).
8:30pm – 9:30pm Zombie Myths and Misconceptions
Zombie Research Society and experts Max Brooks (World War Z), Matt Mogk (AMC's Talking Dead), Steven Schlozman (Harvard Medical School), Scott Kenemore (Zombie, Indiana), Brendan Riley (Columbia College, Chicago), Cameron Carlson (U.S. Navy), Brad Voytek (UCSD), and Craig Engler (Syfy's Z Nation) discuss the evolution of the modern zombie with a special focus on little known facts and common misconceptions. After you attend, please let me know how anyone can debunk misconceptions about a make-believe creature they didn't even create.
Saturday, July 26
4:30pm – 5:30pm E-Sports: How to Become a Pro Gamer
You may have noticed some new faces at the X-Games and in the world of professional sports. Those new glow-lit faces belong to professional gamers, now able to receive salaries and obtain visas based in their profession. E-Sport panelists include Genese Davis (The Holder's Dominion, MMORPG.com, The Gamer in You), Ryan "Fwiz" Wyatt (VP of programming and eSports commentator, Major League Gaming), Sam "Samzorz" Hall (pro gamer, Mortality eSports, Twitch, founder of CODpedia), and John "ZeRo4" Hill (pro gamer, world champion: Quake). The pro-gamers will discuss changes in the video game industry and the challenges of the sport itself.
Sunday, July 27
3:30pm – 5:00pm Buffy the Musical: Once More with Feeling
One of the final events of Comic-Con lives up to expectations. Part sing-along, part dance-along and part yell-at-the-screen-along, the interactive screening of Buffy the Vampire Slayer musical episode Once More with Feeling ends the weekend with a bang. Join members of the Buffyverse and get swept away by passionate fans. Word on the street is a special surprise guest will be joining the fun…let's hope it's someone low on this list.
Our Favorite Events:
Thursday, July 24
1:30pm – 2:30pm The Giver
Famed book The Giver is ascending to the silver screen and Comic-Con attendees can watch exclusive footage with stars Jeff Bridges, Brenton Thwaites, Odeya Rush, director Phillip Noyce, and bestselling author Lois Lowry.
Friday, July 25
1:30pm – 2:30pm The Chair: One Script, Two Visions, One Winner
A film nerd's take on the reality TV competition craze, The Chair is a Starz documentary competition TV series created by Chris Moore that follows Shane Dawson (ShaneDawsonTV on YouTube) and Anna Martemucci (Break Up at a Wedding) as they use the same screenplay and budget to create their own films. Watch clips and attend a panel with both directors, screenwriter Dan Schoffer and producers Zachary Quinto (Star Trek, Heroes, Margin Call) and Josh Shader, moderated by Chris Moore.
3:30pm – 4:30pm Women Below the Line
Women in the comic and entertainment industry will explore gender roles in their fields and breaking gender norms within the creative world. Learn from Sheyne Fleischer (assistant editor, The Bachelor, Hells Kitchen), Tess Fowler (writer/illustrator Game of Thrones Exclusive Animation, The Rascals), Alicia Minette (prop fabrication: Sushi Girl, Man at Arms), and Aubriana Zurilgen (creature creation: Steve Wang's Creature Workshop, MasterFX) how to successfully follow your dreams without being hindered by female stereotypes. Moderated by Glenn Freund (League of S.T.E.A.M.).
6:10pm – 7:40pm Stripped
Calvin & Hobbes? Say no more. This documentary features an interview with Bill Watterson, the cartoonist behind the lovable duo, as well as interviews with cartoonists behind Garfield, Cathy, Foxtrot, Mutts, Penny Arcade, The Oatmeal, Hark A Vagrant, and more. In the documentary, over sixty cartoonists reminisce and speculate about the future of cartoons and their mediums. Panelists at the screening include directors Dave Kellett (Sheldon) and Fred Schroeder (Four Sheet to the Wind).
Saturday, July 27
12:00pm – 12:45pm TV Guide Magazine: Fan Favorites
Get the scoop on fan-favorite TV shows from a panel including Gwendoline Christie (Game of Thrones), Misha Collins (Supernatural), Jordan Gavaris (Orphan Black), Sam Heughan (Outlander), John Noble (Sleepy Hollow), Colin O'Donoghue (Once Upon a Time), Retta (Parks and Recreation) and Aisha Tyler (Archer)…need we say more?
Featured image: Mad Max: Fury Road, Courtesy Warner Bros. Pictures.