Comedy Power Couple: Ben Falcone & Melissa McCarthy Make Tammy
The Groundlings, the legendary improv group based in Los Angeles, recently celebrated their fortieth anniversary. This milestone coincides nicely with today's release of Tammy, a film created by two of their alums, Melissa McCarthy and Ben Falcone. The two met in the group (subsequently married), and are now poised to become the new power couple of comedy, joining Judd Apatow and Leslie Mann in the funny and married pantheon.
McCarthy and Falcone's history of hysterical chemistry that began in the Groundlings and has carried on through the years in smaller projects, including a web series centering on McCarthy's character Marbles, a blogger with a questionable haircut and more questionable opinions.
Their most memorable, albeit brief, collaboration to date was on the smash hit Bridesmaids. They had one scene together, and they made it count, in which McCarthy's character finds herself seated next to, and wildly attracted to, Falcone's character on a plane. She assumes he's an Air Marshall, and no amount of convincing on his behalf, or proof, will disabuse her of her certainty or her attraction. Her sexual harassment of Falcone increasingly bewildered passenger is priceless.
Now the duo has the proper platform to utilize their extensive comedic gifts. They wrote the script together, and the film will be Falcone's directorial debut. He directed several sketches while at the Groundlings, and co-starred next to his wife not only in Bridesmaids, but also in The Heat and Identity Thief. They've received producing support by former Groundlings member and comedy titan Will Ferrell and his production company, Gary Sanchez Productions, and Warner Bros. got on board as well, betting that Falcone and McCarthy had more than enough experience, and talent, to step up and make their own film.
In Tammy, McCarthy's titular hero has just lost her job, car and husband all in one day. She is desperate to get out of her small town, but her only chance for escape is with her hard drinking, man-eating grandmother, Pearl, played by Susan Sarandon. Tammy and Pearl smash together like two dangerous particles, and the film follows their shenanigans as they hit the road.
"I guess you could say it was literally a dream come true," Falcone said during a press conference. He admitted the idea arose from a dream he explained to McCarthy in which she goes on an insane road trip with her grandmother.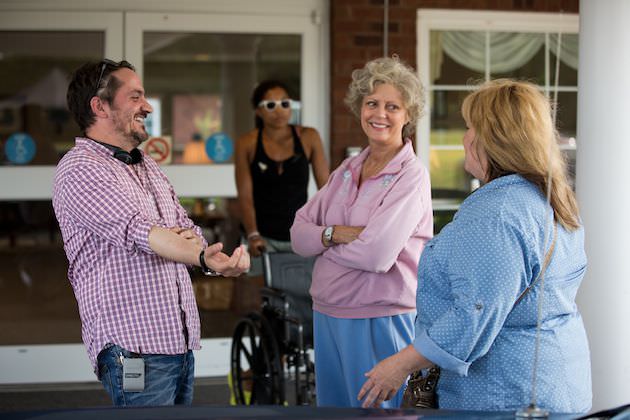 "Ben and I had always talked about writing a movie about real people who mess up and have to decide if they are going to keep making mistakes or change things," McCarthy said at the presser. "Since Ben has been directing theatre and comedy videos for years, we felt it was a natural progression for him to direct Tammy."
Ferrell's producing partner, the writer/director Adam McKay, felt zero compunctions about jumping aboard Falcone and McCarthy's project. "Melissa is one of the funniest people on the planet and Ben is a super-talented, hilarious guy. As a producer, this meant two things: we would have a very funny and unique movie and I would not have to work as hard because they are so good," he said.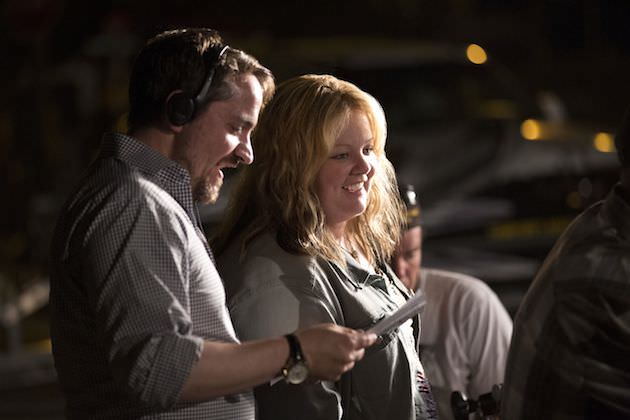 Tammy is also something of an improv lover's paradise. Although not everyone in the cast was used to improvisation, they all ultimately embraced the opportunity. "Melissa and I both come from a background of improv, so we know it's a great tool," Falcone said.
One memorable improvisation took place between Melissa and "Stuffy," the deer, the unfortunate ruminant who got a little too close to Tammy's car. Two puppeteers controlled the animatronic deer, manipulating its' eyes, ears and mouth. The props department made a double for Stuffy which could be thrown at the car to simulate Tammy smashing the poor thing. In a completely unscripted and unexpected moment, Melissa suddenly started giving Stuffy mouth-to-mouth resuscitation, rolling around on the baking pavement.
"It was so hot, and she was down on that asphalt, and she started 'saving' Stuffy. I was having a hard time not laughing and ruining the takes," Falcone said.
"It was fabulous to improv scenes with Melissa," Susan Sarandon said. "It may seem like it's off the-cuff, but she is very present; a consummate professional who never loses sight of what needs to be accomplished in the scene. For me, Ben's directing style also helped make it possible for us to go off script. He created a solid structure, and then within that structure, there was freedom, which enabled a looseness and fluidity to the performance."
Working on a film with McCarthy means that a lot of the shoot consists of other actors trying not to laugh and throw a scene.
"I played Becky, a Topper Jack's employee, and I pretty much get robbed by Tammy," said Sarah Baker, another improv alum. Baker helped build the Whoel World Improv Theater in Georgia, where she was both a performer and instructor. "We just improvised. It was just 'don't laugh at everything Tammy says.' She has a mask in our scene. She has eye holes but she needs to see out of it. She would have to cock her head so far down so she could see into the bag. I just had to stop looking at her so I wouldn't ruin this movie."
For some of the main cast members, improvisation was something completely out of their comfort zone, but Falcone and McCarthy also stocked their cast with Groundlings performers, including Damon Jones, who you can see here playing a Kobe Bryant fan with a little too much invested in his favorite player, Steve Little, from HBO's Eastbound & Down, whose prep for a Nickelodeon Audition gets weird and Larry Dorf, who, as Chef Francisco Cordrero who promises to make you a beautiful crispy duck breast over mixed greens and blanched heirloom tomatoes in four minutes requires a ton of improvisation and unsanitary practices. These guys were more than prepared to run with Falcone and McCarthy's love for letting the moment happen (and, usually, happen insanely).
You've got lots of choices to escape the heat this July 4th holiday, from the madness of giant alien robots to the trials and tribulations Jersey-born crooners, and now you've got a proper comedy, from one of the funniest couples on the planet, to spend two hours with. They're unhinged, glorious company.
Featured image: Ben Falcone and Melissa McCarthy on the set of Tammy. Courtesy Warner Bros. Pictures.